The Elephant Man, Theatre Royal, review: Bradley Cooper is terrific as John Merrick
The Oscar-nominated actor produces a wonderful performance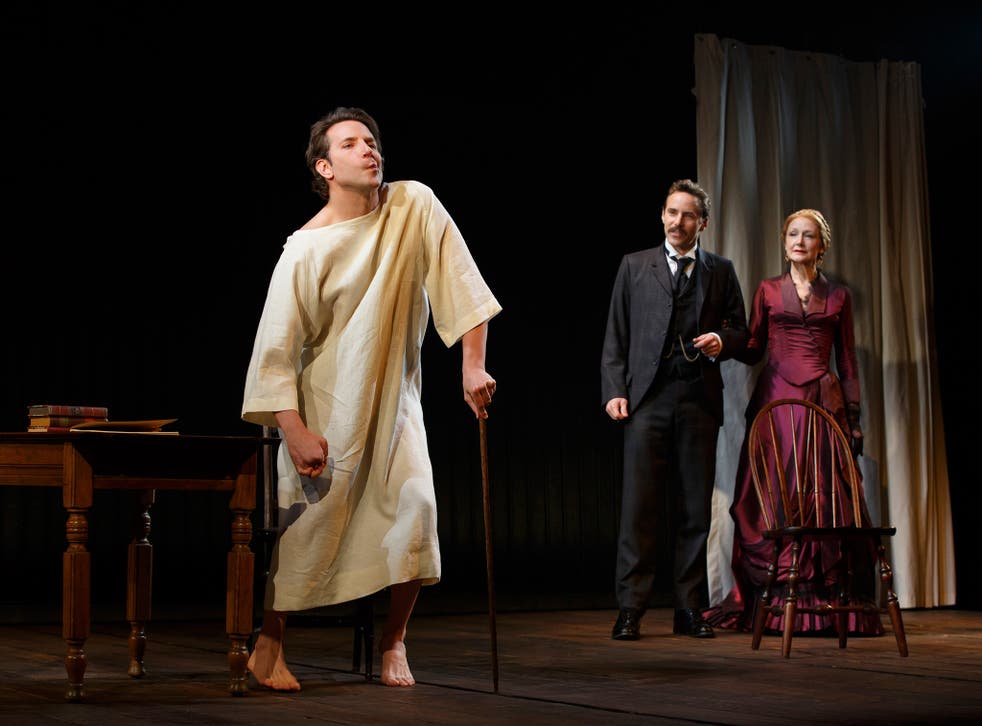 Bradley Cooper is every bit as good as the vast majority of reviewers claimed when Scott Ellis's fine production opened on Broadway last December. There had been banter beforehand about the presumed irony of the casting – the actor, once dubbed the "Sexiest Man Alive" by People magazine, tackling the real-life role of the hideously deformed John Merrick.
But those ribald jokes misunderstood the nature of Bernard Pomerance's 1977 play which sets out to show us the beautiful soul trapped inside the gross disfigurements. A succession of attractive performers (David Schofield, David Bowie, Billy Crudup et al) have, as the script stipulates, evoked Merrick through posture rather than through the heavy prosthetics and make-up worn by John Hurt in David Lynch's 1980 film.
But Cooper's presence ups the ante here. The play, which charts Merrick's journey from abused freak show attraction to medical curiosity and favourite of Victorian high-society, is partly about the cruelty and injustice of objectifying people on the grounds of their looks.
And in these prurient, celebrity-obsessed times, you may feel a salutary flicker of shame about what it is that you have come to gawp at during the great lecture-theatre scene near the start.
Cooper (twice Oscar-nominated and now up for a Tony for this) stands naked apart from a pair of under-shorts. Then, as the doctor points to the various malformations on a blown-up photograph of Merrick, he proceeds to transform himself, bit by contorted bit, from Hollywood hunk to misshapen outcast. The lips twist grotesquely; a hip collapses; the right hand is bunched into a knobbly stump.
Theatre highlights of 2015

Show all 7
Cooper effects this metamorphosis with terrific tact. This is a wonderfully humane yet wholly unsancimonious performance where each aspect, such as the painstakingly correct speech that issues in laboured breaths and gulps, is designed to draw attention not to the actor's technical skill (which is considerable) but to Merrick's unembittered openness to life, his gentleness, questioning humour, and romantic spirit.
Unfolding in short, elliptical scenes, Pomerance's play takes a somewhat schematic look at the range of reactions to Merrick who is rescued from freak show misery by distinguished surgeon Dr Frederick Treves and given a home in the London Hospital. Heavy-handed points are made about Empire, about Merrick now polished into functioning as a mirror that reflects back only what toffs want to see of themselves, and about the meaning and desirability of what is "normal".
Alessandro Nivola does penetrating work with Treves whose characterisation seems both over-explicit and confused as Merrick's case raises questions the man of science cannot answer, causing him to spiral down into to a crisis of uncertainty.
The best scenes are those with Patricia Clarkson's warm, witty Mrs Kendal, a celebrated actress who is amused and knowing about her way with illusion. Having been roped in to meet him because she'll be able to mask her revulsion at Merrick, she practises different gracious intonations of "I am very pleased to make your acquaintance", only to be thrown into unguarded sincerity by the intelligence and impishness of his conversation.
I found the protracted moment where she offers her ungloved hands to him (with Cooper looking round in sheer bafflement to Treves for guidance) even more moving than the later episode of breast-baring.
It's a typically sensitive touch that Bradley Cooper does not take a separate bow. This is palpably a collective labour of love for him rather some weirdly paradoxical vanity project.
Join our new commenting forum
Join thought-provoking conversations, follow other Independent readers and see their replies