Vivaldi's The Four Seasons: A Reimagining, The Sam Wanamaker Playhouse, London, review: Isn't wildly gripping
Vivaldi's 'The Four Seasons' comes to theatrical life with puppetry and a newly arranged score for the Sam Wanamaker Playhouse
Holly Williams
Sunday 18 March 2018 17:53 Comments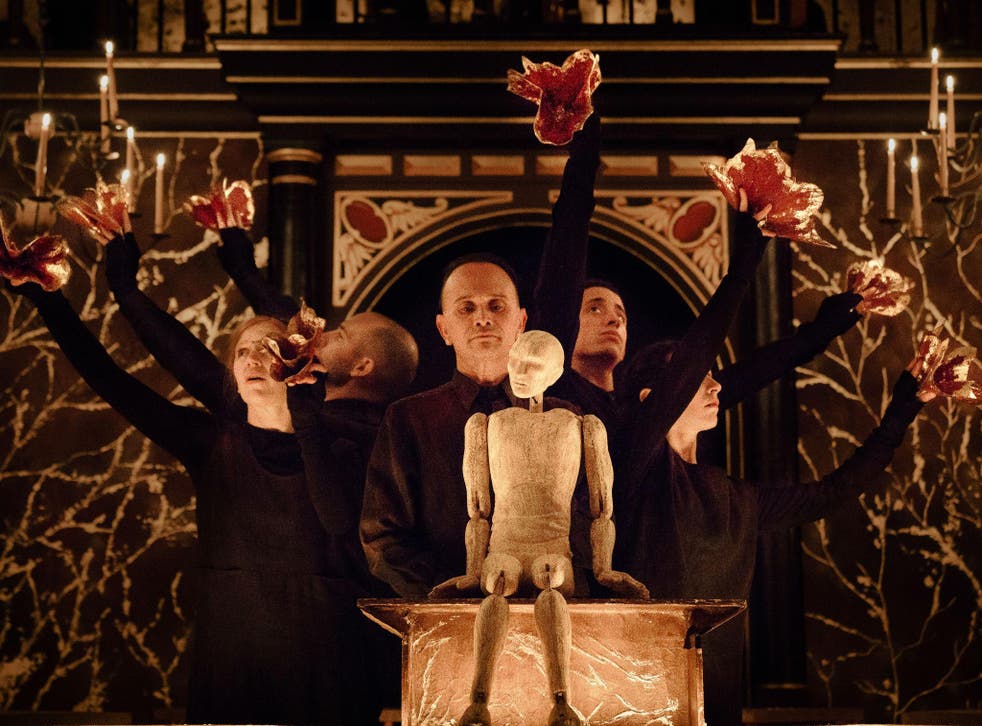 What an enjoyable spiral of re-interpretations this is. In 2012, composer Max Richter "recomposed" Vivaldi's Four Seasons, hoping to liberate the 1721 work from elevator music over-familiarity. Now, puppet company Gyre & Gimble present this "reimagining" of his recomposition: Bunraku-style puppetry is used to find a story within Richter's flickering post-minimalist rewrite.
But the score itself is further reworked to suit the Sam Wanamaker Playhouse: while Richter augmented Vivaldi's orchestral arrangements with extra synths and strings, here the Globe's director of music Bill Barclay has whittled it down to a lively, feathery arrangement for just six musicians.
And (as the programme notes) they're completing the circle by using Baroque instruments, nodding back to Vivaldi, and to the fact that the show is set in a Jacobean-style playhouse. The show even debuts their new, specially made harpsichord – although there's still the odd wash of ambient electronica here too, mixed with birdsong.
Not that Gyre & Gimble's directors, Finn Caldwell and Toby Olie, have gone down the twee pastoral route – they take the seasonal thing more as inspiration to look at the cyclical nature of human life, rather than trafficking too much in budding flowers or falling leaves. Their puppets are bare and expressionless; simple, wooden, articulated, miniature humans, moved by up to four puppeteers at a time. Emotionally, however, they're far from blank: this vastly skilled team imbue every tiny, sensitive movement with meaning and feeling. Silently, they speak volumes.
Not that the plot is always crystal clear, to be honest. But it seems to go: boy meets girl, they start a family, family is torn apart by war. The son grows up, but is still haunted by loss, before finding new hope in his own boy meets girl moment.
Within that simple structure, there are some dreamier, more abstract moments. The cast manipulate simple pieces of cloth so that they blossom into heavenly butterflies or crackle into attacking bat-like bad memories. There is also a puppet cat, which is ridiculously cute, and so alive it seems quite impossible it could be made merely of soft rumpled paper.
Although it has heart-melting moments, The Four Seasons often isn't wildly gripping; you'd say it was overstretched if it weren't for the fact it obviously fits the music. And it does fit the music well: the fizzy energy of childhood springs from the violins as much as the little puppet; an adrenalised urgency runs through both music and movement in a sequence where the father runs through a war zone.
Paul Wills' design is appropriately simple but effective. Four semi-circular tables interlock and turn like the seasons, or are reconfigured around the space; topped with smattered gold-leaf, they burst into light beautifully at points. The rest of the playhouse is also mottled with gold, making this always glowy, intimate, candle-lit space even warmer.
The show sits somewhere between theatre and a concert, with strengths and weaknesses of both. But it seems a fitting reinvention of a reinvention, moving as naturally from one medium to another as spring turning into summer.
Until 21 April (shakespearesglobe.com)
Register for free to continue reading
Registration is a free and easy way to support our truly independent journalism
By registering, you will also enjoy limited access to Premium articles, exclusive newsletters, commenting, and virtual events with our leading journalists
Already have an account? sign in
Join our new commenting forum
Join thought-provoking conversations, follow other Independent readers and see their replies