The Goat, or Who is Sylvia?, Theatre Royal Haymarket, London, review: Homeland's Damian Lewis gives the performance of his life
Edward Albee's darkly comic masterpiece, directed by Ian Rickson, about a married architect who falls in love with a goat, stars Damian Lewis and Sophie Okonedo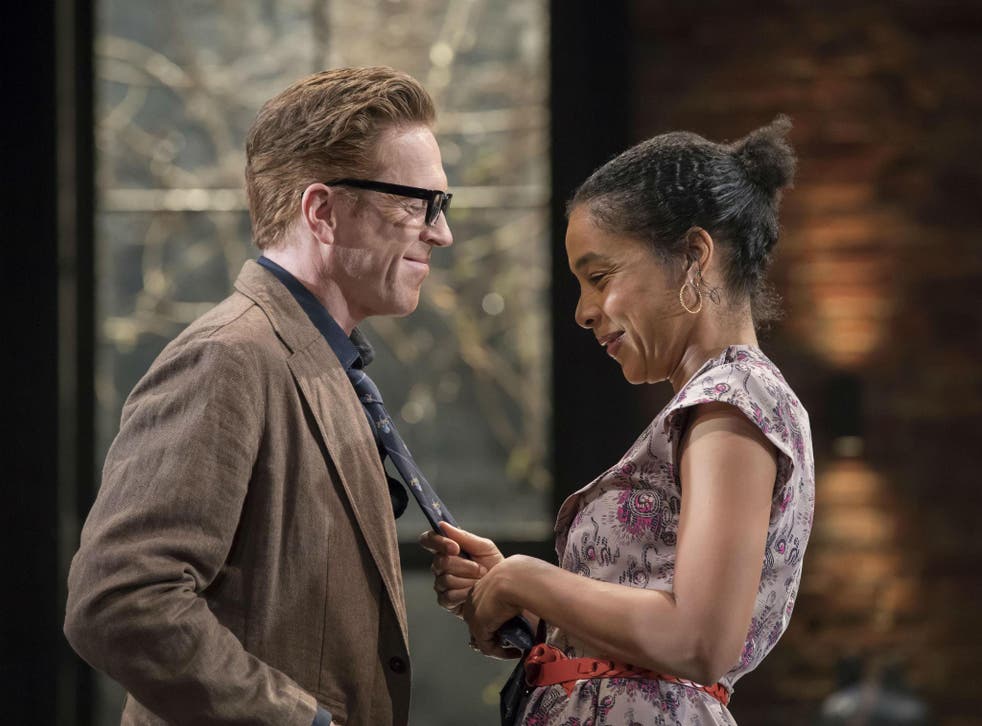 Those whom the gods hanker to destroy, they first make mad. And one of their favourite tactics for driving human beings tonto is to play, as it were, the bestiality card.
You know the dementing drill. Innocent pastoral picnic goes pear-shaped when the deities hex a hapless protagonist and cause him or her to have an erotic epiphany on an (often hooved) animal. But Pasiphae and her bull (to name but one of these pairings) have it easy compared with Martin Gray, a happily married award-winning architect, just turned 50, and Sylvia, the nanny goat whom he believes enslaved him with her eyes while he was on a recce to find a new family home in the country.
It's not just the sex with Sylvia that seems to have given him a new jittery but genuine lease of life. He loves her for her (alleged) soul too and gets quite dreamy in rhapsodising about this to Stevie, his appalled wife of 20-odd years – who retaliates by smashing up their swish home, item by item, as he unveils each facet of his new relationship – and their 17-year-old gay son, Billy.
Eddie Redmayne consolidated his reputation as an actor of genius when he played this youth in the Almeida's UK premiere of the piece. That production was full of good things, but it pales beside the blazing brilliance and energy of this revival, directed by Ian Rickson. Set in the brick-wall-and-mirrors affluence of Rae Smith's beautiful design, the production does shocking just to the fact that in this 2002 two plays collide with wild, dangerous hilarity.
It makes you see how the ancient Greek world, though a fierce foe to the breaking primal taboos, was also strangely more flexible about them than the uptight liberal enclaves of suburban east-coast America. Here, the spirit of openness and "inclusion" to the unorthodox can be more a matter of strenuous lip service than anything that anything that truly affects behaviour.
​Damian Lewis (of Homeland fame) gives the performance of his life. He's the still-preppy-after-all-these-years pedant who corrects other people's grammar ("whom!") even as he gingerly reveals his, erm, pet perversion. And he's as much the butt of demonic possession as any Euripidean protagonist. He opens his wallet and shyly takes out a passport photo of the goat, which he hands round as if she were the young lovely he was squiring to her first prom.
Sophie Okonedo as Stevie manages to be blisteringly confrontational, humiliated, and scorchingly sarcastic ("I am a human being. I walk upright. I only give milk on special occasions") and witheringly offhand. "That was mother's picture" objects Martin as she impales an oil painting. "Still is" she retorts brusquely as she bins the pierced but still intact objet. And the actress brilliantly conveys the rising and emotionally stricken sense of rivalry with goat: "She loved you, you say ... as much as I do" – a sentence that betrays how Stevie has weirdly started to be contaminated by her husband's belief in the creature's capacity to reciprocate his feelings. The consequences are as fatal any in Greek drama and Lewis's performance by the end achieves that kind of awesome emotional span.
Albee's career began with The Zoo Story. Did it continue here with The Zoophilia Story? Not really. The play was not written is not supporter of broader rights for bestiality buffs. Rather, the goat is a very clever device for patrolling that tricky and contentious border between liberal tolerance and the intolerable. Archie Madekwe is splendid as the gay son whose anguished adolescent minority status clashes with the new, considerably narrower, identity politics of his dad. His embrace of Martin turns nakedly sexual at one point. But he comes round from this brief incestuous dizziness to declare that it's all men he would like to bed.
Jason Hughes is spot-on as the bigoted old photographer friend who witnesses. Is the odd distant gushing noise in the house the sound of the Furies or just the plash of a washing machine, as the friend maintains? In this superb production, it is both. Unmissable.
Join our new commenting forum
Join thought-provoking conversations, follow other Independent readers and see their replies