The Go-Between, Apollo Theatre, review: An 'enthralling, beautifully textured' musical version of L P Hartley's novel
Paul Taylor
Wednesday 08 June 2016 10:34 Comments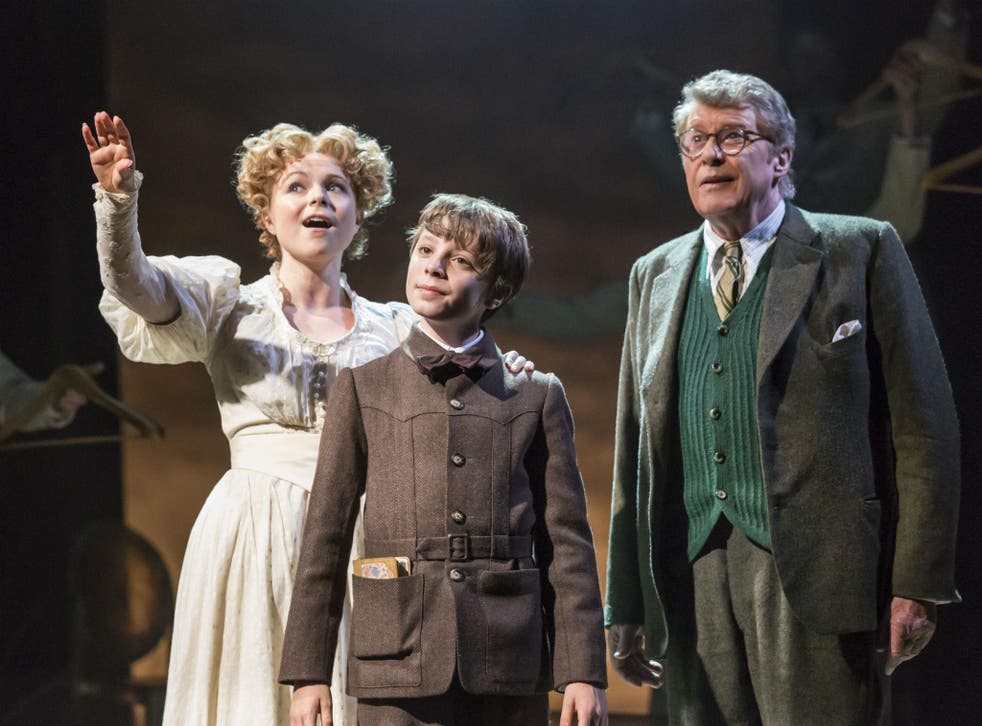 Michael Crawford returns to the West End, after a five-year break, in a piece that's appreciably different from the kind of shows (Barnum, The Phantom of the Opera) that rocketed him to stardom. There's no danger of mistaking The Go-Between for a noisy blockbuster but that doesn't signify any shortage of ambition in this enthralling, beautifully textured chamber-musical version of the LP Hartley novel about a boy's loss of innocence during a country house visit in the scorchingly hot summer of 1900.
The adaptation, by composer Richard Taylor and David Wood, employs a device not available to the first-person book nor the 1971 movie, scripted by Harold Pinter and starring Julie Christie and Alan Bates. It fleshes out a dialogue between present and past. A rediscovered diary conjures up the figures from that initially golden three week holiday at the Norfolk pile of an upper-class school-friend. They sternly urge the 62-year-old Leo Colson, whose life has been stunted by his experiences back then, to set them free by confronting his demons. Crawford, now 74, delivers a remarkably moving and sensitively sung performance as this desiccated protagonist, who, with a sad, penetrating gaze, apprehensively abandons his solitude to shadow the 12-year-old version of himself – resulting in disastrous consequences – who was recruited to ferry secret messages between Marian (Gemma Sutton), the beautiful daughter of the house, and her tenant-farmer lover, Ted (Stuart Ward).
The show unfolds as a shimmering web of singing and dialogue – it's scored for a solitary on-stage grand piano from which Nigel Lilley coaxes rich orchestral colours – and the musical ideas don't often merge into what could traditionally be described as a "number". The glorious exception to this rule is 'Butterfly' – a floaty, twirling song of exaltation in which the elderly Colson recalls the release-from-the-chrysalis effect of Marian's favour, while the boy Leo is hoisted aloft, arms out-stretched and undulant in the Lincoln green suit that she had just bought him. Crawford sings it in a way that piercingly suggests both the vulnerability and the strength that are conferred by remembered rapture.
Most musicals would put a tune as lovely as that through at least one hefty reprise, but the priority here is dramatising the story as powerfully as possible. So the echoes are fragmentary and telling – for example, in the suspended moment when young Leo weighs up whether or not to clasp the proffered hand of Ted, the melody ironically returns as he starts to awaken to the treachery of adult games. Thirteen-year-old William Thompson (one of the three actors rotating in the part) was quite superb the night I saw Roger Haines's production. He shows you a boy, out of his class and on the brink of puberty, whose desire to fit in along with his own confused curiosity lay him bare to exploitation; the sense he imparts of a lad no sooner blossoming than blighted is heart-rending, without the least touch of melodrama.
I can see why some might think that the show, with its silvery attic-of-memory set and its trapped, subjective atmosphere, verges on the precious at points. But, to me, it feels like a labour of love that, while faithful to the original, has a striking imaginative integrity in its own right.
To 15 October; 0330 333 4809
Register for free to continue reading
Registration is a free and easy way to support our truly independent journalism
By registering, you will also enjoy limited access to Premium articles, exclusive newsletters, commenting, and virtual events with our leading journalists
Already have an account? sign in
Join our new commenting forum
Join thought-provoking conversations, follow other Independent readers and see their replies