The King and I, Palladium, London, review: A nuanced, subtly updated revival
There's a smack of imperial condescension in Rodgers and Hammerstein's musical, but this is a culturally cogent account from Bartlett Sher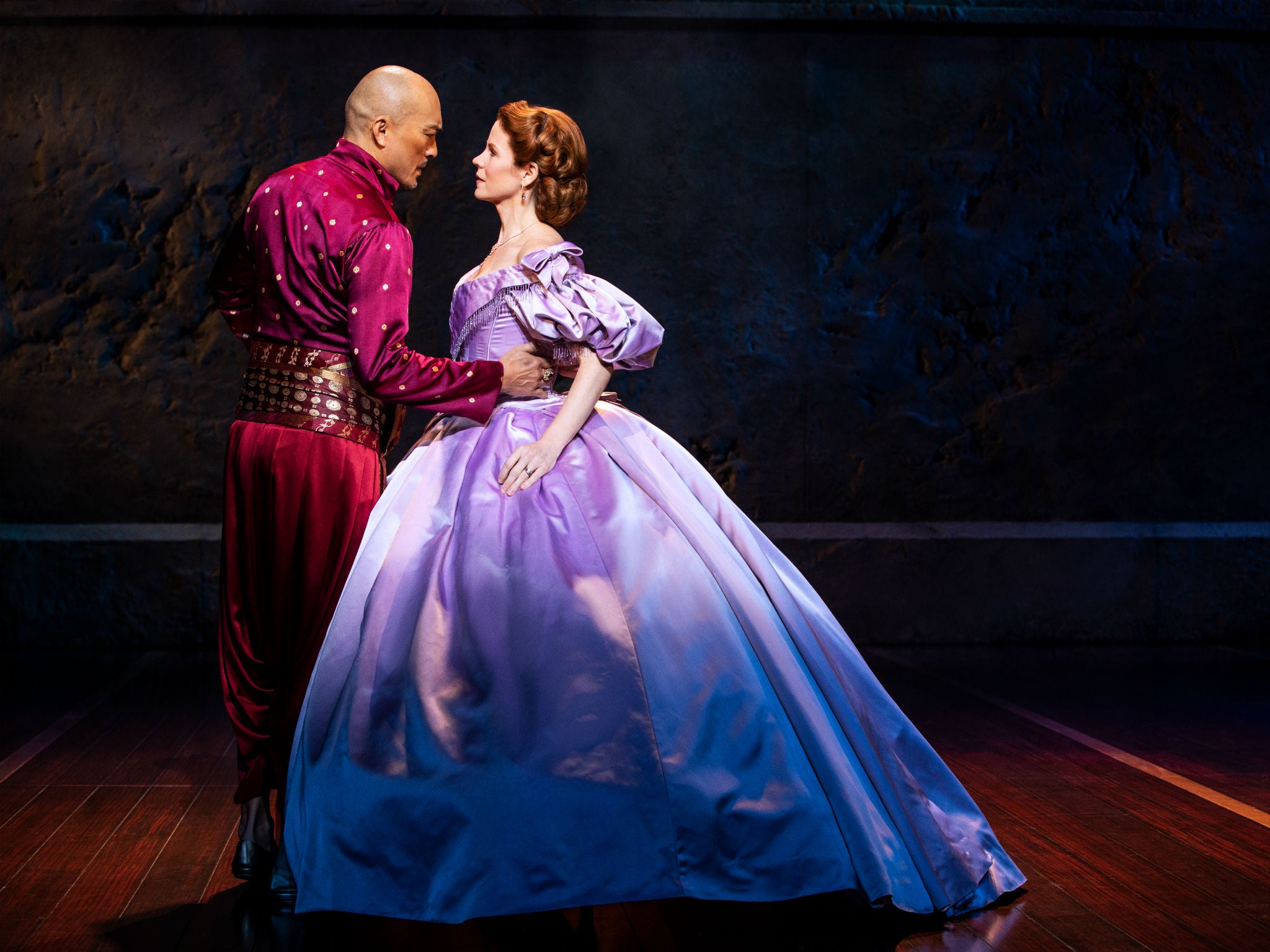 It has probably the lushest score of any Rodgers and Hammerstein musical. At least half a dozen of the songs have become enduring classics ("Getting To Know You", "Hello, Young Lovers", "Shall We Dance?" et al). Its setting – mid-19th century Siam – offers exorbitant opportunities for lavish spectacle.
And yet it's easy to appreciate why this 67-year-old show is still banned in Bangkok and why not a breath of those songs has ever been heard on Thai radio.
There's a smack of imperial condescension to this story of a widowed, well-bred Victorian governess who goes out to teach the children of to King Mongkut of Siam and gives a funny foreign despot and his feudal court a stiff dose of western values.
Bartlett Sher suggests, though, that the situation is quite a bit more nuanced than that in this beautiful, subtly updated Lincoln Centre revival, which has transferred to the Palladium laden with four Tony Awards. It doesn't silence all the objections, but it's the most emotionally satisfying and culturally cogent account of this musical I have seen.
The director has form in reattuning Rodgers and Hammerstein musicals to modern sensibilities. Witness his version of South Pacific, seen here a few years ago, which made you freshly alert to the the depth and groundbreaking liberalism of the show's approach to the subject of American navy's encounter with Polynesian culture in World War Two.
He is no doctrinaire revisionist, imposing changes from without. He works from inside the material, sensitising you by his direction to what you hadn't quite registered was already there.
As Anna, Kelli O'Hara, with her gorgeous shimmering soprano and aura of witty, uncloying goodness, reinvigorates The King and I. She shows you a loving widow (the remembered rapture in her sublime rendition of "Hello, Young Lovers" sounds positively winged), a committed schoolteacher – and a firm, principled feminist fighting for her rights and refusing to be treated as servant. This is all the more powerful for the grace and lightness of touch with which O'Hara handles it.
She has a fine sparring partner in Japanese film star Ken Watanabe as the impulsive autocrat who's trapped by his kingship in a permanent state of spoilt, petulant adolescence. But Watanabe (whose intelligibility can fluctuate) also makes you feel that this monarch's mind is a painful hornet's nest of perplexity about the warring options of tradition and modernity. There's vulnerability in his layered performance.
This script, which reinstates some lines from a discarded draft, makes the character's political predicament more pronounced. Should he open his country up to progress, or throw a wall round it as protection from the colonial designs of the British and the French?
The production has a cast of 51, featuring the excellent Naoko Mori as the king's head wife (her rapt, glowing version of "Something Wonderful" is precisely that) and Na-Young Jeon who is piercingly vulnerable as Tuptim, the girl who is sent to the Mongkut as a present from the King of Burma.
There's an orchestra of 29 who create ravishing sounds for close to three hours. And there's almighty coup de theatre right at the start which I won't spoil for you except to say that it doesn't scream budgetary restraint.
But I think that it is fair to claim that, overall, the aesthetic is stripped back. Michael Yeargan's set design and Catherine Zuber's lustrous costumes manage to be sumptuous and spare. They refuse to pander to a taste for fetishizing the "exotic".
Asked by the king to help him impress a visiting British diplomat, the royal wives are required to clamber into the kind of crinolines that Anna affects and sing "Western People Funny". This has the potential to be the most offensive scene in the show: "To prove we're not barbarian/They dress us up like savages".
But Sher stages it so that, instead of seeming like naïve children, the Siamese women's chorus offer a cheeky, confrontational critique of Western appropriation: "They feel so sentimental/About the oriental..." The joke is on us.
Choreographed by Christopher Gattelli (working from the Jerome Robbins original), the 16-minute act two ballet is dazzlingly well-danced here. It's a Siamese retread of Uncle Tom's Cabin and Watanabe's King watches it with the unease of Claudius at The Mousetrap as it unfolds its close-to-home story of desperate lovers fleeing a despotic slave-owner. I've never felt it to be as dramatically integrated.
Sher's production gives deep pleasure and will make you think twice about patronising this show in future. Shall we dance? Stupid not to.
Until 29 September (kingandimusical.co.uk)
Join our commenting forum
Join thought-provoking conversations, follow other Independent readers and see their replies