The Last Five Years review, Southwark Playhouse: A gorgeous, sparkling revival
Jonathan O'Boyle's beautifully judged production has now been remounted for the Covid age, with Perspex dividers between each seat
Ava Wong Davies
Tuesday 06 October 2020 15:54 Comments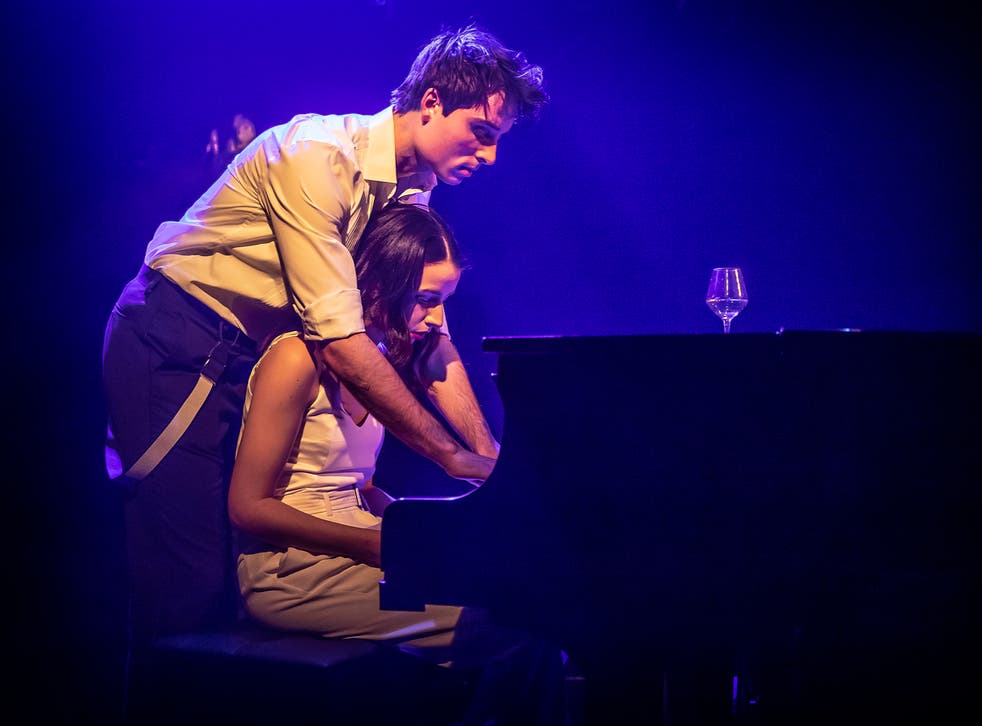 Jason Robert Brown's beloved 2001 musical, The Last Five Years, tracks the dissolution of a young marriage from both perspectives. Jamie, a literary prodigy, begins at the onset of the relationship. Cathy, an unsuccessful actor, starts at the end. Jonathan O'Boyle's beautifully judged, shimmeringly entertaining production was first performed earlier this year at the Southwark Playhouse and has now been remounted for the Covid age with Perspex dividers between each seat. 
O'Boyle's schtick is to have both performers onstage at all times, having one accompany the other on the piano. It's an ostensibly simple trick, but one which pays dividends. O'Boyle extracts a seam of melancholy from the piece which undercuts even the most ebullient numbers – there's a pearly beauty to the golden days of their early courtship. After all, relationships are filled with ghostliness, even when you're in them – that creeping, niggling sense that you will never fully understand the other person, the feeling of a partner morphing out of a familiar shape into something unrecognisable.
More often than not, Oli Higginson and Molly Lynch deliver their solo numbers to nobody – they speak to each other at a slight remove, never fully in sync, before they finally come together in the middle of the piece in a wedding duet ("The Next Ten Minutes").
Brown's score remains sprightly and fluid, his book filled with deftly amusing lyrics, and it's all performed with rich gusto by a four-piece band (directed by George Dyer) – but there is a definite thinness to Cathy's character which is hard to ignore, and the piece sags a little towards its close.
Lucky, then, that Higginson and Lynch are armed with a veritable boatload of talent and charisma – the megawatt, star-making kind that hits like a tidal wave. Higginson begins puppyishly, gambolling around the stage, swept up in amazement at his young luck, before the early success hardens his charm into a suave, cold arrogance.
It's to his ample credit that the character comes across as likable as he does. Lynch, in comparison, begins in a state of brittle sadness and blooms in reverse, ending the show with an irrepressible, poignant excitement. She chases Higginson around the stage, the revolve spinning a little too fast for her to keep up, and there's a palpable sense of a woman trying to keep her head above the water. Her eyes widen, her smile fixes into a rictus, and she grasps for someone who is no longer there.
While Jamie Platt's lighting design can come across as a little emphatic (blue for the sad times, yellow for the good ones), and there's some distracting fiddling about with props, this is a gorgeous, sparkling revival. It's a piece as much about love as it is the disappointments of growing older – of that encroaching fear that one's life might just be mediocre. This production is anything but.
Register for free to continue reading
Registration is a free and easy way to support our truly independent journalism
By registering, you will also enjoy limited access to Premium articles, exclusive newsletters, commenting, and virtual events with our leading journalists
Already have an account? sign in
Join our new commenting forum
Join thought-provoking conversations, follow other Independent readers and see their replies