The Last of the Haussmans, NT Lyttelton, London The Prophet, Gate Theatre, London; Democracy, Old Vic, London
Julie Walters' old hippy is still young at heart in this well-cast and strongly-written drama about bricks, mortar and the legacy of the 1960s
Kate Bassett
Saturday 23 June 2012 18:33 Comments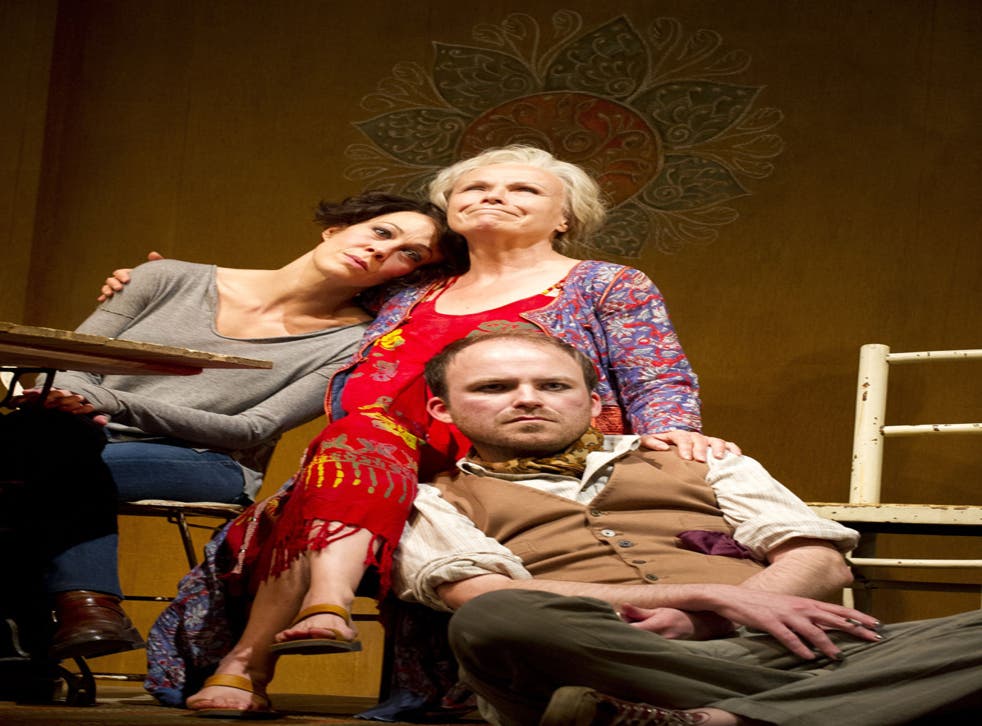 Revolt! Rebel! Julie Walters is an old hippy, with long grey hair, still espousing the spirit of the Sixties in The Last of the Haussmans. This is an outstanding first play by actor-turned-writer Stephen Beresford, directed by Howard Davies.
Though recuperating after a cancer scare, Walters's Judy remains a blithely ribald party animal. She'd like to get frisky with the local GP, Matthew Marsh's Peter. Reminiscing about how he, too, once hung out at rock festivals, Peter is letting his hair down at her West Country seaside house. Who's really after whom – or what – is to become knottier in this seriocomedy about love, parenting and property.
Beresford's debut shares themes with Mike Bartlett's Love, Love, Love recently seen at the Royal Court. But one should look further back, for the seminal influence, to Alexi Kaye Campbell's 2009 play, Apologia, if not to Chekhov's amorous tangles and late-night vodka in Uncle Vanya.
Judy's family property is an Art Deco villa, once chic, now ramshackle. Judy's son and daughter were raised here by their grandparents while she joined a commune to change the world. Now, her offspring have returned – braced – to nurse this overbearing boho or, at least, clear out her weevil-infested junk.
Sardonic yet nervy, Rory Kinnear's Nick is a scruffy junkie. Currently detoxed, he's nevertheless drawn to the bottle and to boys like Daniel (Taron Egerton) – the taciturn youth who daily swims in Judy's pool. Helen McCrory's Libby, meanwhile, has an air of toughened-up efficiency which masks neediness, as she takes flak from both her mother and recalcitrant teenage daughter (Isabella Laughland – one to watch).
Admittedly, the tension dips now and then, and McCrory was over-projecting on press night, as if anxious about audibility. Also, Vicki Mortimer's revolving set – while beautifully conveying the passage of time between scenes – may have been tricky to light, with the rig reflected in its windows.
Blips aside, though, this is a very fine, strongly cast premiere, and Beresford captures conversational quirks delightfully. The Last of the Haussmans becomes raw and tender as well, ultimately embracing far-reaching issues: an inheritance drama, then, not just about bricks and mortar, but also about the psychological legacy of the Sixties.
The new artistic director of the Gate in Notting Hill, Christopher Haydon, has kicked off with Resist!, an entire season about rebels. The Prophet, by Hassan Abdulrazzak (of Baghdad Wedding acclaim), homes in on the Arab Spring, in Cairo, January 2011.
Abdulrazzak has drawn on interviews with Egyptian revolutionaries, soldiers, journalists and cab drivers. Yet the result is a disappointing chamber piece about Layla (Sasha Behar) and Hisham (Nitzan Sharron), middle-class liberals who, while Tahrir Square is swarming with courageous protesters, are morally compromised, brooding over their soured marriage.
Although Behar and Sharron give concentrated performances, the script is an awkward union of vivid, verbatim accounts of the street protests, a laboured office comedy involving Layla's sex-pest boss, and a fantasy about a clichéd femme fatale who lures Hisham, a writer, to a torture chamber for his past treachery. Some potently grim moments, but patchy.
Lastly, in Michael Frayn's political bio-drama Democracy – arriving at the Old Vic from Sheffield's Crucible – Willy Brandt is West Germany's Chancellor, backed by 1960s radicals. Setting out to bridge the Cold War divide between West and East, he is defeated by cabinet schisms and the revelation that his aide, Günter Guillaume, is a communist mole.
Director Paul Miller invigorates this revival with a thrust stage and a fast-paced start. Aidan McArdle's eager, dwarfish Guillaume beetles among the ministerial suits. Insinuating himself with Patrick Drury's smooth Brandt, he keeps stepping out to narrate/report back to his Stasi contact who hovers on the sidelines. There's something arid about this, nonetheless. The core idea is intriguing, namely that Guillaume and Brandt were comparably riven personalities. If only the play dramatised that thesis, rather than spelling it out in its own margins.
'The Last of the Haussmans' (020-7452 3000) to 10 Oct; 'The Prophet' (020-7229 0706) to 21 Jul; 'Democracy' (0844 871 7628) to 28 Jul
Critic's Choice
Remarkably absorbing, Gatz is an experimental, epic reading-cum-dramatisation of The Great Gatsby, performed at the Noël Coward Theatre, London (to 15 Jul). The Witness is a droll, tragic snapshot of a war photographer and adopted daughter (excellent Danny Webb and Pippa Bennett-Warner) torn apart by concealed truths, at the Royal Court Upstairs (to 30 Jun).
Register for free to continue reading
Registration is a free and easy way to support our truly independent journalism
By registering, you will also enjoy limited access to Premium articles, exclusive newsletters, commenting, and virtual events with our leading journalists
Already have an account? sign in
Join our new commenting forum
Join thought-provoking conversations, follow other Independent readers and see their replies