The Lieutenant of Inishmore, Noel Coward Theatre, London, review: Aidan Turner is masterful in Martin McDonagh's savage farce
Michael Grandage's splatter-fest revival is exuberantly gruesome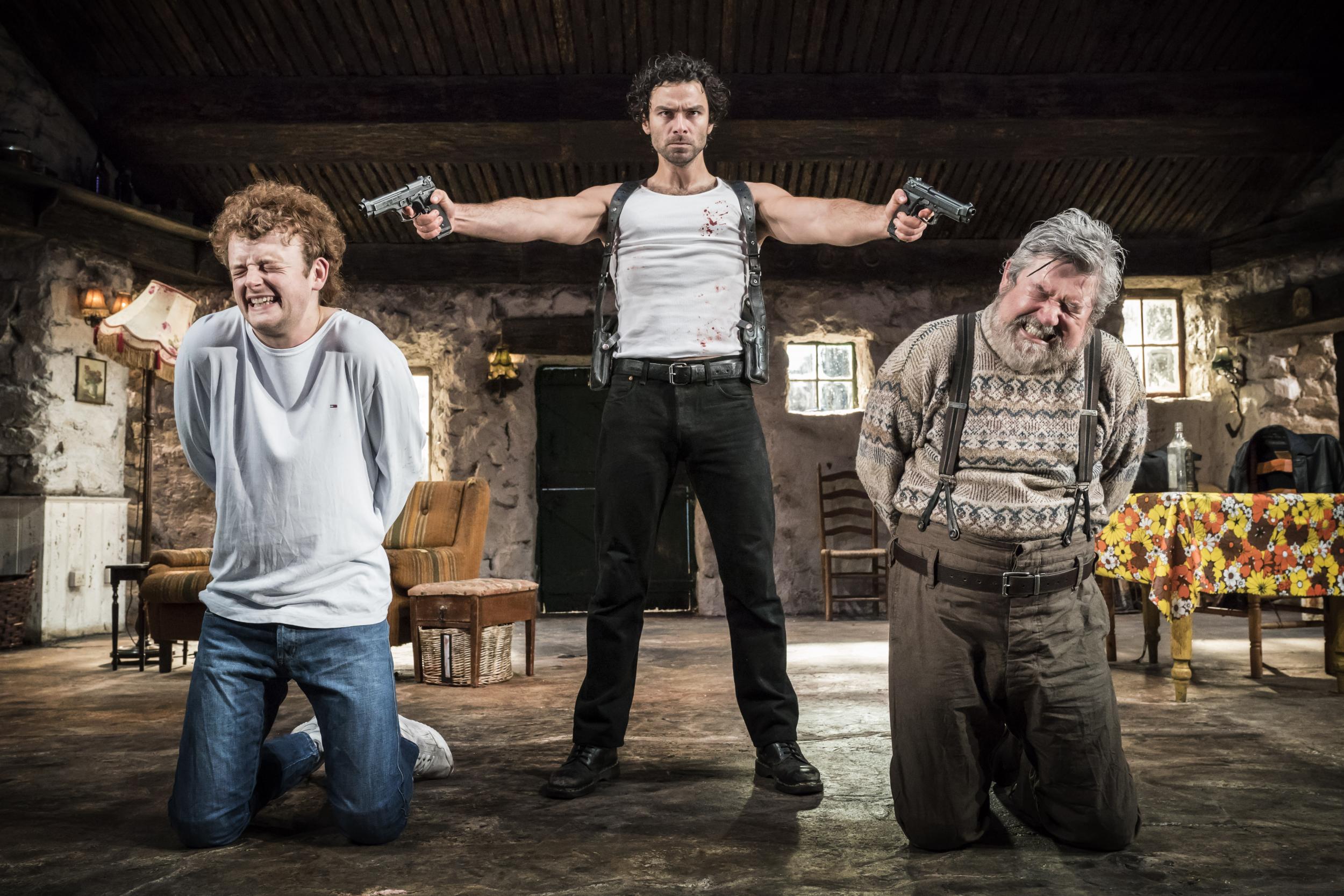 It's already been quite a year for Martin McDonagh. His movie Three Billboards Outside Ebbing, Missouri picked up Golden Globe Awards for (among other things) Best Motion Picture and Best Screenplay and was nominated for seven Oscars. Now Poldark heartthrob, Aidan Turner, is pulling the crowds into Michael Grandage's blackly uproarious revival of The Lieutenant of Inishmore.
First staged by the RSC in 2001 and set during the 1990s Irish peace process, this piece is one of McDonagh's best: a savagely funny satirical farce on the terrorist mentality. Turner does it proud with a performance that shows a masterful command of its Synge-meets-Tarantino tone.
He plays Padraic, an Irish National Liberation Army man, who was turned down by the IRA for being "too mad". When we first meet him, he is torturing a young Belfast drug dealer – who has been suspended upside down from the ceiling – with a matter-of-fact chattiness. But then he receives news that his precious cat "Wee Thomas" is poorly and he buckles into a mass of sobbing solicitude: "Put a blanket on him and be stroking and stroking him." The torture victim chips in with some helpful advice about ringworm pellets.
In fact, "Wee Thomas" is now a corpse with a caved-in head. Padraic's dad Donny (Denis Conway) and his ginger-mulleted friend Davey (Chris Walley) are unsure about how this fatality happened but live in dread of the mad man's reaction when he gets home. Conway and Walley (fresh from RADA) form a blissfully gormless double-act.
They kidnap a marmalade cat and try to disguise it as a substitute with black shoe polish. This ploy is not a success. "He has a disease that makes you go orange and smell of shoe polish," is Donny's desperate gambit before a furious Padraic blast the imposter moggy to a spray of blood and holds the pair at gun point.
The real culprits are a rival group within the INLA who finished off "Wee Thomas" as a means of luring Padraic back to Inishmore and into a trap. His animus against drug-pushers has angered them because the drugs-racket finances their violent activities. "Is it happy cats or an Ireland free we're after?" Will Irvine's one-eyed thug asks.
No one could think of McDonagh's terrorists as freedom-fighters. They are sentimental psychopaths – epitomised by Padraig's overweening grief for his cat and indifference to human life – a sexist, puritanical, emotionally stunted bunch.
McDonagh's play pushes its mockery of them to gleeful extremes and Grandage's robust, zestful production is wonderfully on its wavelength as it escalates into a splatter-fest that makes Titus Andronicus look like Mary Poppins. "Sure, you can't be asking me to go chopping up the body of me own son," says one character as he saws corpses into pieces after a shoot-out. It sounds more like the complaint of a constitutionally work-shy man than of a bereft father.
The play is full of those jolting disjunctions. Charlie Murphy is excellent as the crop-haired tomboy, Mairead, who is besotted with Padraic and dying to get into INLA. She's a dab hand at blinding cattle by shooting their eyes out – a talent that will prove useful later.
Fans of Aidan Turner may be disappointed to hear that he keeps his vest on throughout but should be pleased at how well their man gives a psychotic edge to his powers of animal magnetism. The sight of him wandering about, lost in sorrow, tenderly cradling the dug-up corpse of his headless pet will not be forgotten in a hurry.
The show also whets the appetite for McDonagh's new play, entitled A Very Very Very Dark Matter (you have been warned), which comes on at the Bridge Theatre this autumn. Meanwhile, this exuberantly gruesome revival is well worth a visit.
Until 8 September (delfontmackintosh.co.uk)
Join our commenting forum
Join thought-provoking conversations, follow other Independent readers and see their replies