The Life and Death of Marina Abramovic, Manchester International Festival: The Lowry, Salford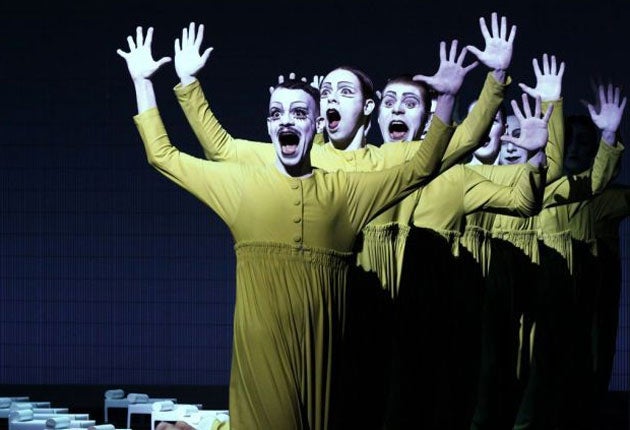 For the neutral observer who might have come to be entertained, enthralled, provoked, maybe even all three, entering into the Lowry for the staging of Robert Wilson's recreation of the life and death of the world's greatest – and most challenging – performance artist is not a moment without trepidation.
This after all is the woman who spent 736 hours last year standing motionless in her MoMa retrospective. Wilson, the veteran avant-garde theatre director enlisted in the project by Abramovic herself, is someone with a similar reputation for testing the commitment of the faint-hearted.
It was a feeling that didn't do away when staff warned me the first half would be "difficult" but to stick with it because in the end it would come together. Perhaps all this was what spin doctors would call an effective exercise in managing expectations.
Whatever the intentions, the fear of a long, difficult three hours ahead evaporated immediately. Wilson has advised audiences to go to his work as they would a museum or gallery. And what unfolded was a series of masterly scenes, predominantly from Abramovic's unhappy early life with her abusive mother, growing up in communist post-war Belgrade. Each episode is exquisitely executed in haunting slow motion – the time she is injured in a bizarre washing machine accident; her attempts at DIY cosmetic surgery; the year she's mistakenly hospitalised as a haemophiliac. Stunningly lit with a coruscating soundtrack and a sublimely tender score, written and sung by Mercury Prize-winning artist Antony Hegarty, the tragic-comic vignettes flow gorgeously past your eyes and ears, leaving you with a profound sense of the uniqueness and strangeness of life.
Abramovic plays her mother, creating a wicked fairytale caricature of the woman who sought to crush her early dreams. Willem Dafoe carries the narrative toward the final death scene. Part Weimar-era nightclub MC, part Tom Waits, his performance is stunning. By the end the audience are on their feet. Many will have come here already aware they were entering the presence of genius. For those of us who discovered it for the first time, the night was even more special.
To 16 July ( mif.co.uk)
Join our commenting forum
Join thought-provoking conversations, follow other Independent readers and see their replies