The Life, Southwark Playhouse, London, review: A crime if this show does not transfer to the West End
Michael Blakemore, who directed the award-winning first Broadway production in 1979, is still championing this wonderful but controversial work 38 years on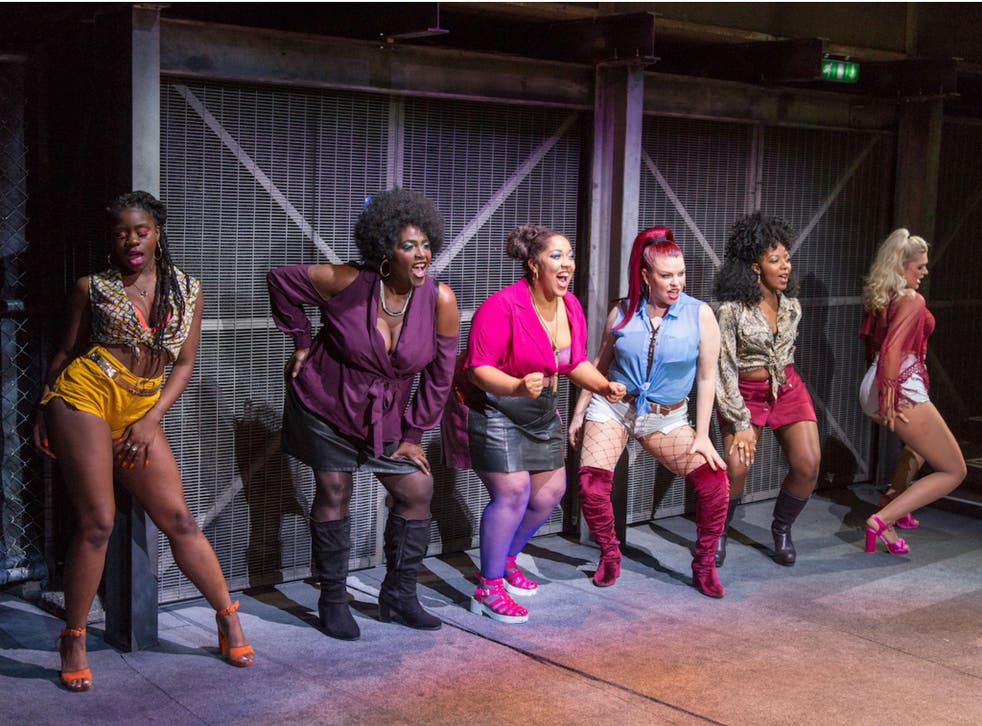 Michael Blakemore directed the Tony award-winning first Broadway production in 1979 of this Cy Coleman/Ira Gasman musical set amongst the hustlers, pimps and prostitutes plying their trade on 42nd street and in Time Square during this district's 1970s heyday of sleaze. The 88-year-old is still championing this wonderful but controversial work 38 years on, and has directed this UK premiere, even contributing the bitingly witty revisions to the original book written by the composer/lyricist team with David Newman.
As well as being a leading director of straight plays and a prose writer of distinction in his books of memoir and novels, the Australian Blakemore is, for my money, the finest non-native director of American musicals in the business, as he has proved with, say, his version of Kiss Me, Kate, gong-laden on both sides of the Atlantic, and by his expert feel for the dark pastiche film noir fun of a later Cy Coleman tuner, City of Angels.
Here he's assembled a cast that that capture with indelible vividness the gritty drop-dead humour and vulnerability of folk who've been round the block once too often and the violence crouching ready to spring from the seedy overlords of the underworld who treat their slaves with systematic contempt.
In Sweet Charity, his most celebrated show, Coleman focuses on a group of raunchy but sanitised dance hall hostesses; in The Life, the brutalities that keep prostitutes in their place erupt to the surface in a manner that is all the more shocking for its lethal, matter-of-fact abruptness. We meet Queen from Savannah (played with a lovely soprano that is pure and strong with a faint frost hovering on its surface by the excellent T'Shan Williams) and her pimp and lover Fleetwood (David Albury), a Vietnam vet and drug addict. There's a reiterated pattern of women attempting to escape a terrible relationship only to wind up in the clutches of an even worse oppressor.
The smallfry hoodlums – like hustler Jojo, performed to perfection by John Addison, always with a smile lolling on his face as if it's wondering in which disingenuous direction to turn – proceed with scams pretending to protect innocent new arrivals to the big city. But they meet their match here with Mary (Joanna Woodward), just off the bus from Minnesota, whose pose as a naïve angel turns out to be as specious as theirs. And the whole operation is masterminded by Cornell S John's magnificently menacing uber-pimp Memphis. The scene in which he takes Queen to a pervy purple bedroom and then tells her she has to pay off the price of the golden dress in which he has encased her (sending the imagination into visions of horrific humiliation when he unbuttons a shoulder and assures her that this won't take long) is surely one of the most morally scary in the musical genre. Blakemore gives the character brilliantly grotesque touches of business – pouring cocaine into her purse from a great disdainful height as if to say, Marie-Antoinette-style "Let them snort coke" – that establish the daunting scale of his inhumanity.
The incomparable Sharon D Clarke sings with a miraculously relaxed sass and a wry resilient depth as Sonja, the veteran prostitute ("I've been in seven beds tonight and haven't slept in one of them"). Sending thrills, chills and shudders down one's spine, the score is played by the 11-piece band who do magnificent justice to the way it pits sheer musical exhilaration against the sordid circumstances, as though one were to witness a knifing in the reflective surface of a spangled dress. A crime if this show does not transfer to the West End.
Join our new commenting forum
Join thought-provoking conversations, follow other Independent readers and see their replies