The Little Match Girl, Sadler's Wells, review: 'An exemplary exercise in the combined effect of theatrical technique to create atmosphere'
An almost-happy ending is appropriate for a family show at Christmas time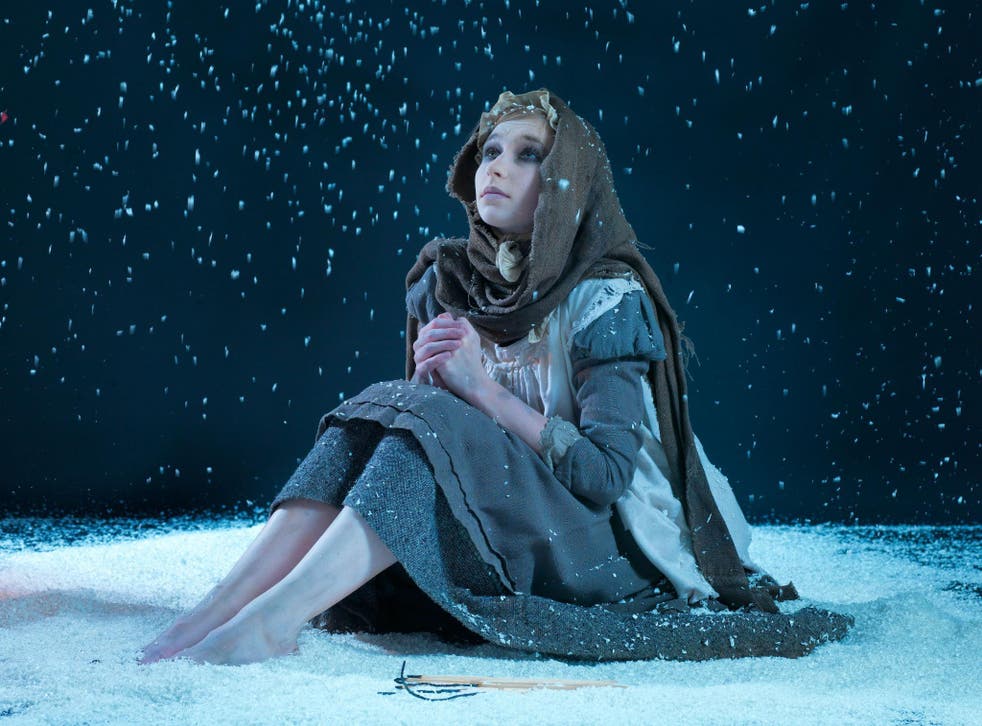 If you're looking for a quirky alternative to The Nutcracker this Christmas, you won't go far wrong with Arthur Pita's imaginative version of Hans Christian Anderson's classic tale, The Little Match Girl, currently showing at Sadler's Wells' Studio theatre for a third consecutive year.
In many ways, Pita has found the perfect vehicle for his distinctive version of dance theatre, transforming the pathos of the original story into lyrical waltzes, semi-operatic songs and moments of theatrical camp.
Pita's choreographic eye is clearly drawn to the moral message of the story: inequality. At one point, the little match girl's combination of innocence and desperation becomes a political act as she hammers on a rich family's door with fists and feet. Cleverly, Ed Yetton's lighting direction reinforces this juxtaposition through symbolic chiaroscuro.
In a frilly cap and tattered clothes, Corey Annand, in the title role, perfectly embodies the frailty and grace of the romanticised Victorian street child. Technically, Annand is an excellent dancer. Her light-footed leaps, flexibility and expressive face are central to the show's success.
While singing and speaking in Italian, the remaining three members of the cast play a staggering 10 characters. This heavy performance burden is made light by the charismatic range displayed by all and, in particular, Valentina Golfieri, whose pantomime gestures are dramatic, yet never hysterical.
Yann Seabra's set designs provide strikingly visual, almost cinematic, moments: a large moon dominating the snow-scattered stage; a small cityscape of cardboard houses. While Frank Moon's live musical accompaniment in top hat and ghoulish make-up becomes an integral part of the performance, the rhythms of his percussive folk music form the underlying pulse of the show. Moon's watchful, slightly sinister presence acts as a crucial tool in the moments where the tightrope balance between tenderness and sentimentality threatens to tip.
A family show, The Little Match Girl is an exemplary exercise in the combined effect of theatrical technique to create atmosphere – an impressive feat given that the show is about a little girl who freezes to death. But the children in the audience loved it; at moments I was surrounded by gasps of delight.
The final imaginative leap to the moon, where Annand dances a strange, beguiling duet with an astronaut, does stray dangerously near to Christmas advert territory. Ultimately, however, this shift in perspective helps create an almost-happy ending appropriate for family audiences at this time of year.
Until 4 January
Join our new commenting forum
Join thought-provoking conversations, follow other Independent readers and see their replies