The Low Road, Royal Court, London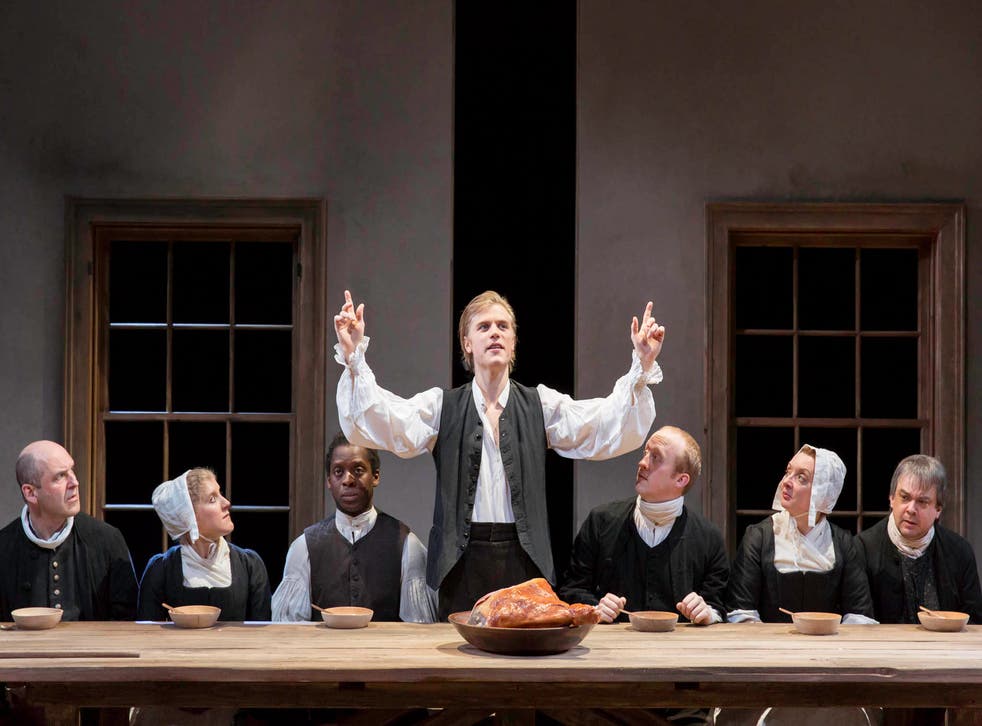 There were moments, during the three hour slog through The Low Road, when I found myself thinking that I would rather tak' any road than have to watch it again.
It's Dominic Cooke's swansong as artistic director and it's a real puzzle. The author is the American dramatist, Bruce Norris, whose brilliant skewering of moneyed liberal pieties in The Pain and the Itch inaugurated Cooke's reign and gave notice of a calculated shift of attention at this theatre to the classes who actually frequent it.
I'm a big fan of Norris's work. Only the other week, I was rhapsodising on these pages about the belated UK premiere of his 2002 play Purple Heart. The motivation for The Low Road is clearly the author's scornful anger at how, five years after the financial meltdown, bankers are back awarding themselves obscene bonuses and no wisdom appears to have been learned --. "we've crashed the car once; do we really want to hand the keys back to the same drunken driver?" as a knighted London financier asks at the spoof of a chaotic G8 summit that starts the second half.
But whole of the first half and the rest of the second are costume drama set in 18th century America, involving some twenty actors. To encounter Norris attempting the picaresque comic mode of Defoe, Fielding (or perhaps more pertinently the Thackeray of Barry Lyndon) is as surprising as it would be, say, to discover that Truman Capote had written a version of Dick Whittington.
Adam Wealth of Nations Smith (Bill Paterson) is our narrative guide through a galumphingly jokey account of the career of one Jim Trumpett (very skilfully played by Johnny Flynn). He's a bastard (possibly the son George Washington) and is reared in a brothel, where one night, as a flaxen-haired nipper he accidentally, spills ink on the manuscript of a guest. While attempting to conceal the evidence, he eye falls on what is a famous passage in Smith's masterpiece. He starts to read, has a lightbulb moment and becomes economic individualism's most fervent if accident-prone convert.
An amusingly rowdy supper where the older Jim attempts to justify his beliefs to the Elders and Congregants of the New Light of Zion Colony of Waterfleet finds it contemporary equivalent in the flash-forward to the G8 summit. We are meant to see how little our thinking about justice, slavery, philanthropy has evolved. But while the gamely performed by a spirited cast, it is wearisomely effortful and fails either to tell you much that is new or make you reconsider what you know in the light of capers with context. A disappointing end to a largely admirable regime.
To 11 May; 0207 565 5000
Register for free to continue reading
Registration is a free and easy way to support our truly independent journalism
By registering, you will also enjoy limited access to Premium articles, exclusive newsletters, commenting, and virtual events with our leading journalists
Already have an account? sign in
Register for free to continue reading
Registration is a free and easy way to support our truly independent journalism
By registering, you will also enjoy limited access to Premium articles, exclusive newsletters, commenting, and virtual events with our leading journalists
Already have an account? sign in
Join our new commenting forum
Join thought-provoking conversations, follow other Independent readers and see their replies