The Mentalists, Wyndham's Theatre, review: Stephen Merchant and Steffan Rhodric are a fine double act in this on-the-run drama
A successful conversational, ruminative piece that dramatises the mutual dependency of old friends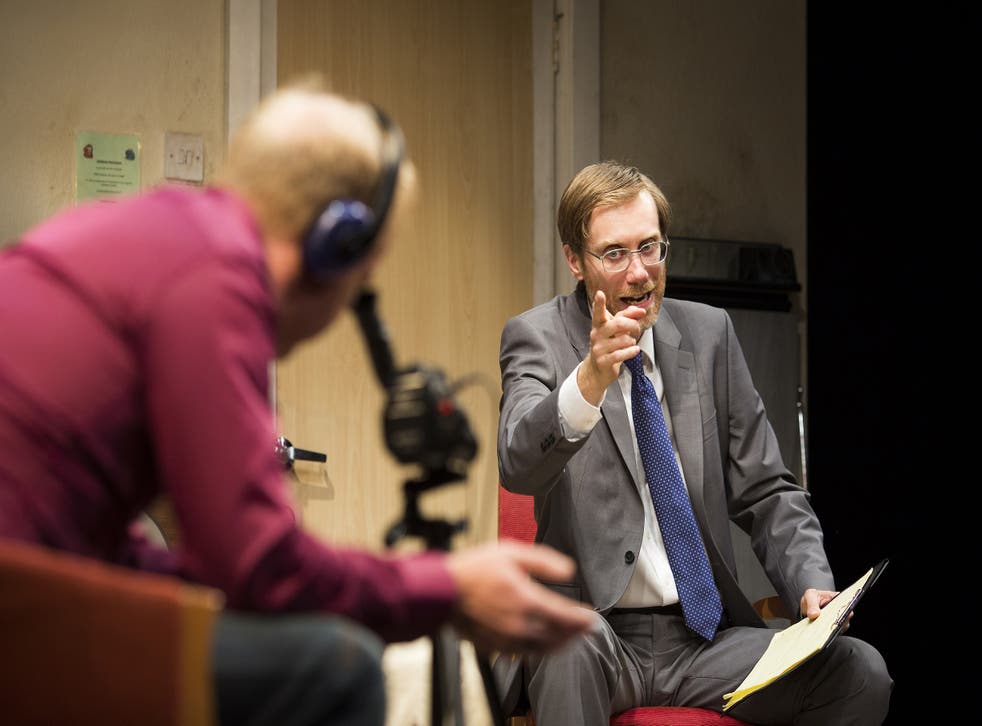 "The Greeks peaked early," opines one of the characters, declaring that the only talent of their descendants is "to drive a taxi at ninety miles an hour in fucking flip flops". The line got a big laugh when this early play by Richard (One Man, Two Guvnors) Bean was premiered in the National Theatre's 2002 Transformation Season.
The mirth it elicits is slightly more uncomfortable the second time round in Abbey Wright's enjoyable revival and not just because of the debt crisis. Ted – with his ingrained Europhobic discontent and his mad, would-be demagogic mission to found a radically simplified and cleaned-up society – may still be hilariously hapless and sad but now seems somewhat less of an exaggeration.
In this oddest of "Odd Couple" comedies, two middle-aged friends check into an anonymous hotel room in Finsbury Park and start unpacking video equipment. What are they up to? For a few minutes, you assume porn. But though the camp, heterosexual Morrie (beautifully caught by Steffan Rhodri) is a hairdresser with a sideline in making amateur blue movies, it's the antithesis of a flesh-flick that he's now being required to film.
Ted – a fleet manager for an industrial cleaning company – wants to be taped delivering a Utopian message to the world (the videos to be sold at £29.99) about a socially engineered future under his benevolent dictatorship. This will undo the damage done by "mentalists", such as Freud and his "junkie mates", with their concentration on the inner life, by operating on radical behaviourist principles that eradicate filthy, anti-social conduct via a stringent system of rewards and punishments.
Making an impressive West End debut, Stephen Merchant (co-creator of The Office) is not as nervy and wired as Michael Feast who created the role but with his ungainly, giant stick-insect presence, his oddball thick-lensed gaze and the cranky insistence of his Bristolan burr, he vividly communicates the pathetic ridiculousness of a loser whose resentment at not being dealt the winning hand has propelled him into frustrated right-wing fanaticism. It's a play with two distinct rhythms. With notes pushed under the door and a gathering sense of siege as the full extent of Ted's lunacy becomes apparent, it turns into an on-the-run drama.
But it's mainly – and more successfully – a conversational, ruminative piece that dramatises the mutual dependency of old friends. If Ted has delusions of future grandeur, Morrie survives through constant allusions to a fantasy past in which his old dad was a legend for prowess in various departments ("the only British boxer to have boxed at every weight") and in which women fell over each other for his own soothing professional touch.
Bean extracts a lot of mileage from the comedy of ineptitude. Ted hasn't even remembered to bring his socks, so the playback of his messianic statement is undermined by ludicrous flashes of bare feet. By turns exasperated, farcical, and tenderly supportive, the fine Merchant-Rhodri chemistry convinces you that this is a double act that goes a long way into a childhood that the despised "mentalists" might want to dwell upon.
To 26 September; 0844 482 5120
Register for free to continue reading
Registration is a free and easy way to support our truly independent journalism
By registering, you will also enjoy limited access to Premium articles, exclusive newsletters, commenting, and virtual events with our leading journalists
Already have an account? sign in
Register for free to continue reading
Registration is a free and easy way to support our truly independent journalism
By registering, you will also enjoy limited access to Premium articles, exclusive newsletters, commenting, and virtual events with our leading journalists
Already have an account? sign in
Join our new commenting forum
Join thought-provoking conversations, follow other Independent readers and see their replies