The Merry Wives of Windsor, Royal Shakespeare Theatre, Stratford-upon-Avon, review - The play has never felt so strongly feminist
Shakespeare effectively invented the sitcom with the only play he set in England in his own times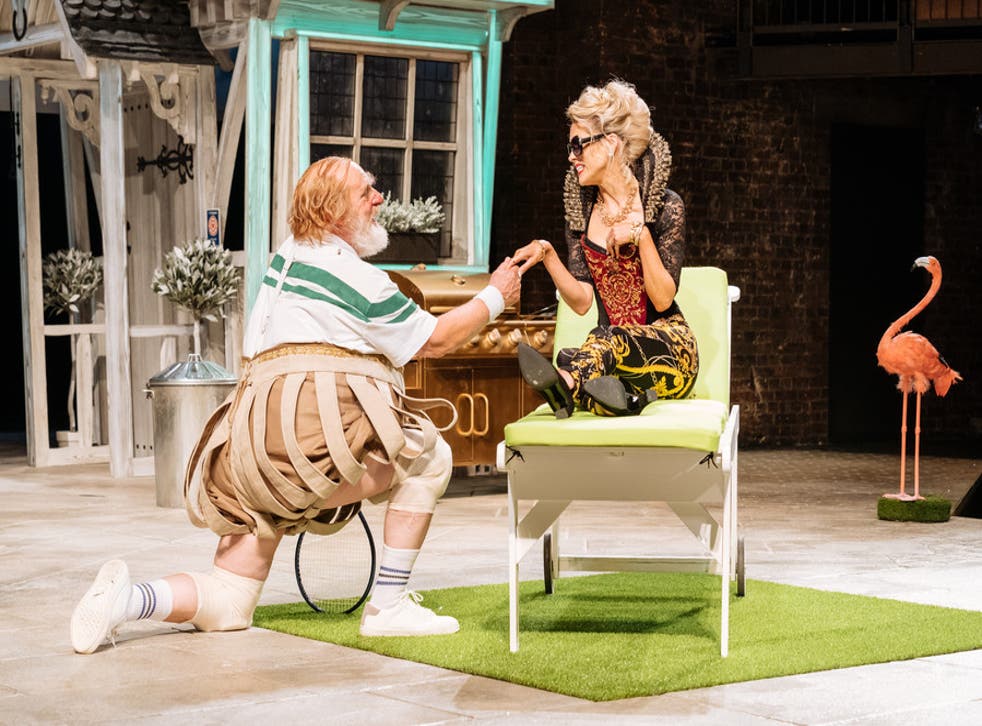 With The Merry Wives of Windsor, the only play he set in England in his own times, Shakespeare effectively invented the sitcom. It's a piece that especially takes flight if performed in modern dress. Bill Alexander's production famously set it in the mock-Tudor of the 1950s; Philip Breen imagined a sort of bang up-to-date Windsor-on-Avon. Now Fiona Laird gives the comedy a vivid TOWIE hue in her exuberant revival on the main stage at Stratford.
Mistress Ford and Mistress Page are in the middle of a pampering pedicure when they compare their identical letters from Falstaff. We are in the world of new money. There are ornamental flamingos on the patio; a remote-control golf cart for taking some of the exercise out of exercise; a rubber ring shaped like a swan for the pool. Contemporary fashions seem to have mated with their Shakespearian equivalents in Lez Brotherston's dazzlingly witty hybridised costumes. Mistress Ford's figure-hugging cat suit has sprouted a high, ornate Elizabethan collar and is pulled in with a velvet bodice from the same period. There are slashed Elizabethan pantaloons in pinstripe or in sportif khaki when the excellent David Troughton – padded to become surely the most circumferentially challenged Falstaff on record – unwisely takes up tennis. Brotherston's cleverly succinct design (two skeleton revolving houses that can outlined in neon).
Though it's vibrantly alive to the absurdities, the production never invites you to sneer at this milieu. Falstaff's great mistake is underestimate the intelligence of Mistress Ford and Mistress Page because of the iffy way they sound to his court ears. He insultingly assumes they'll be honoured to sleep with him just because he's a knight. Beth Cordingly and Rebecca Lacey give you a lovely many-stranded picture of the strong female friendship – the laughs, the conspiratorial glee, the shared contempt, the lack of ego and the ability to take the Mickey out of each other – that enables the wives to give Falstaff his decisive comeuppance. The play has never felt so strongly feminist.
There are intriguing touches in Laird's interpretation. Mistress Ford's husband, who succumbs to obsessive jealousy, is often portrayed as a crank whom you feel she would have been unlikely to have married in the first place. But Vince Leigh's Ford is a buff TOWIE hunk and he and Cordingly are clearly a power couple. It shows that even the most seemingly successful marriage is not immune to fits of misogynist derangement. Cordingly pointedly lingers on Mistress F's flashes of scorn and and hurt at his behaviour, giving real depth to a line such as "Heaven make you better than your thoughts".
In the original, Ford becomes convinced that Falstaff has been secreted in the laundry basket and sets the household's intimate dirty linen flying as he furiously scrabbles to find his quarry. Here, the basket has been changed to a smelly pink wheelie bin which Troughton's Falstaff has make several runup attempts, to a drum roll, to get inside.
The production is ablaze with energy and throngs with strong, quirky performances. I particularly liked Tom Padley as a blazered chump of a Slender (the kind of man who goes to high-five people and is left hitting air) and Jonathan Cullen as a comedy French physician: "Quelle catatastrope, ce Brexit", he fumes.
There are a lot good interpolated language gags. I think my favourite was this: the wives look down their noses at the two blokes who have come to empty the wheelie bin in the canal and who speak in a impenetrable eastern European tongue. But subtitles eventually show us that these toughs are discussing the similarities between this scenario with the Odette situation in Swann's Way by Proust.
Aptly, the production is stuffed with echoes of sitcom – most explicitly, when Falstaff, in drag as the "fat woman of Brentwood [sic]", murmurs the old Dick Emery line, "Ooh you are awful – but I like you". A delight.
To 22 September (transfers to Barbican 7 December to 5 January). Broadcast live to cinemas 12 September (rsc.org.uk)
Join our new commenting forum
Join thought-provoking conversations, follow other Independent readers and see their replies