The Mist and the Mirror, Oldham Coliseum Theatre: Woman in Black sequel doesn't take itself too seriously
Ian Kershaw's adaptation is a rich and unusual box of horrors
Ian Herbert
Thursday 12 February 2015 10:15 Comments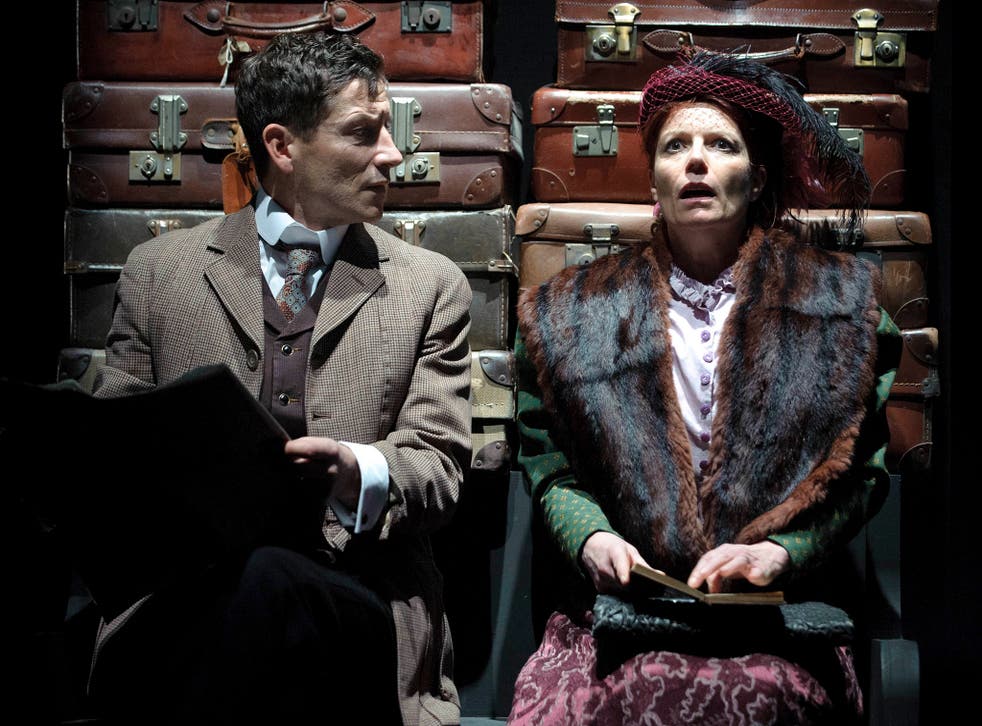 Horror on the stage can be a risky business. Liz Lochhead's feminist Dracula at Keswick was excellent but just didn't draw the audiences last year. The Mist in the Mirror, Susan Hill's sequel to The Woman in Black, brings a bigger challenge because it's not the greatest of texts, but Ian Kershaw's adaptation works by knowing how far to push fear.
Kershaw tells a good story about running in panic-stricken fear down Blackpool Prom as a boy, after a Dalek in the local Doctor Who exhibition scared the life out of him with its "Exterminate your cigarette or be exterminated." The pre-curtain call instruction: "If you feel unwell please leave by the nearest available exit" underlines the fact that this is not a piece of theatre taking itself too seriously. What is about to unravel proves to be horror without a need to run out of the building. It's not an easy balance to strike.
The atmosphere generated on this stage contributes substantially to that. Hill's story of nomadic traveller Monmouth's obsessive pursuit of knowledge about another explorer, Conrad Vane, in the face of countless dark warnings to leave well alone, is delivered with visual media specialists Imitating the Dog, whose projections of mists, rain, curtains and the spectral landscape that hurtles by, as Monmouth takes a train out to ghostly Kittiscar Hall to follow fate, provide a kaleidoscope of noir. The effects build a richness about the libraries, inns and moors, even in their ghostliness.
Live action and filmed techniques intersect smartly, as Monmouth looks behind doors and curtains, though on occasions the synchronicity is not quite there and it doesn't work. The projection of Monmouth's footsteps does not quite mirror his walk across a night courtyard in the snow. But with thumping heartbeats, loud ticking clocks and things that go bump and bang in the night, this is a creation like few others the genre has seen. The only break from the blackness is the reader Kershaw has suspended, bathed in red light, in a small space above the stage.
It's a calibrated delivery by Paul Warriner's Monmouth, as the horror of what he is pursuing takes its time to dawn upon him. But Martin Reeve, playing three characters who all know what the protagonist is getting into, is perhaps most memorable - there seeming to be something comedic about the grave warnings he issues.
Or is there? A child is caught up in the horror and in Reeve's talk of the "corruption of the innocent" and Vane "having his way at the expense of the others" seems to offer a contemporary narrative for our time here. For his part, Kershaw wants the adaptation to address the manufactured fear that the politicians create in an election year. A rich and unusual box of horrors, which will be touring far and wide across the regions between now and May.
The Mist and the Mirror, Oldham Coliseum to February 21 and then touring
Box Office: 0161 624 2829
Register for free to continue reading
Registration is a free and easy way to support our truly independent journalism
By registering, you will also enjoy limited access to Premium articles, exclusive newsletters, commenting, and virtual events with our leading journalists
Already have an account? sign in
Join our new commenting forum
Join thought-provoking conversations, follow other Independent readers and see their replies