The Mountaintop, Trafalgar Studios, London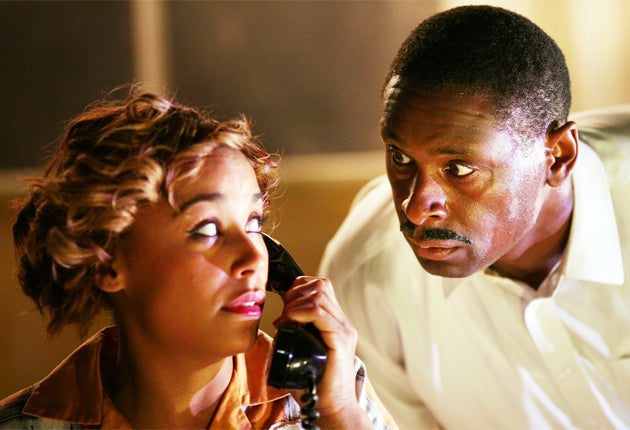 Like Martin Luther King, black American playwright Katori Hall had a dream, and believed that one day her talent would rise up and live out the true meaning of King's assassination in the knowledge that all men are created equal, even if some men still remain more equal than others.
Her powerful two-hander for King and the housemaid who serves him a cup of coffee (with sympathy and Pall Malls) in the Memphis motel room where he took the assassin's hit the following morning, is a prologue to that departure, a résumé of a stunning political career and a sort of love story.
Katori Hall's mother grew up just one block away from that motel and had steered clear of King's great "I've been to the mountaintop" speech, which was delivered on 3 April 1968 at the Mason Temple in support of a strike by black sanitation workers for a new deal. Missing it, fearing a riot, became the greatest regret of her life, and Hall is somehow making good the deficiency.
The housemaid, Camae, is an angel of God, who has come to usher the civil rights hero to the other side, but not before she's made her peace with him on earth. It's a fantastically simple and original dramatic idea, and it's acted by Lorraine Burroughs as Camae and David Harewood as King to the absolute hilt of trembling fulfillment, rage and reconciliation. Harewood, once a very good Othello at the National Theatre, has recently been standing around forlornly on television as Friar Tuck in Robin Hood. This performance restores him to the stage in his true leonine magnificence. He may not look much like King, but he suggests all of his intellectual fire and some of his self-doubts, vanities and even sexual twinkle.
A measure of the play's elasticity of realism and vernacular is that in two telephone conversations King speaks first with his wife and then with St Augustine, who puts him through to God – who's also a woman.
The actors flood the play with their passion and technique – Lorraine Burroughs is Harewood's match as the sexy, argumentative Camae – and are backed up with a tremendous production by James Dacre . By the end, the earth has moved, if not changed for the better, and King is ready to go.
To 5 September (0870 060 6615; www.ambassadortickets.com/london)
Join our commenting forum
Join thought-provoking conversations, follow other Independent readers and see their replies