The Nether, Royal Court Theatre, review: Deeply disturbing and provocative
Bravo to Vicky Featherstone for an authentically challenging piece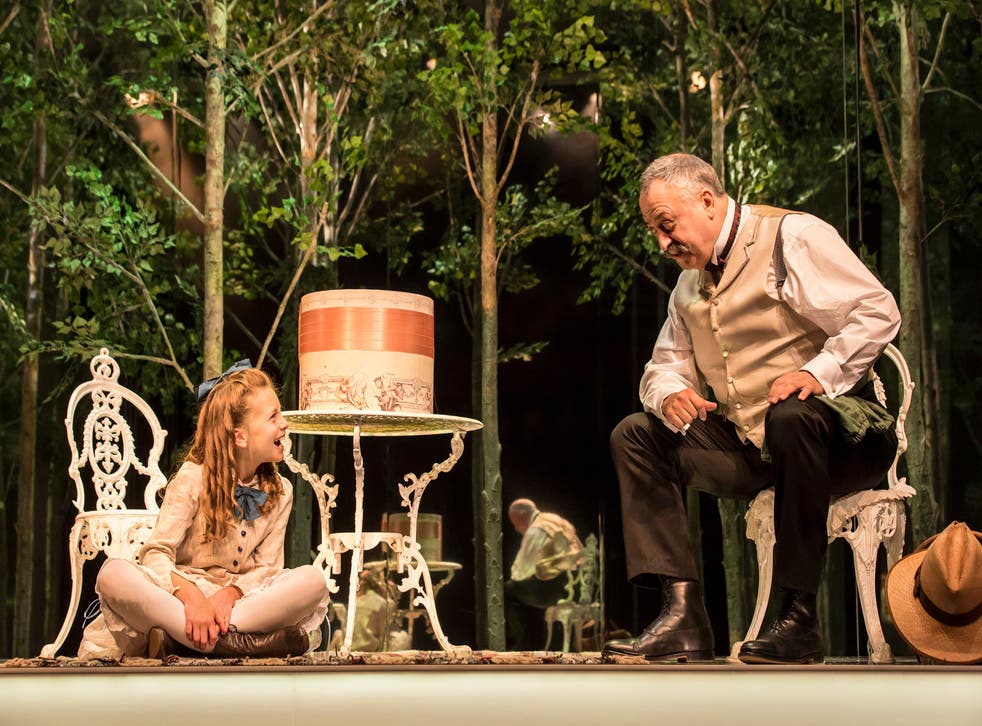 It sounds a cock-eyed compliment to say that I wouldn't want to see Jeremy Herrin's brilliant production of Jennifer Haley's deeply disturbing and very responsibly provocative play again in a hurry – and then have the calm effrontery to urge you to go and check it out.
But that paradox is, in fact, a great tribute to the imaginative power of the piece. As well as bravely tackling a subject that is, by its nature and of necessity, morally troubling in a horribly irresolvable way, The Nether boasts dialogue of such shaped, poetic restraint and eloquent economy that it's as if the words – brusque but sometimes burgeoning into a steady, warped raptness – are being incised on the air.
It's also a play that has the kind of double twist that hamstrings a critic, so I am in danger here of giving away too little. Strips of what look like animated contact sheets (with a monitoring surveillance focus on bits of body – an eye, part of a moustache) constitute the default position of Es Devlin's superb set.
Flourescent lights, with the effect of a cinematic wipe, rise and fall as we move between a stark interrogation room where a female detective (excellent Amanda Hale) is fencing professionally – and perhaps a little too emotionally – with her detainees and (and this is the nub of the matter) an immersive website where paedophiles get to act out their fantasies.
It's Victorian-themed (such a historically penetrating touch not over-milked) and a realm of mirrored glass and poplars and a rocking horse and a doll's house and it's not so much unreal as repulsively irreal.
All ringlets and volatile innocence, Iris runs the risk of being violently eliminated if she gets above herself (whatever that self is).
The issue at which the play very intelligently worries is whether there is such a thing as a world without consequences. If it's virtual reality, does that abolish the idea of virtue and its opposite? Do you have a right, without impunity, to satisfy your desires in the guise an avatar and in a form of existence where the victims of your perversion aren't (to put it mildly) legal entities?
Before watching this play, I liked to think of myself as libertarian and I do, indeed, feel that to know that you are a compulsive paedophile (there are stunning performances here by Stanley Townsend and David Beames) must be, at least partly, its own harrowing penalty. And yet, while I wholeheartedly believe that it is wicked (not to say impossible) to seek to police the imagination – which of us (I am talking about men here) could stand by a complete print-out of our computer activity without our smiles becoming a trifle glassy? – something in me fiercely objects to this website.
It all depends, I feel, on your concept of what it is to be a person and a moral agent. I couldn't define what a soul is, but having seen The Nether, I have an inkling that is is non-transitive (we aren't just pipes through which our pleasures and non-pleasures unlastingly flow) and that it cannot be quarantined and that it matters immensely.
Bravo to Vicky Featherstone and Headlong (the co-producers) for programming this authentically challenging piece.
To 9 August; 0207 565 5000
Register for free to continue reading
Registration is a free and easy way to support our truly independent journalism
By registering, you will also enjoy limited access to Premium articles, exclusive newsletters, commenting, and virtual events with our leading journalists
Already have an account? sign in
Register for free to continue reading
Registration is a free and easy way to support our truly independent journalism
By registering, you will also enjoy limited access to Premium articles, exclusive newsletters, commenting, and virtual events with our leading journalists
Already have an account? sign in
Join our new commenting forum
Join thought-provoking conversations, follow other Independent readers and see their replies