The Nutcracker, Royal Opera House, London, review: Francesca Hayward is lovely as Clara
One of the company's rising stars, Hayward, has a radiant flow of movement and gleaming footwork as Clara in the company's 455th performance of Peter Wright's production
Zo Anderson
Thursday 07 December 2017 12:15 Comments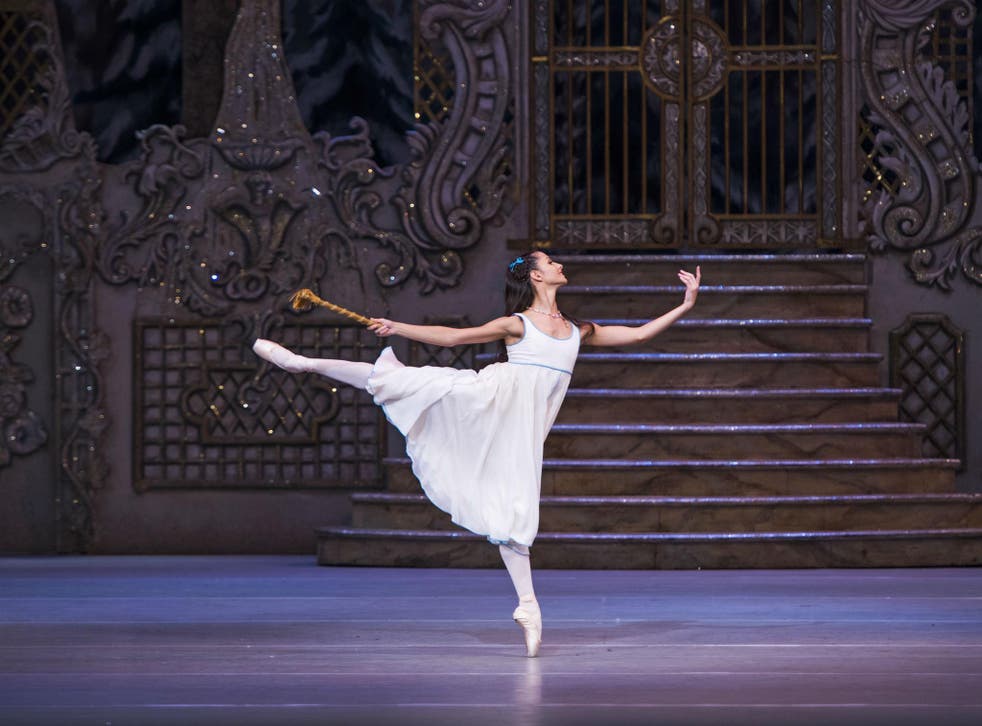 For ballet, Christmas means The Nutcracker, and this time it's back in splendour. The Royal Ballet's revival is a joyful return, an ideal combination of traditional warmth and new-minted detail. This was the company's 455th performance of Peter Wright's production, yet nothing feels by rote: it's as fresh and full of wonder as Francesca Hayward's lovely Clara, watching her magical journey unfold.
Wright's 1984 production, aimed to be as faithful as possible to Tchaikovsky and Ivanov's original. In 2001, he revised it, giving more prominence to the young heroine Clara and to the magician Drosselmeyer, who directs the action. At this performance, the different elements blended beautifully, from the gilded period detail of Julia Trevelyan Oman's designs to the glitter of Drosselmeyer's magic tricks.
The party scene is a marvel of cosy 19th-century scene-setting and vivid observation. I love the housemaids gossiping as they light the Christmas tree, hands carefully shielding their lighted candles, or the all-too-believable way Hayward and Caspar Lench, as her brother, tease each other over Drosselmeyer's gift of the Nutcracker doll.
Hayward's dancing is as gorgeous as her bright, engaged acting. One of the company's rising stars, she has a radiant flow of movement and gleaming footwork. She's matched by Alexander Campbell as the enchanted Nutcracker, with appealing chemistry between the two. He has a boys' own directness in the battle with the mice, socking Nicol Edmonds' Mouse King with a tidy right hook. His dancing is bold and buoyant, with a strong jump and tender partnering.
The production's magic scenes are satisfying, with a handsome growing Christmas tree. As Drosselmeyer, Gary Avis's crisp musical timing gives his tricks extra sparkle, without ever losing the narrative thread. Conductor Barry Wordsworth brings out both the delight and the drama of Tchaikovsky's score.
Sarah Lamb is an elegant Sugar Plum Fairy, despite some moments of tension. Steven McRae is alert and assured as her prince. It's a clean performance of the great Ivanov pas de deux, but could have more depth.
Throughout, it's good to see the ballet's many supporting roles cast from strength. Yasmine Naghdi brings distinctive, airy phrasing to the Rose Fairy, finding breadth even in the fastest sequences. Melissa Hamilton is slinky in the Arabian dance, with impressive partnering from Reece Clarke. Tristan Dyer shines as Clara's dancing partner. It's a rich, affectionate performance from the whole company.
Until 10 January (roh.org.uk)
Register for free to continue reading
Registration is a free and easy way to support our truly independent journalism
By registering, you will also enjoy limited access to Premium articles, exclusive newsletters, commenting, and virtual events with our leading journalists
Already have an account? sign in
Join our new commenting forum
Join thought-provoking conversations, follow other Independent readers and see their replies