The Sleeping Beauty, London Coliseum, review: Has a gleaming performance from Alina Cojocaru at its heart
There's a warmth and confidence in English National Ballet's production that makes the fairytale's magic sing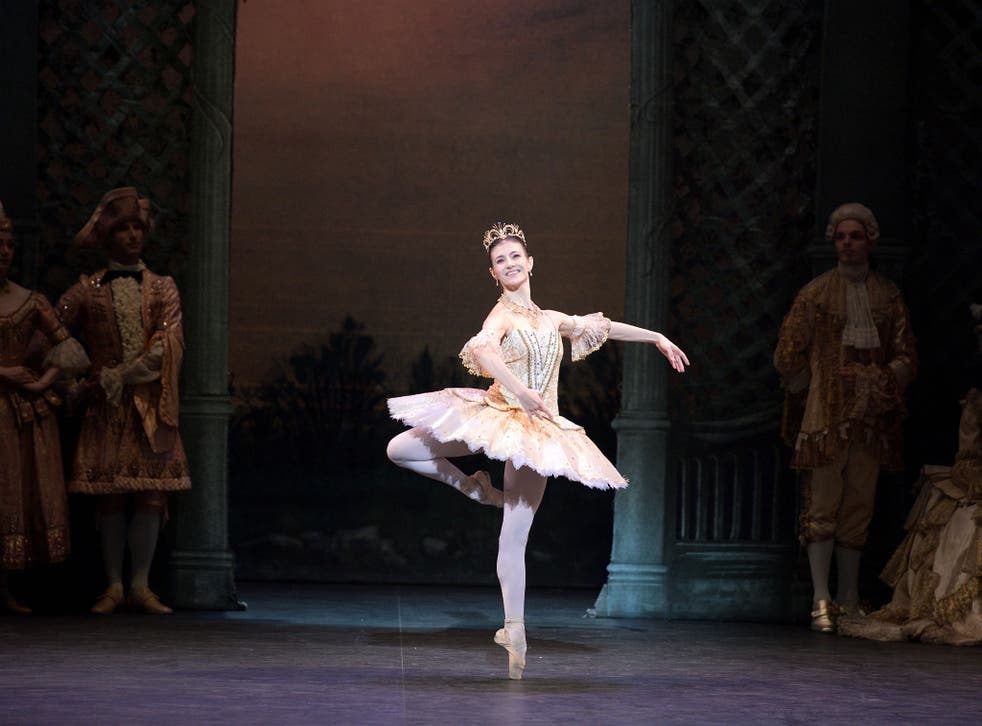 English National Ballet's The Sleeping Beauty is a grand, spacious fairytale, now with a gleaming performance from Alina Cojocaru at its heart.
Marius Petipa's 1890 ballet is one of the Himalayan peaks of the classical repertory, and of a ballerina's career. To a ravishing Tchaikovsky score, the story unfolds in jewel-bright dances and bustling mime scenes. Kenneth MacMillan's production, created in 1987 and first staged by the English National Ballet in 2005, has a sure sense of theatre in both, with gorgeous costumes by Nicholas Georgiadis. It's the best Beauty in Britain, with a warmth and confidence that make the tale's magic sing out.
Cojocaru joined the English National Ballet from the Royal Ballet in 2013, but this is the first time she's danced The Sleeping Beauty with her current company. Back on stage after maternity leave, she's a dancer who combines filigree delicacy with a vivid sense of drama.
As the happy princess on her birthday, her dancing is sometimes a little dry in the big technical challenges, but she always addresses it to those around her. Taking the demanding balances of the Rose Adagio, she also responds to each of the suitors partnering her. Pricking her finger on the spindle, Cojocaru's Aurora tries to smile reassuringly at her parents, even as she collapses in pain.
In the vision scene, Cojocaru dances with dreamy softness, her long phrases floating away like mist. As Joseph Caley's polished prince follows her through the graceful avenues formed by the corps de ballet, she's both intangible and glowingly present. Woken from her hundred years' sleep, she dances the wedding act with burnished grandeur, a heroine in full maturity.
The company performance takes a while to warm up, with some cautious dancing in the Prologue. But I love how the whole company gets caught up in both story and dancing in this production. When James Streeter, imperious as the bad fairy, confronts Shiori Kase's pearly Lilac Fairy, the whole court watches them with wonder and fear.
This is a world where formalities matter, where forgotten invitations can lead to disaster. In the hunting scene, we see both the aristocratic elegance of the court's dancing, and the strict sense of hierarchy in its games. The corps de ballet dance with assurance, particularly in the vision scene.
In supporting roles, Rina Kanehara shone as Princess Florine, partnered by Daniel McCormick's energetic Bluebird. Shevelle Dynott was a swaggering Wolf, pursuing Jennie Harrington's wide-eyed Red Riding Hood.
Until 16 June (ballet.org.uk)
Register for free to continue reading
Registration is a free and easy way to support our truly independent journalism
By registering, you will also enjoy limited access to Premium articles, exclusive newsletters, commenting, and virtual events with our leading journalists
Already have an account? sign in
Register for free to continue reading
Registration is a free and easy way to support our truly independent journalism
By registering, you will also enjoy limited access to Premium articles, exclusive newsletters, commenting, and virtual events with our leading journalists
Already have an account? sign in
Join our new commenting forum
Join thought-provoking conversations, follow other Independent readers and see their replies