The Starry Messenger, Wyndham's Theatre, review: Matthew Broderick excels in Kenneth Lonergan's play
The actors play characters that range from laugh-out-loud funny to twisty, wrong-footed ambivalence
Paul Taylor
Thursday 30 May 2019 14:32 Comments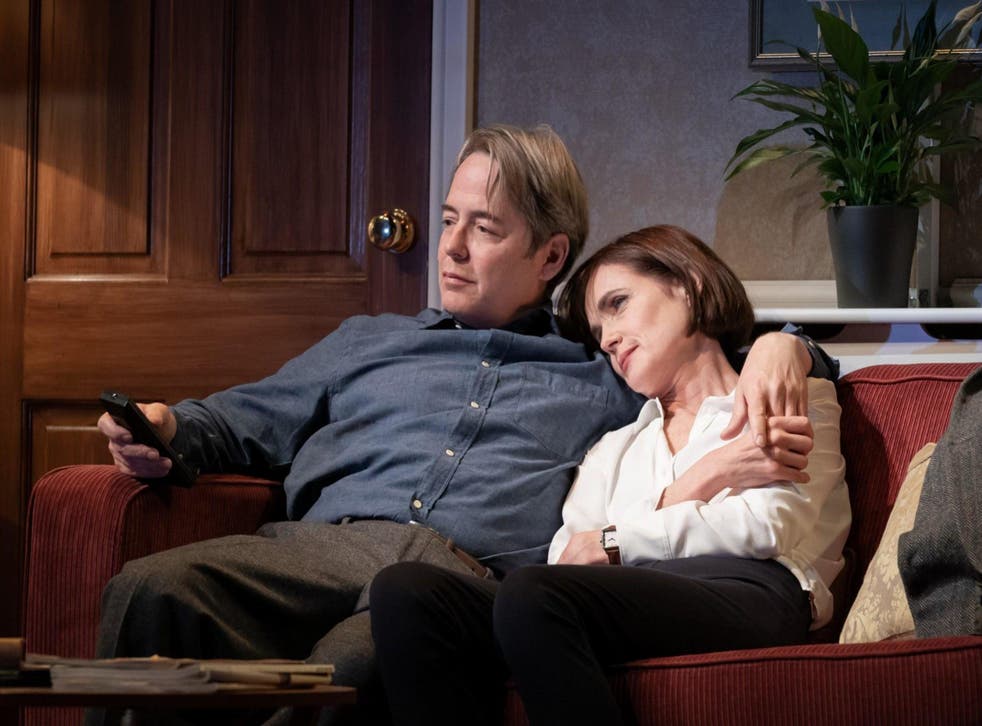 In this play, Kenneth Lonergan – an American writer most recently lauded for the magnificently sensitive Manchester by the Sea – sets his sights on the star-spangled canopy of the sky. His aim is to set the lovely/lacerating littleness of human concerns against the vast moral indifference of the universe, and to achieve this, he renders his central figure an instructor in New York's Hayden Planetarium. Studded with infinity stars that occasionally sag and wobble like shoals of netted fish, the planetarium's heavenly light show is a constant behind the revolving interiors in Chiara Stephenson's wittily proportioned design.
Mark – said instructor – fell short of becoming a fully fledged astronomer, and his institution is about to be shut and replaced by something more state-of-the-art. A placid, largely benign figure, he has yet to appreciate how defeatist stoicism can itself be a form of arrogance. Nor does he understand that asking little of his wife – the mother of his antsy, offstage 15-year-old son – might feel to her like an exacting exercise in marital cruelty.
Some theatregoers may be disappointed, given the momentousness of what's at issue here, that the dialogue doesn't vocalise that. So the play, and Sam Yates's deftly modulated direction of the British premiere, runs the risk of being underrated.
But decisively outweighing the drawbacks is Lonergan's quirkily profound script, which refuses to settle for the tidy-minded redemption that bad dramatic art goes in for. Significant, too, is acting that ranges from laugh-out-loud funny to twisty, wrong-footed ambivalence. The big draws are Matthew Broderick, who played Mark when The Starry Messenger was mounted Off-Broadway 10 years ago, and Elizabeth McGovern, whose sharp and varied CV includes much more than Downton Abbey.
English audiences will always have a tendency to judge Broderick by their nostalgic memories of his devil-may-care truanting teenager in Ferris Bueller's Day Off. So they may be shocked at how well he portrays a nebbish with lanky grey hair – the kind of figure who has been in training for the male menopause. The play gets off to a somewhat creaky start when Mark runs into the half-Puerto Rican Angela and – snap! – they both have teenage sons and partners they find tricky. It's only a matter of time before the first snog leads to more, in an apartment not spacious enough easily to accommodate a beloved child, and sex that betrays his absentee father.
The best theatre of 2018

Show all 10
The awkwardly offstage presence of these teens is one of the reasons I occasionally thought the material would work better as a movie. Mark shouts up the stairs to his son, who is virtually soldered to his electric guitar. His fond belief that the neighbourhood dotes on these loud, melodic interventions is very funny. But the play does little to justify the invisibility of Angela's boy, whose fate eventually plays a crucial part in the latterly problematic plot.
Somebody once told AE Housman, the scrupulous classics professor and author of A Shropshire Lad, that he was the greatest Latin scholar in Europe. To which he replied words to the effect of, "No I'm not – and, in any case, how would you know?" To the age-old question, "Who will guard the guards?", Lonergan adds the implicit query, "Who in the godless era can measure up to the role of measurer?" There are a couple of hilarious sequences where Mark is subjected to systematic "feedback" on his lecturing from a bright, well-meaning student whose tone-deafness to tact is wonderfully well caught by Sid Sagar's bushy-tailed Ian. Jenny Galloway is side-splitting as the kind of late learner whose implacable scepticism is the reflex of a belligerent self-doubt.
Broderick excels at communicating significant silences, and the troubled interplay between professional integrity and constitutional self-doubt. Jim Norton is perfection as a dying 76-year-old cancer patient, who reminds us that this play was written before the #MeToo movement began. So too is Sinead Matthews, as the daughter who has a tough time loving her father.
The play ends in the chequered sorrow of a pyrrhic victory. Fate has put Mark in the ironic position of seeming to have everything, professionally and emotionally, as his undeceived wife quizzically notes. The Starry Messenger focuses our attention, with a wry, idiosyncratic freshness, on a question that will never go away. By what set of values – apart from the religious ones (disposed of here with brisk iconoclasm) – could a successful life be perceived, when it is dependent upon this universe in which we have inexplicably fetched up?
To 10 August. Tickets starrymessengerplay.com
Register for free to continue reading
Registration is a free and easy way to support our truly independent journalism
By registering, you will also enjoy limited access to Premium articles, exclusive newsletters, commenting, and virtual events with our leading journalists
Already have an account? sign in
Join our new commenting forum
Join thought-provoking conversations, follow other Independent readers and see their replies