The Town Hall Affair, Barbican, London, review: Germaine Greer and Norman Mailer brought vividly to life in a restaging of a debate on feminism
New York's experimental Wooster Group revisits and deconstructs the infamous Town Hall debate of 1971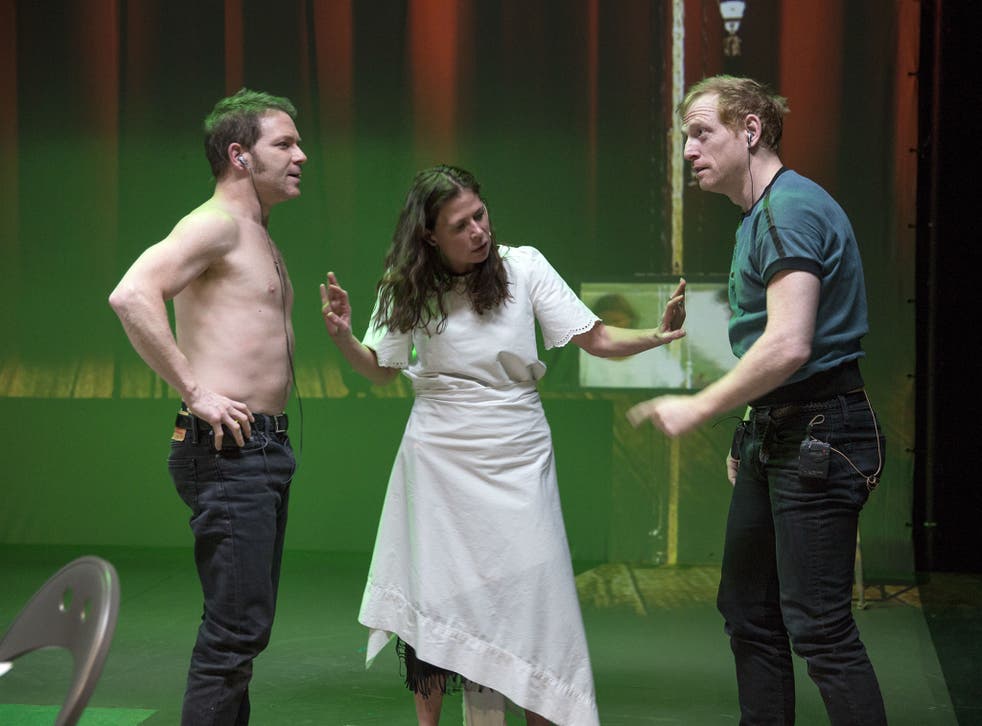 This hour long piece by New York's experimental Wooster Group revisits and deconstructs the infamous town hall debate of 30 April 1971, an event was billed as "A Dialogue on Women's Liberation" and moderated by – of all people – the pugnacious Norman Mailer.
He had recently published his contentious essay "The Prisoner of Sex" and a standing-room-only audience were avid to see how he would attempt to duke it out with the distinguished female panel. These included writer and lesbian activist Jill Johnston; the literary critic Diana Trilling; Jacqueline Ceballos of the National Organisation for Women; and Germaine Greer, at the height of her Female Eunuch fame, regally draped in a fox-fur stole.
The night was captured by filmmakers and Chris Hegedus and D A Pennebaker in grainy footage that was released as the documentary Town Bloody Hall in 1979. The continuities and discontinuities between feminism (and its enemies) then and now are thrown into vivid relief by the Wooster Group's trademark techniques of multimedia juxtaposition and collage.
A video screen plays extended clips from the debate with the volume turned low, while the company of actors in Elizabeth LeCompte's production speak the words, synchronising them to the video down to the um and ahs and verbal fluffs. All this is intercut with scenes from Mailer's ego-trippy film Maidstone in which he starred as a celebrity movie director running for US president. These likewise are recreated live.
Mailer's interventions in the town hall debate – which covers such issues as the myth of male genius, the politics of the vaginal orgasm, and the damaging effect of the patriarchy on men too – are breathtaking in their misogyny and homophobia. "We must face the simple fact that it may be there's a profound reservoir of cowardice in women that had them welcome this miserable, slavish life", he helpfully contributes.
Mailer, with his clipped condescending snarl, is excellently portrayed by two actors (Ari Fliakos and Scott Shepherd) who wind up furiously wrestling one another over the ground in one of the live recreations of Maidstone. It looks like a blackly comic image of male assertiveness, foiled by feminist discourse, turning on itself in frustration.
If Mailer is the malign clown of these proceedings, his beneficent counterpart is Jill Johnston (played by Kate Valk) whose talk – a rhapsodic, free-associative poem suggesting that all women are lesbians really and that there will no true political revolution until they realise that – was cut off on the night because Mailer was keeping strict time on the speeches. In Lesbian Nation, Johnston later described the event as "a disaster for women" (it was a stunt that should never have taken place at all) and yet also "the social event of the season".
Material from this volume bookends The Town Hall Affair and her disruptive spirit informs it. I was reminded irresistibly of Ella Hickson's The Writer – the most talked about theatre piece of this year – in which an aspiring female dramatist refuses to play the game of (what she describes) as "the back and forth of patriarchy" and struggles to find a form that is truthful to her experience. You can see distinct links between her and Johnston who lit a beacon for this kind of unruliness in face of inflexibly gendered discourse.
Though it's not always easy to follow (and the drag-representation of Diana Trilling by Greg Mehrten strikes me as questionable), this piece is a highly stimulating way of approaching now through then.
Until 24 June (barbican.org.uk)
Register for free to continue reading
Registration is a free and easy way to support our truly independent journalism
By registering, you will also enjoy limited access to Premium articles, exclusive newsletters, commenting, and virtual events with our leading journalists
Already have an account? sign in
Register for free to continue reading
Registration is a free and easy way to support our truly independent journalism
By registering, you will also enjoy limited access to Premium articles, exclusive newsletters, commenting, and virtual events with our leading journalists
Already have an account? sign in
Join our new commenting forum
Join thought-provoking conversations, follow other Independent readers and see their replies