The Treatment, Almeida Theatre, London, review: The performances have a mordant precision
Martin Crimp's revival of his 1993 satire about the movie business is directed by Lyndsey Turner, who returns to the Almeida following her award-winning production of 'Chimerica'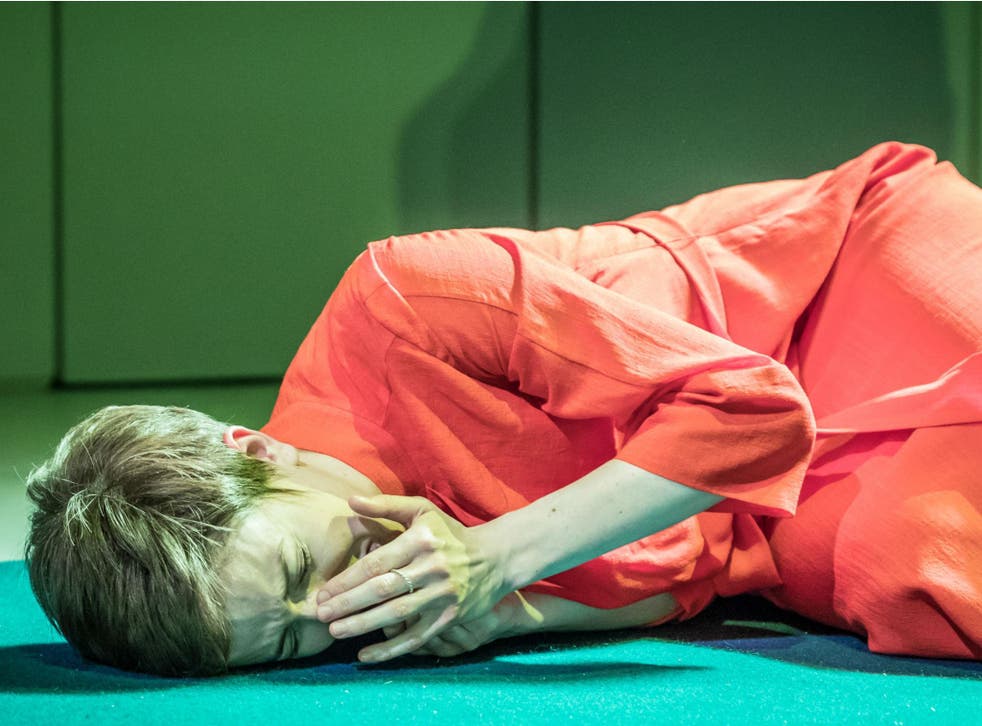 Phrases about "taking care" of someone have a nasty habit of equivocating between the expression of solicitude and ironic sadism. And so it is with the title of Martin Crimp's 1993 play. The Treatment suggests both the outline for a movie and the heartless handling (masquerading as punctilious concern) of the woman whose life is being shamelessly distorted into the sort of product that can tick the filmmakers' boxes. Crimp went on to write pieces – especially Attempts on Her Life, his radical anti-play from 1997, which he once described as "a kind of grotesque footnote to The Treatment but one which probably swallowed the original" – that have made him a favourite on the European theatre scene. His works before and after come in for re-examination but The Treatment has been relatively neglected. The injustice of this is exemplified here by Lyndsey Turner's taut, coolly tragicomic revival at the Almeida. Nearly twenty-five years after its premiere, the piece emerges as a disarmingly prescient take on the commodification of narrative to suit the dubious interests of the media, on the suspect operation of taking creative "control" and on the misgivings aroused about defining what constitutes a "real life".
The play is set in New York and the production moves with unhurried, sardonic stealth through a succession of scenes that focus on Anne, a vulnerable, insecure woman who has run away from Brooklyn and an abusive marriage to a working-class husband. He has been wont to tie her to a chair with pieces of wire, seal up her mouth with gaffer tape and punish her for her dislike of living in his beloved childhood neighbourhood by subjecting her to his thoughts on the "beauty of the world". Anne has answered an ad from producers supposedly keen to tap into authentic experience. She's put on an expense account and quizzed by Jennifer and Andrew, the two main "facilitators". "His ordinariness. I see. I think I see. Perhaps I see," says Jennifer, whose capacity for caring accommodation is certainly tested by a story that lacks the violent follow-through and heroic resistance she'd be more comfortable with.
Crimp's dialogue has elliptical poetic snap and a canny ear for brainwashed tactical self-deception and placatory faux-collegiate art-speak ("I hope you die."/"I respect that") as it takes us into this depersonalised world of hushed sushi bar lunches, phoney awe and ruthless parties. Anne's story is transformed beyond recognition by Gary Beadle's John, a black movie star with clout who is so against embracing the husband's social background that he point-blank refuses to believe he exists, and an ambitious secretary, Nicky (Ellora Torchia), who claws her way to stardom by drawing an airily dismissive circle round the actual woman at a party before insisting that "This is not my idea of Anne."
The performances have a mordant precision. Indira Varma is brilliant as Jennifer, failing to get anything quite straight despite the hyper-clued-up manner but never letting this be an obstacle, and Julian Ovenden as Andrew flounders impressively between calculated, cynical feeling for Anne and a sudden surge of belief that he can save them both from reality. Aisling Loftus's querulous, distraught Anne, astray in everything but the details of her past, is at home neither with the form of control forced on her by the facilitators nor that exerted by her brawny husband Simon (Matthew Needham), who ambushes her from time to time and pours scorn on the view of art practised by her new friends: "Life is a gift transmitted from one family to another, not a waste product to be sent for analysis."
Ian Gelder is perfection as elderly Clifford, peddling his alleged family heirlooms on the pavement and still in hope of re-achieving the off-Broadway celebrity he thinks he attained with two plays in the mid-Sixties. He winds up blinded, in the position imposed by poverty on the likeable, even-tempered and sightless cab driver (Ben Onwukwe) who is a bizarre recurring figure. The New York traffic is reflected in the mirror of the latter's vehicle as it noses forward in the footage between scenes and this feels natural rather than nudgingly symbolic. Excellent treatment all round.
Register for free to continue reading
Registration is a free and easy way to support our truly independent journalism
By registering, you will also enjoy limited access to Premium articles, exclusive newsletters, commenting, and virtual events with our leading journalists
Already have an account? sign in
Register for free to continue reading
Registration is a free and easy way to support our truly independent journalism
By registering, you will also enjoy limited access to Premium articles, exclusive newsletters, commenting, and virtual events with our leading journalists
Already have an account? sign in
Join our new commenting forum
Join thought-provoking conversations, follow other Independent readers and see their replies