The Troth, Southbank Centre, London, review: Pays tribute to 60,000 Indian soldiers who died in WWI
Based on Chandradhar Sharma Guleri's celebrated Hindi short story 'Usne Kaha Tha', Akademi performed The Troth as part of the Alchemy festival
Zo Anderson
Tuesday 08 May 2018 12:35 Comments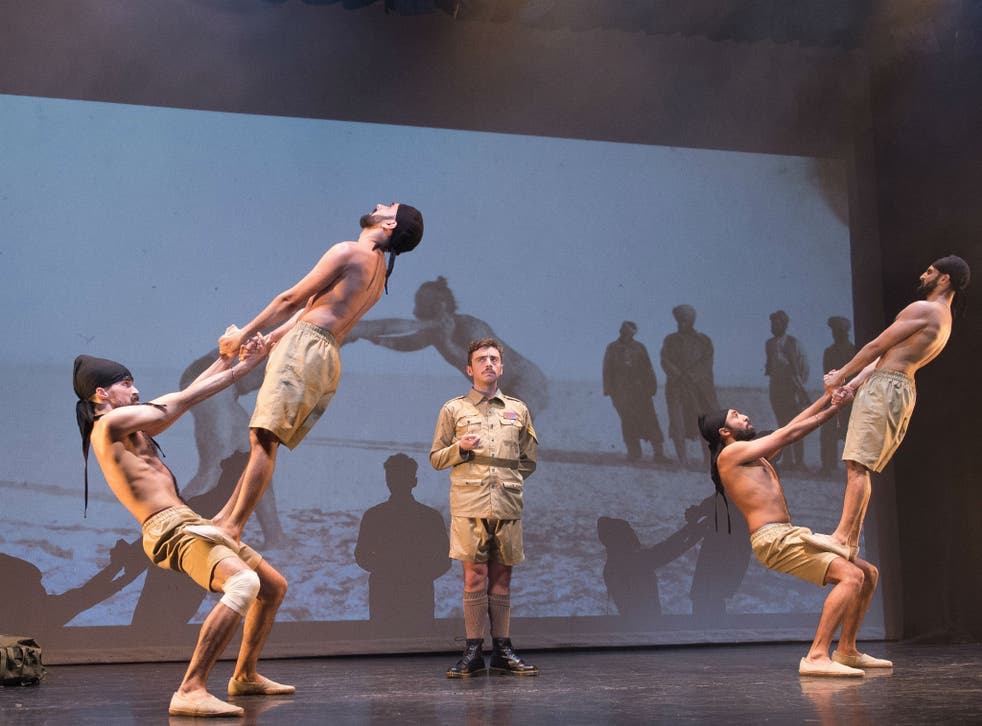 Memory is at the heart of Akademi's superb The Troth. A cinematic story of love and sacrifice, it also pays tribute to the 60,000 Indian soldiers who died serving the British Army in the First World War. Vivid storytelling is paired with mesmerising archive footage to create a layered, heartfelt production.
The Troth's London premiere was a highlight of Alchemy, Southbank Centre's festival of UK and South Asian arts. Based on Chandradhar Sharma Guleri's celebrated Hindi short story "Usne Kaha Tha", it's a tale of unrequited love.
Lehna Singh meets the beautiful Leela, and despairs when she marries another man. When war is declared, he risks everything to protect her husband and son as they fight in the trenches.
Akademi, a leading producer of South Asian dance in the UK, brought in contemporary choreographer Gary Clarke, known for both storytelling and political context. The result is a blend of Indian classical and British contemporary styles that also references early Indian cinema.
When Subhash Viman Gorania's idealistic Lehna meets Vidya Patel's Leela, they communicate in the traditional gestures of Indian dance – with silent movie subtitles translating on the screen behind them. Discovering that she will marry someone else, Lehna wipes his eyes – a naturalistic gesture that is even more touching in this stylised framework.
Patel, a finalist in the 2016 BBC Young Dancer competition, is a dancer of fluid grace and dramatic authority. She and Gorania are enchanting in their first meeting, moving from shyness to sweet flirtation. Her fear and grief for her family build across a series of solos, her body bowing and shaking as the threat of war grows.
The drama is framed by extracts from Indian soldiers' letters, and extraordinary wartime film from the Imperial War Museums. We see South Asian soldiers building barbed-wire defences in a rainy European landscape, ranks of turbaned men marching to fight.
Too often, they are shamefully forgotten in accounts of British warfare; recently Christopher Nolan's Dunkirk claimed historical accuracy while leaving out Indian and African soldiers. Their sacrifice runs through The Troth.
Clarke makes powerful use of the films. Sometimes he leaves these images to speak for themselves. In other scenes, archive footage becomes a backdrop to his characters' army training, with dance and film echoing each other across a century.
Shri Sriram's commissioned score blends different national instruments, with a skirl of pipes for the British army and widescreen romance for Leela and Lehna. With the clarity of good filmmaking, The Troth moves from an individual, human story to a wide canvas of politics and history.
Register for free to continue reading
Registration is a free and easy way to support our truly independent journalism
By registering, you will also enjoy limited access to Premium articles, exclusive newsletters, commenting, and virtual events with our leading journalists
Already have an account? sign in
Join our new commenting forum
Join thought-provoking conversations, follow other Independent readers and see their replies