The White Devil, Sam Wanamaker Playhouse, London, review: It ain't Shakespeare – maybe it's more Tarantino
Director Annie Ryan's candlelit production of John Webster's 'The White Devil' at the Sam Wanamaker Playhouse, is the perfect setting for the play about deceit, treachery and revenge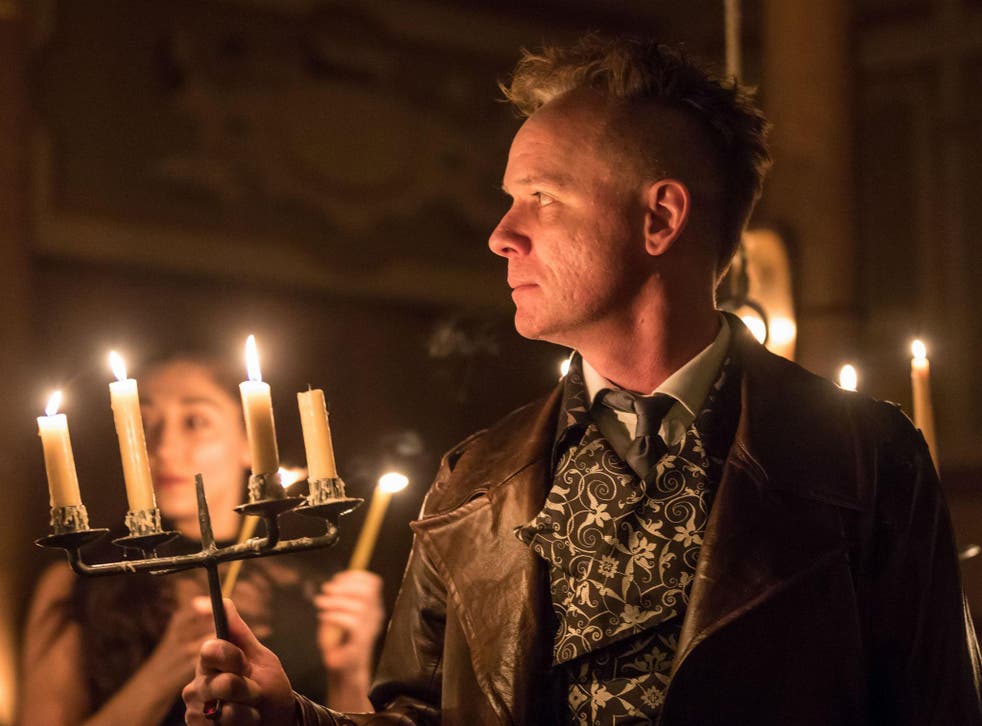 Director Annie Ryan responds with a scathing relish to John Webster's Jacobean tragedy of ruthless self-interest, convoluted intrigue and gory revenge in her impressive candlelit production in the Sam Wanamaker Playhouse. The flickering half-light and the gilded intimacy of the space provide, on one reckoning, the ideal conditions for conjuring up the amoral murk and treacherous dazzle of the claustrophobic court in this play.
Lately there have been attempts to alter this perception of the piece – most notably in Maria Aberg's bracing RSC revival, which located the play in the neon glare of a fantasy version of today's celebrity culture. She did so in order to emphasise the powerful and advanced critique of sexual double standards that undoubtedly lies at the heart of the work. Ryan's production is not quite so single-minded. While drawing on the distinctive ambience of the Playhouse, it sets the piece in an Edwardian/punk/Gothic dystopia and, though it eschews any plonking references to current events, the show is a forceful reminder that barefaced misogyny and corruption continue to cast their shadow in certain other high places.
The White Devil is, in a sense, a trick title, designed to expose reflex sexism. You assume that it's meant to denote the heroine, Vittoria Corombona, a sensual, a frustrated married woman whose adulterous liaison with Duke Brachiano triggers a mountingly mad chain reaction of brutal retributions. In fact, it would more justly apply to the hypocritical, self-seeking men who mishandle and oppress her.
As Flamineo, the malcontent brother who pimps her to Brachiano in the hope of preferment, Joseph Timms gives a vivid whirlwind of a performance, jokily collusive with the audience, but I don't think he sufficiently conveys the vicarious erotic kick (possibly bisexual) that Flamineo derives from organising this match for his sibling (linking him to the incestuous Ferdinand in Webster's The Duchess of Malfi) and the Cockney likely lad act starts to grate. The rather high-pitched touchiness and petulant self-concern of Brachiano are adeptly captured by Jamie Ballard, while Garry Cooper's portrayal of Monticelso, the corrupt Cardinal who is later elevated to Pope, is all the more effective for being subtly shaded rather than grotesque.
When Vittoria is put on trial for adultery, it is the Cardinal who subjects her to a barrage of misogynistic abuse and, though he has only circumstantial evidence, condemns her to imprisonment in a house for fallen women. In this eloquently staged arraignment scene (the dock is cage-like), Kate Stanley-Brennan is magnificent as Vittoria – an imposing, beautiful woman who can knock spots off the Cardinal with her witty scorn and agile intelligence but who is at his mercy nonetheless because it's male "justice" that is being meted out here. Vittoria is not, of course, guiltless. By recounting a suggestive dream, she did nudge Brachiano to murder. She has not been monogamous.
It's great that Webster's play does not require the character to be a pillar of conventional virtue before it will defend her against a judicial system so rigged against her because she's a woman. And it's a wonderfully liberating stroke that Vittoria is allowed to admit to having a sensual life – with a fierce and almost withering lack of shame, as Stanley-Brennan excellently plays it. You want to cheer her for the chutzpah with which she fibs that she was merely tempted to lust. Is she to be condemned, she asks, just for being looked at carnally by Brachiano? "So may you blame some fair and crystal river/For that some melancholic and distracted man/Hath drowned himself in't". I'd call that proto-feminist.
Ryan's vivid cast always make the verse sound bounding and spontaneous, even though, on the page, it can have a pre-digested ring – as if the characters were forever flipping through a Rolodex of resonantly translated Quotations from Montaigne to find one to suit the moment. But nearly everything here is well-judged. Ranging from melodramatic tremolos to cheeky transitions (as when the ceremonial pomp of wedding march relaxes into a bout of louche jazz), Tom Lane's music expertly underscores the shifting moods. And as the plot gets more and more deranged, you feel that villains and victims alike are caught up in some monumental sick joke, tricked out with references to the revenge play tradition. "It ain't Shakespeare – maybe it's more Tarantino," as the director says in the programme. Recommended.
To 16 April; 020 7401 9919
Register for free to continue reading
Registration is a free and easy way to support our truly independent journalism
By registering, you will also enjoy limited access to Premium articles, exclusive newsletters, commenting, and virtual events with our leading journalists
Already have an account? sign in
Register for free to continue reading
Registration is a free and easy way to support our truly independent journalism
By registering, you will also enjoy limited access to Premium articles, exclusive newsletters, commenting, and virtual events with our leading journalists
Already have an account? sign in
Join our new commenting forum
Join thought-provoking conversations, follow other Independent readers and see their replies