The Winter's Tale, Royal Opera House, London, review: It's a marvellous ballet
This third revival of Christopher Wheeldon's 2014 ballet with music by Joby Talbot is stronger than ever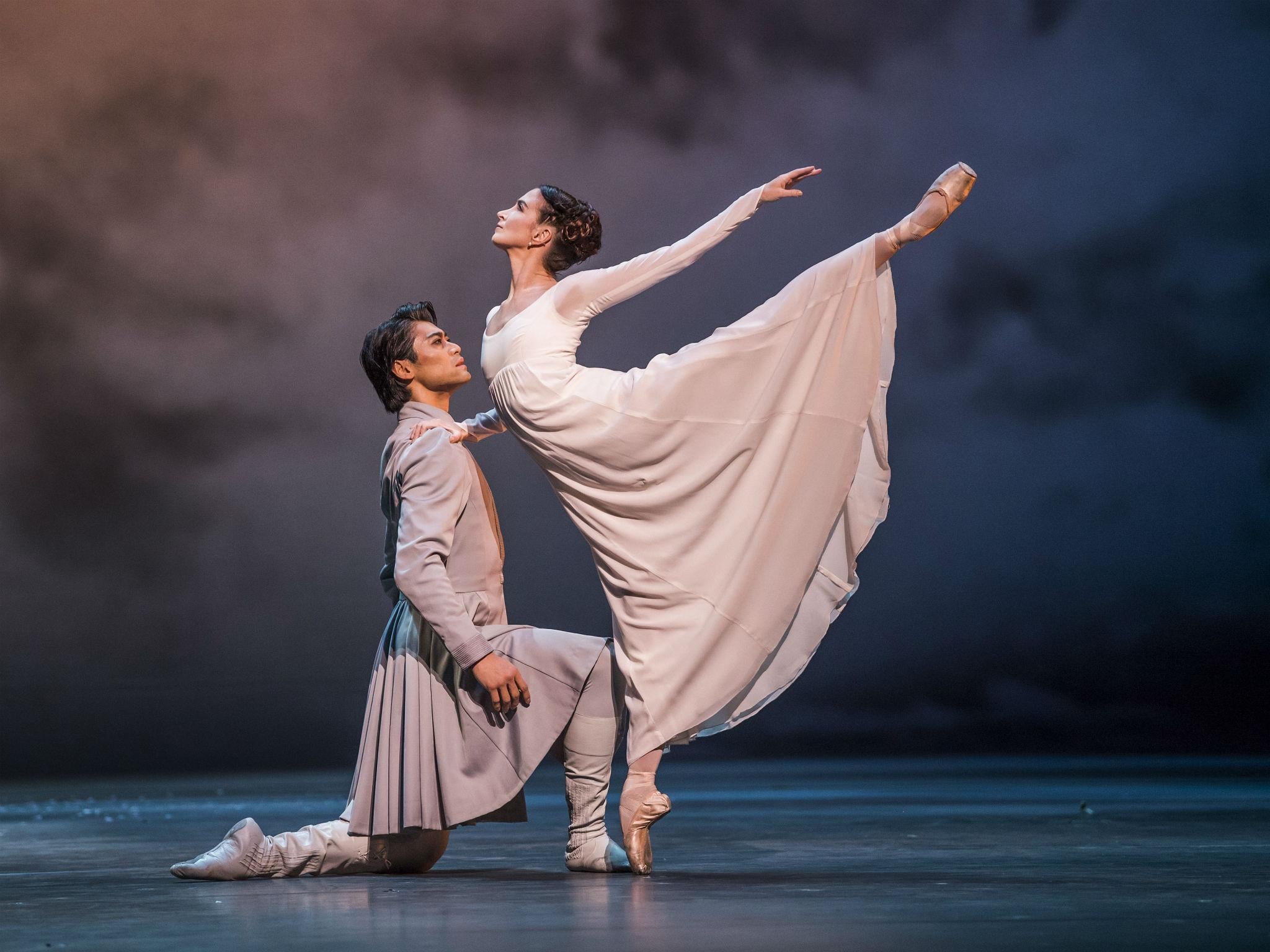 Winter, but also spring: The Royal Ballet's The Winter's Tale moves from icy, tormenting jealousy to radiant recognition, lighting up the stage like a shaft of sunlight. Christopher Wheeldon's 2014 ballet is one of his finest, with complex storytelling and ecstatic dances.
This third revival shows the ballet looking stronger than ever: the pacing is surer, carried along by Alondra de la Parra's vibrant conducting of Joby Talbot's score. The plot of Shakespeare's play is deftly told. Leontes, king of Sicilia, is driven to madness by a sudden, unfounded suspicion of his pregnant wife Hermione. She is put on trial for adultery, her new baby Perdita sent to be abandoned on a distant shore. Mamillius, her young son, dies under the strain; Hermione collapses and is declared dead.
Wheeldon and his designer Bob Crowley conjure a chilly Sicilia, a bleak white world of statues and staircases where someone is always waiting to overhear. Natasha Katz's lighting illuminates Leontes' mind: with a switch from warm to cold, we shift from Hermione's real friendship with the Bohemian king Polixenes to Leontes' lurid imaginings. Ryoichi Hirano is sometimes broad in Leontes' tormented solos, but he brings a powerful, dangerous presence to his confrontations with Lauren Cuthbertson's brave Hermione.
The second act, 16 years later in Bohemia, changes the season. Adopted by shepherds, Perdita has grown up into Sarah Lamb, and fallen in love with Polixenes' son Florizel. It's an act full of springtime celebration. Crowley's set is a giant green tree hung with golden amulets, lush and sacred, while Talbot's score is full of exuberant folk melodies. Wheeldon's choreography is joyful, with lyrical duets for the lovers and whirling numbers for the shepherd community.
The third act brings both strands together, winter healed by spring. Ballet normally focuses on romantic love, but this work makes the reconciliation of parents and children its emotional climax, with lost Mamillius still remembered. The Winter's Tale is full of spectacle, including a sea chase and the famous stage direction "exit pursued by a bear" – here achieved with a silk effect by Basil Twist – but it never loses sight of its human story.
It's a marvellous ballet, and a terrific company performance. Laura Morera's Paulina burns with conviction, protecting Hermione and her family. Lamb and Vadim Muntagirov are elegant as the lovers, while Matthew Ball shows a new dramatic authority as Polixenes. Marcelino Sambé is outstanding as the brother shepherd, soaring through virtuoso steps and adding a gorgeous comic swagger.
Until 21 March (roh.org.uk)
Join our commenting forum
Join thought-provoking conversations, follow other Independent readers and see their replies