The Winter's Tale, Shakespeare's Globe, London, review: Fails to capture the quick-changing moods of the play
A solid enough production, but it never quite meets the anguish or joy of Shakespeare's play of two halves
Holly Williams
Wednesday 04 July 2018 16:25 Comments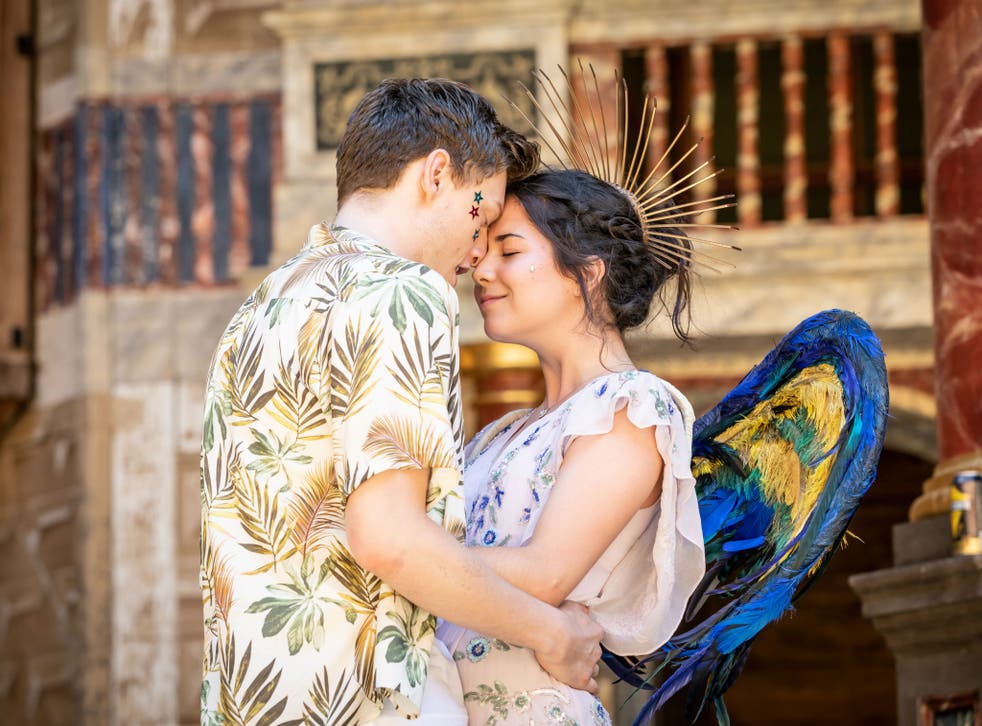 The Winter's Tale is a tale of two halves – harsh, cold, courtly Sicilia, where King Leontes destroys his family with jealousy, and warm, loving, pastoral Bohemia, where 16 years later, his lost daughter Perdita is living as a merry shepherdess.
Famously, the shepherds' feast scenes are hard to get right and often burdened with annoying gimmickry, or at least plenty of sound, lighting, and design cues to show we've shifted in both location and tone. In keeping with the new regime at the Globe, Blanche McIntyre's production keeps things simple – a bit of folk music (rather underused) and a costume change, from faintly middle eastern robes in Sicilia (with, oddly, the odd Elizabethan outfit thrown in) to contemporary clothing that wouldn't look out of place among the groundlings for Bohemia.
Still, it makes for a sparse Winter's Tale, without much sense of place or atmosphere, and no shift from claustrophobia to openness. As for the giant photo-real banner of a bear that drops down for that famous stage direction… let's not pursue it.
But the Bohemia scenes are otherwise blessedly fresh, clear, modern; McIntyre has a sure hand on the verse, and there's an excellent performance from Norah Lopez-Holden as Perdita. She makes even twee speeches about flowers feel crisp, and when things go awry, is bluntly angry with the men who've stuffed things up, not a drippy victim; it's a clear, contemporary reading.
The jesting figure of Autolycus, who can steal the whole play, certainly does not do so in Becci Gemmell's lucid but understated take – but Perdita's doleful adopted shepherd family are nicely caught by Jordan Metcalfe and Annette Badland, and genuinely funny.
If this seems like a topsy-turvy way to review – well, maybe it's because that's how McIntyre has said she approached the play. Or maybe it's just because, unusually, it's the Sicilia scenes that feel like they don't quite work.
The first 20 minutes of the production are a slog; Leontes has some of the most extraordinary speeches in Shakespeare – violent, diseased, convulsive – but Will Keen plays it with laughing disbelief that hardens into manic zeal. Yes, these speeches can be stuttering, but too much simply doesn't land, and there's little sense of real danger or despair here.
It also means that the hushed, redemptive final scene where he approaches the 'statue' of Hermione is bizarrely jokey, the audience giggling at his idiocy for not realising it's his wife, instead of a moment of magical, collectively-held wonder.
Priyanga Burford as his wronged wife is deeply dignified but, perhaps in attempt to portray a strong and utterly reasonable woman, her distress seems born of frustration-with-bloody-men rather than real anguish. The staging of both a moment of near-violence to her baby, and another where her young son Mamillius is torn away, feel bungled. Possibly the cast just haven't quite found their rhythm yet, but it means the tragedy never reaches the required pitch.
Thanks heavens for Sirine Saba as Paulina, arriving spittingly fierce and briskly practical as Hermione's chief defender. Saba's performance is physically dialled right up – chest-beating, hand-thwacking, finger-jabbing – but it really works, giving the show a shot of energy,
This is a solid production, but the quick-changing moods of Shakespeare's late play could use a sprinkling of something more magical to make them come alive.
Until 14 October (shakespearesglobe.com)
Register for free to continue reading
Registration is a free and easy way to support our truly independent journalism
By registering, you will also enjoy limited access to Premium articles, exclusive newsletters, commenting, and virtual events with our leading journalists
Already have an account? sign in
Join our new commenting forum
Join thought-provoking conversations, follow other Independent readers and see their replies