Theatre review: Barking In Essex is a crude, relentless mockery of stupidity and materialism
Sheila Hancock, Lee Evans and Keeley Hawes star in Clive Exton's ill-judged black farce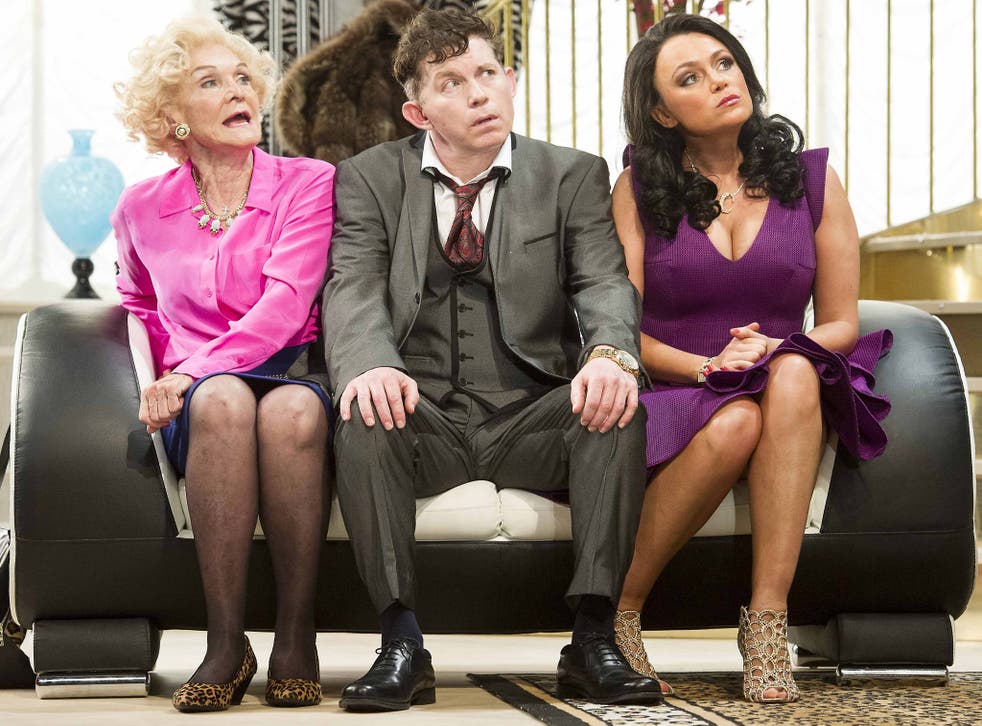 Clive Exton is best known for scripting such well-loved TV series as Jeeves and Wooster and Poirot
The irony is that, in the 1960s, he had established his reputation as the author of controversial black comedies for ABC and so seemed a natural choice to write the screenplay for the film version of Orton's Entertaining Mr Sloane.
Barking in Essex – written in 2005, two years before his death – feels like a laboured and rather desperate attempt to reconnect with his roots.
Strenuously foul-mouthed, the piece starts as it means to go on. An intense orange from the tanning salon and straight out of TOWIE, Keeley Hawes's Chrissie yells "You c***!" twice in succession at at her dim-witted husband, Darnley (Lee Evans doing his endearing goon act).
Darnley has just disgraced himself on Who Wants To Be A Millionaire? by failing to identify the kind of animal that Little Bo Peep lost and assaulting Chis Tarrant. The Packers, a dysfunctional gangland clan presided over by Sheila Hancock's matter-of-factly amoral matriarch, have good cause to be furious at Darnley's lack of success.
The younger son, Algie, a psycho who severed both his uncle's thumbs one Yuletide for criticising the stuffing, is on his way back from seven years in prison and wants to collect the £3.5 million he left in their care. The only trouble is that they have squandered it all on their trashy lifestyle (with its zebra-striped curtains and plastic deer antlers, Simon Higlett's set is a temple of nouveau riche tackiness).
It's a promising premise for a black farce, but Exton's stop-go plotting and the sagging patches in Harry Burton's production prevent the material from developing any comic momentum, especially when there's a complete change of location in the second half (though that occasions the one really funny surprise twist of the evening).
What you're left with is crude, relentless mockery of the Essex brigade's stupidity and skewed materialist values. Proudly proclaiming that Darnley "wouldn't know a book if it bit him in the bollocks" or fussing over the state her sofa rather than the bleeding hit man sprawled on it, the redoubtable Sheila Hancock occasionally manages to wring some genuine mirth out of the matriarch's moral blankness.
But all of this business was done so much better in Richard Bean's recent Smack Family Robinson in which the drug-dealing dynasty have hilarious aspirations towards suburban gentility and shifts in gangland hierarchy (the muscling-in of the Russian mafia, say) are wittily registered. By contrast, Exton's play seems to be trading in complacent stereotypes – the dodginess of the evening not confined to the Packers.
Until Jan 4 2004; 0844 482 5120
Register for free to continue reading
Registration is a free and easy way to support our truly independent journalism
By registering, you will also enjoy limited access to Premium articles, exclusive newsletters, commenting, and virtual events with our leading journalists
Already have an account? sign in
Register for free to continue reading
Registration is a free and easy way to support our truly independent journalism
By registering, you will also enjoy limited access to Premium articles, exclusive newsletters, commenting, and virtual events with our leading journalists
Already have an account? sign in
Join our new commenting forum
Join thought-provoking conversations, follow other Independent readers and see their replies