Theatre review: Harlequin Goes to the Moon - The Harlequin moonshot is go! Rain permitting …
Jenny Gilbert
Saturday 29 June 2013 17:12 Comments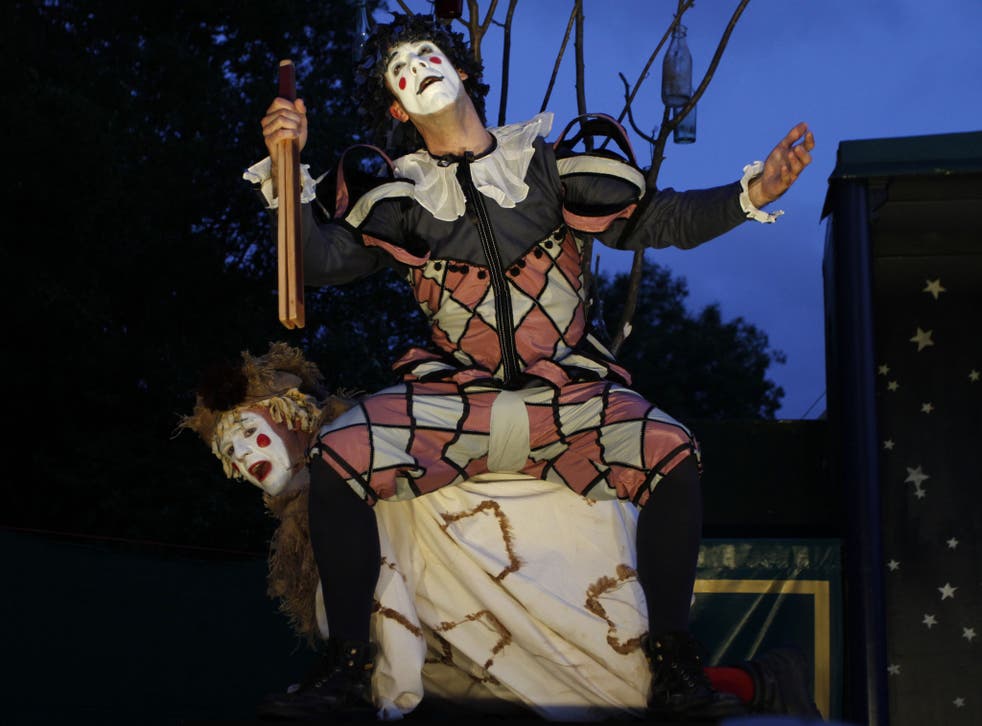 A country churchyard lush with meadow flowers, a coop of happy hens nearby …. The seductive location is typical of where The Rude Mechanical Theatre Company nightly strikes its stage. Each summer, they tow their two-storey wagon to commons and stubble fields across England's southern counties. In style, though, they are travelling players of 16th-century Italy. It's just a pity they can't have Italian weather.
Commedia dell'arte – the tradition that gave us Mr Punch and the foundations of pantomime – is a rare discipline, even in Italy. But the Rudes have made it their own. Every show features the same stock characters – Harlequin, Pierrot, The Doctor and others – whose facial expressions and movements identify them as servants or masters, kindly or mean. Themes have ranged from the Wild West gold rush to Grease-style romcom. This year's Harlequin Goes to the Moon has a Florentine setting. Leonardo da Vinci has drawn up plans for a flying machine, but his rival Il Dottore Pazzo, a loony professor with lunar ambitions, has got there first with the patent.
Into this astronomic plot, writer-director-composer Pete Talbot feeds a dizzying number of romantic sub plots, made dizzier by cross-gender disguises and the fact that every actor is already playing two characters. The dreamy stable boy Paglia (Richard Kidd, a charmer in the Pierrot role) pines for chirpy lady's maid Colombina (Natalia Campbell with a debt to Barbara Windsor), but what he longs for even more is to climb to the Moon (cue the old vaudeville ladder gag) to retrieve lost things: "the coins that fall from your pockets, the light that fades from a rabbit's eyes when you hit it on the head with a stick …".
By nightfall every Jack has his Jill, the "boat with wings" has proved spaceworthy, and the capering cast has worked its magic on a range of original ballads self-accompanied on violin, mandolin and musical saw. Alas, rain did stop play briefly in Sussex that night, but the spell was impervious.
Touring until 11 Aug (therude mechanicaltheatre.co.uk)
Register for free to continue reading
Registration is a free and easy way to support our truly independent journalism
By registering, you will also enjoy limited access to Premium articles, exclusive newsletters, commenting, and virtual events with our leading journalists
Already have an account? sign in
Join our new commenting forum
Join thought-provoking conversations, follow other Independent readers and see their replies