Theatre review: Passion Play - Can I speak to the real operator?
An adulterous husband, a fragile wife, and their alter egos unravel in another Peter Nichols revival
Kate Bassett
Saturday 11 May 2013 19:01 Comments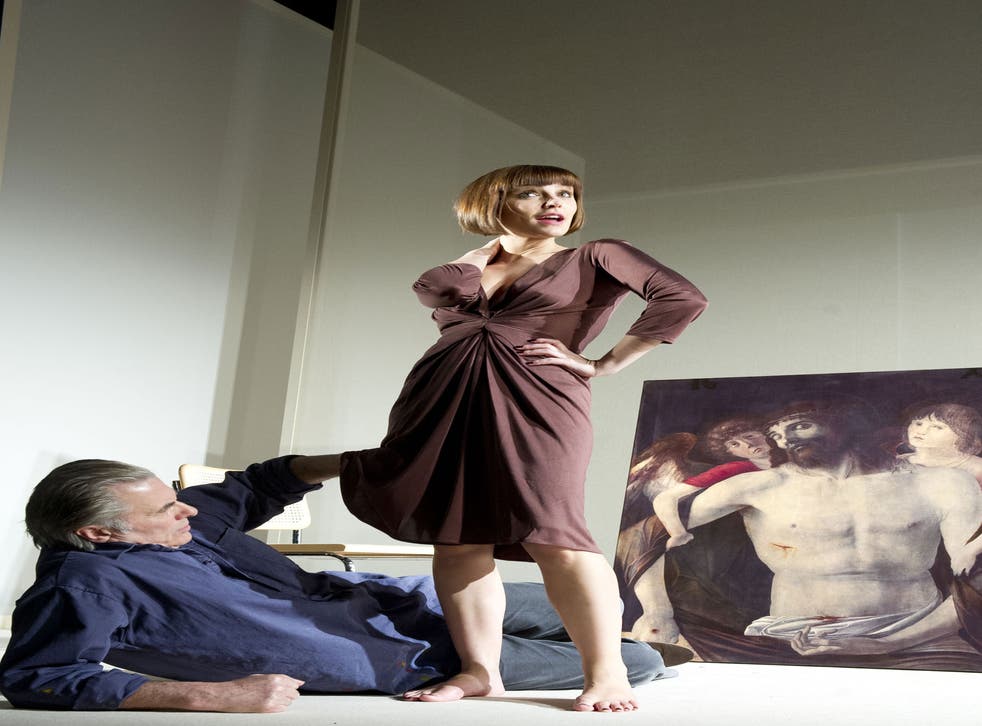 We used to have angels on our shoulders, according to the old morality plays. There would be a bad one whispering devilish suggestions in our left ear while a good one – on the right side – tried to pull us back from temptation. You could say they were allegorical precursors of Freud's id and superego.
In Passion Play, Peter Nichols's 1981 portrait of adultery – now staged anew by David Leveaux – James (Owen Teale) is a middle-aged husband who can't resist a young, arty-tarty vamp (Annabel Scholey). A restorer of paintings, James initially appears a contented homebody, devoted to his choirmistress wife, Eleanor (Zoë Wanamaker). Yet he's up for an affair and, as he becomes increasingly infatuated with the licentious Kate, it threatens to destroy Eleanor's mental stability.
What's strikingly non-naturalistic is that husband and wife each acquires an incarnate alter ego. Oliver Cotton sports grey corduroys to match Teale's, and Samantha Bond serves as Wanamaker's curly-haired double. Given that the play's theme is people's unknowability, exactly what these doppelgängers represent isn't simple. They're mercurial.
Materialising when Teale's James begins to deceive his spouse, Cotton argues with him like an inner voice, urging him to confess. But then, when Eleanor suspects nothing, Cotton whoops like a shameless scamp. Bond enters the frame when Eleanor gets wind of the affair and falls prone to conflicted thoughts – bitter, paranoid and combative.
Cotton and Bond are also like an expanded version of theatrical asides, weaving sly comments among the spouses' outwardly pleasant conversations, not least when Kate is present as a supposed family friend. The alter egos, furthermore, start to supplant Teale and Wanamaker, as James and Eleanor's personalities are irrevocably changed.
Nichols, at 85, is enjoying an Indian summer of revivals, with Privates on Parade recently on in St Martin's Lane, and A Day in the Death of Joe Egg currently at the Rose, Kingston. Leveaux's production is assured, with a fine cast, potent bursts of Bach and Mozart, and a typically minimalist, chic set design (white walls, scarlet sofa) by Hildegard Bechtler.
One wonders if the dialogue might sometimes sound thin were it not double-layered, if Kate isn't a mere cliché in suspenders, or if James's spiels about Christ's passion aren't superficially applied. Ultimately, though, the play leaves you with a nagging sense of insecurity. Driven to despair, Wanamaker's once- confident Eleanor is searing.
For those craving romance, Larisa and the Merchants offers no consolation. In Alexander Ostrovksy's little-known Russian drama from 1878, a penniless belle with gypsy roots has been jilted by a swanky magnate, Paratov. Refusing to simper for other fat cats, Larisa (Jennifer Kidd) is now affianced to an uppity yokel, reckoning he'll be kinder. But she's wide-eyed all over again when Paratov (Sam Phillips) sails back into town.
The calibre of acting is uneven in this modern-dress, fringe production staged by Jacqui Honess-Martin on a long, narrow traverse. Samuel Adamson's new English version is slightly awkward, the satire seems unsure and the social hierarchies don't quite translate. Notwithstanding, the gypsy music is terrific and this is an intriguing piece, voicing a pre-Revolutionary urge that chimes with the current notion that some businessmen are psychopaths.
The establishment euphemistically referred to as a rest home in Harold Pinter's early play The Hothouse (Trafalgar Studios, London ****) is a dilapidated psychiatric hospital, where renegades are interrogated and tortured behind closed doors. We never get to see the inmates, only the staff who themselves, we glean, include homicidal maniacs.
The Trafalgar Studios' resident director, Jamie Lloyd, has assembled a mightily impressive cast for this rare revival, and they're clearly having a ball. Simon Russell Beale's Roote is a hilariously blustering governor, with a touch of Captain Mainwaring in his frequently startled expression, eyes bulging like ping-pong balls. He is dogged by John Heffernan's camp, sardonic Lush and by John Simm's backstabbing Gibbs, smug and natty in a 1950s suit and horn rims. Indira Varma as the torpedo-breasted minx, Miss Cutts, deftly sends up the B-movie stereotype.
The snag is that in 1958 the fledgling playwright wasn't yet the master of powerfully spare dialogue. This production has its motor-mouthed longueurs as well as amusingly absurd verbal flourishes. Moreover, compared with the National Theatre's revival of a few years back, it's low on truly chilling menace.
'Passion Play' (0844 871 7623) to 3 Aug; 'Larisa and the Merchants' (020-7503 1646) to 2 Jun; 'The Hothouse' (0844 871 7623) to 3 Aug
Critic's Choice
Conor McPherson's wonderful The Weir – set in an isolated Irish pub – is funny, tender and haunting if not hair-raisingly spooky, and is revived at London's Donmar Warehouse with Ardal O'Hanlon and Brian Cox (to 8 Jun). And director Andrew Hilton's highly commended Tobacco Factory production of Shakespeare's early comedy, Two Gentlemen of Verona, is touring to the Everyman, Cheltenham (Tue to Sat).
Register for free to continue reading
Registration is a free and easy way to support our truly independent journalism
By registering, you will also enjoy limited access to Premium articles, exclusive newsletters, commenting, and virtual events with our leading journalists
Already have an account? sign in
Join our new commenting forum
Join thought-provoking conversations, follow other Independent readers and see their replies