Theatre review: Richard II, Royal Shakespeare Theatre, Stratford-upon-Avon
Another crowning glory for David Tennant and his majestic accomplice Gregory Doran
Paul Taylor
Friday 18 October 2013 12:11 Comments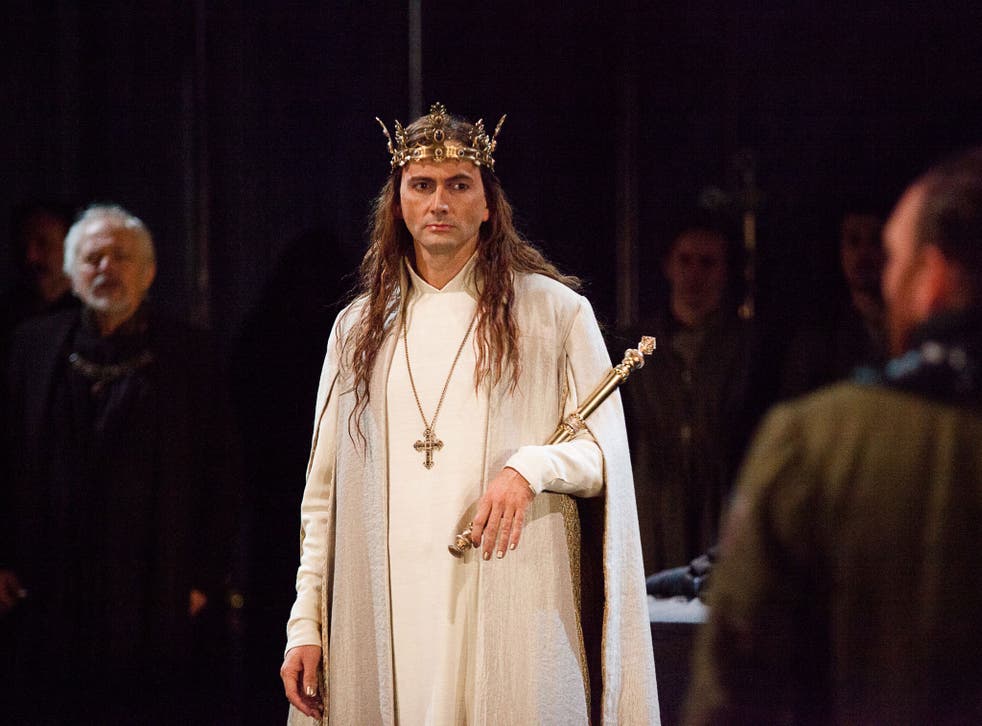 They covered themselves in glory five years ago with Hamlet; now David Tennant and Gregory Doran join forces again for this lucid and gripping account of Richard II. Having played the most intellectually searching of Shakespeare's protagonists, who is painfully miscast as a revenge hero, Tennant – in splendid form here – trains his talents on the most self-absorbed and inward-looking of the Bard's monarchs, who is fatally miscast as God's anointed deputy on earth.
In his gorgeous, gold-embroidered robes (and long, flowing hair extensions, to boot), this Richard is wrapped in the mystique of medieval majesty. But he occupies the Gothic throne with a slouch of disgruntlement, his features congealed in disdain. Admirably resisting any temptation to make the king likeable, Tennant vividly exudes the bored irritability that erupts in tyrannical caprice. And impatience is making him reckless, too. In this production, he brazenly hears the dispute between Bolingbroke and Mowbray at the (interpolated) ceremonial lying-in-state of the Duke of Gloucester, whose murky murder (and, implicitly, Richard's involvement in it) is itself the bone of contention.
But then Richard is a monarch who would always choose theatrical effect over political prudence. With his great gift for playfulness, Tennant runs heavily sarcastic rings round his usurper in the deposition scene. Holding the crown at arm's length, and with his back to the assembled company, he calls out "Here cousin", in the tones of someone inviting a dog to play fetch. This is not a Richard who luxuriates in the lyricism of grief. Tennant delivers the plaintive, self-pitying arias with a scathing irony for the most part, flecked by tiny surrenders to abject panic – as though he were at once sufferer and observer of the tragic process whereby, when the royal persona shatters, it exposes the naked, insecure person underneath.
By contrast, Nigel Lindsay's Bolingbroke presents himself as a plain-speaking bloke who has returned from exile solely to claim his rightful inheritance – though there's a suggestion in his hooded watchfulness and the brutality with which he dispatches Richard's flatterers that he has a devious, long-term strategy. He plays his cards close to his chest and is embarrassed by Richard, whose upstaging antics leave him having to force face-saving laughter in front of his followers.
Interestingly, though, Doran is more interested in the king's relationship with his other cousin, the young Aumerle. I should perhaps issue a spoiler alert for the rest of this paragraph. This production gives the pair a charged, private sequence on the walls of Flint Castle (evoked by the mobile gantry that slices across Stephen Brimson Lewis's excellent design). The monarch's speech of speculative capitulation ("What must the King do now? Must he submit?") reduces his devoted number one supporter to such heartfelt, quiet tears that Tennant's Richard is touched to a moment of rare compassion for another creature – treating his cousin to a tenderly passionate kiss and a cradling on his breast. But Aumerle, whose riven emotional state is beautifully conveyed by Oliver Rix, turns into the production's most extreme casualty of the world of divided loyalties. Shopped to the new king by his own father for his treacherous plots, to what desperate lengths might such a man go to prove that he's been born again politically?
There isn't a weak link in the cast. Ferocious eloquence overcomes deathbed infirmity in Michael Pennington's superb portrayal of John of Gaunt, and Oliver Ford Davies gives a fine edge of grumpy comedy to the Duke of York's conscience-stricken dithering. Another palpable hit for the Tennant/Doran collaboration, the production transfers to the Barbican in December and will be broadcast live in cinemas on 13 November.
Register for free to continue reading
Registration is a free and easy way to support our truly independent journalism
By registering, you will also enjoy limited access to Premium articles, exclusive newsletters, commenting, and virtual events with our leading journalists
Already have an account? sign in
Join our new commenting forum
Join thought-provoking conversations, follow other Independent readers and see their replies