Theatre review: Strange Interlude - Look me in the eye and try not to giggle
The National Theatre has taken the slog out of the Eugene O'Neill marathon melodrama that was fodder for Groucho Marx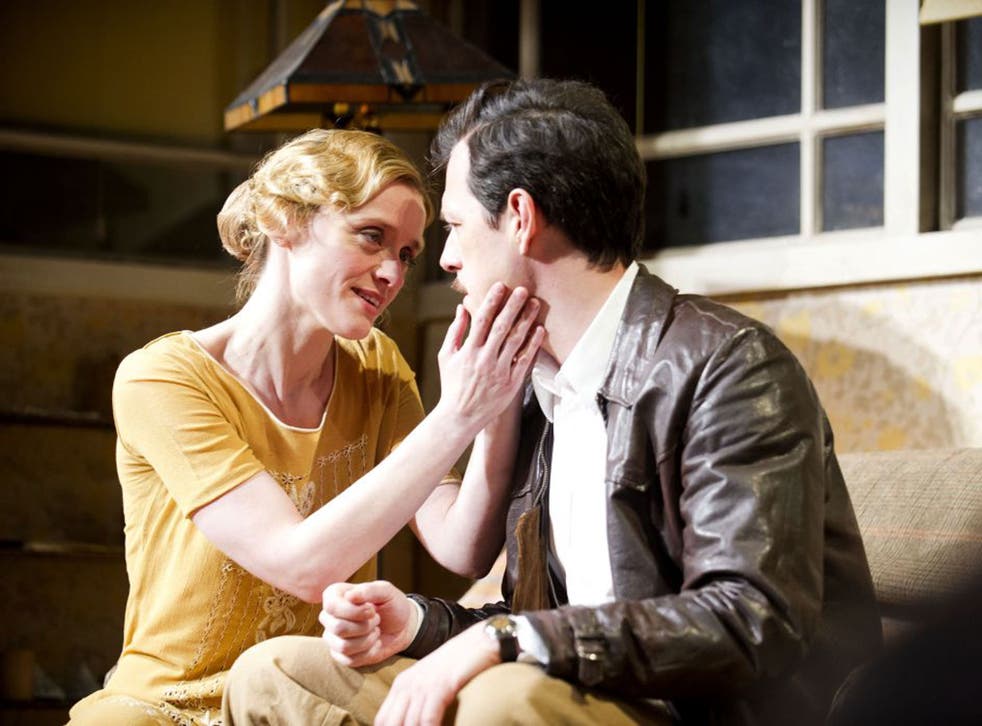 Charting the life of a would-be free spirit, Nina, and her menfolk through the decades, Eugene O'Neill's inter-war saga Strange Interlude isn't often staged. Uncut, it can last five hours. Some theatregoers grabbing the chance to see the National's new staging – with Anne-Marie Duff as Nina – may be grateful that it's been pruned to three and a bit.
The plot certainly covers a lot of ground. The daughter of a stuffy professor (Patrick Drury), Nina was forbidden to consummate her romance with college golden boy, Gordon, before he died in the trenches. Verging on mental breakdown and disobeying pater, she throws herself into nursing soldiers and lovelessly pleasuring them.
Father dies. Charles (Charles Edwards), a genteel friend too timid to propose, looks on as Nina weds an amiable fool, Sam Evans (Jason Watkins). She just wants a baby, but discovers the Evans's family secret: hereditary madness. Insemination by the obliging Doctor Darrell (Darren Pettie) leads to an obsessive affair and, later, possessive tussles over her son.
Simon Godwin's Lyttelton production boasts spectacular revolving sets by designer Soutra Gilmour. Rolling out of the darkness comes an Art Nouveau townhouse, then a rural homestead and big, shabby sunrooms, the glinting marble of Park Avenue, and a huge yacht on a swirling ocean.
Thematically, O'Neill is talking about fixation, sexual repression, substitute parents, mourning, different kinds of love, and happiness, seized orsacrificed. The problem is the script, with its countless asides, the characters telling us everything that's going through their minds, steering the play perilously close to melodrama. This would be a farce if it weren't so po-faced, I kept thinking during Act One (of nine). Indeed, Groucho Marx sent up this play in Animal Crackers.
Nevertheless, this cast win you round. The director, making his NT debut, hasn't finessed every cameo, but Duff is sure-footed: a gaunt, haunted Nina with a flashing smile. Pettie is outstandingly natural, and Edwards releases the laughter as Charles, flicking between tragedy and comedy with brilliant agility, cursing under his breath while keeping up the genteel small talk.
The gap between the 1890s and today ought to make a radical update of The Seagull (Richmond Theatre, Richmond, Surrey ****) an awkward affair, as Chekhov's playwright-protagonist abandons his desk to spray his fledgling script, as graffiti, on a wall. And yes, there are strained moments in Headlong's touring production. Mostly, though, Blanche McIntyre's staging hits home with startlingly immediacy and superb acting.
John Donnelly's new English version takes risks, throwing in references to craft beer and makeovers. But the moments of private reflection – here breaking the fourth wall with surprising, casual intimacy – ensures that Chekhov's own play reflects the characters' arguments about avant-garde versus trad theatre.
Alexander Cobb is a name to watch. His Konstantin is not your usual highly-strung youth but an everyday, pasty adolescent keeping his despair to himself. Pearl Chanda (still at Rada) is wonderfully authentic too as a sweetly dowdy Nina, naively star-struck yet with an intensity that genuinely enthralls Gyuri Sarossy's Trigorin . Recommended.
At one point in Trash Cuisine (Young Vic, London ****), the cast go through the motions of whispering sweet nothings to each other in a swanky wine bar. As they lipsynch, we're hearing a taped interview, a lawyer describing the sickening horror of an electric-chair execution. Belarus Free Theatre – the dissident troupe famously condemned as public enemies in their homeland, which still has capital punishment – experimentally interweave testimonies about torture and the death penalty with expressionistic dance, thunderous drumming, operatic trilling, Shakespearan soundbites, and bird-roasting recipes. A few elements fall flat, but the combination of tragic personal stories, grim statistics and imaginative flair makes for potent political theatre.
'Strange Interlude' to 12 August; 'The Seagull', Derby Theatre Tues to 22 June; 'Trash Cuisine' to 15 June
Critic's Choice
David Mamet's Race at Hampstead Theatre, London (to 29 June), is a snappy, snarky chamber(s) play where one white attorney (Jasper Britton), his black partner (Clarke Peters), and their trainee (Nina Toussaint-White) diverge over a rape case. Award-winning writer Hattie Naylor's new monologue, Bluebeard, promises to be darkly disturbing at Bristol Old Vic (Tue-Sat).
Join our new commenting forum
Join thought-provoking conversations, follow other Independent readers and see their replies