Theatre review: The American Plan - A streetcar named mood-swing
Mental instability colours Richard Greenberg's early play – but it wears its debts too obviously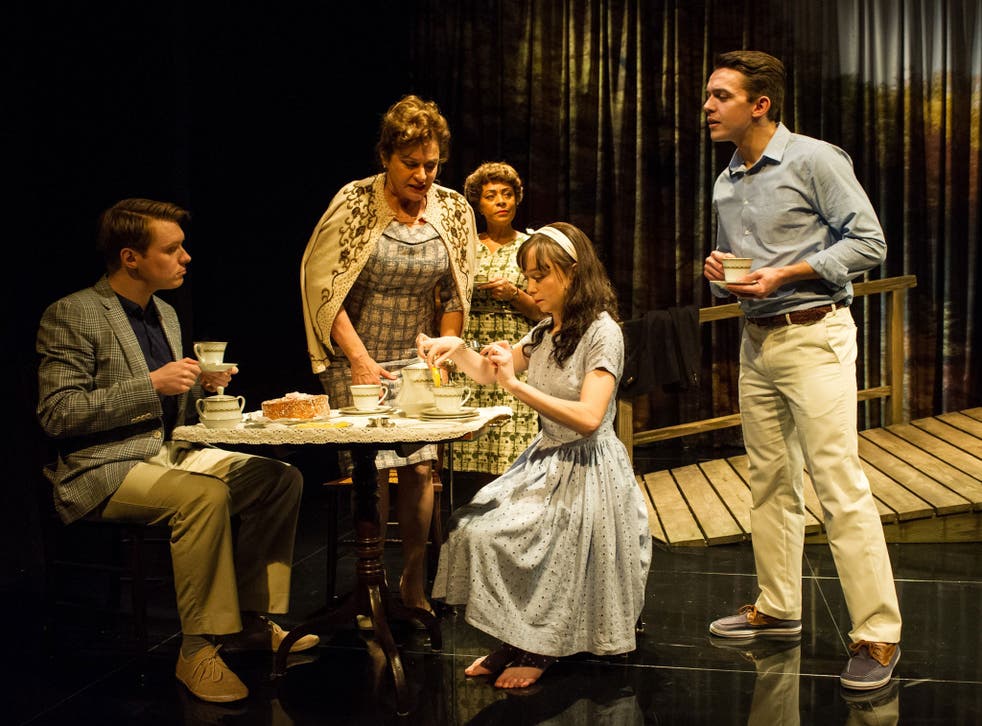 The dream is over, the enchantment broken. So says Eva when her daughter Lili's hopes have been dashed. It looks as if the young woman's beau, Nick, isn't going to rescue her from her mother's clutches after all.
The American Plan by Richard Greenberg (of Three Days of Rain fame) unfolds during a 1950s summer vacation, yet there's a touch of fairy tale too. Lili sees Eva as a wicked witch, bent on scaring any suitor away from their wooded estate, north of New York. She likens Nick to a chivalric prince.
The simile is sappy and Greenberg himself classes The American Plan (penned in 1991) as an apprentice work. He's too indebted to Tennessee Williams's mentally unstable heroines, with Lili a fantasist, already certified once by her mother. What generates tension is that you can't trust any of Greenberg's characters to speak the truth.
Set on a jetty, against a backdrop of sun-drenched trees, David Grindley's production boasts a cast including Diana Quick. Her Eva is an elegant, German-Jewish immigrant with a benign maternal manner. Mark Edel-Hunt raises the temperature sharply as Gil, an unexpected amorous rival. More convincing sexual magnetism is needed, though, between Luke Allen-Gale's Nick and Emily Taaffe's Lili. Her oscillations between sweetness and psychotic bitterness aren't persuasive either.
There are inevitably expectations of magic from A Midsummer Night's Dream (Old Vic, Bristol ***) directed by Tom Morris with Handspring Puppet Company (a partnership forged with the staging of War Horse). In Bristol Old Vic's low-tech production, there are hints that Shakespeare's mechanicals are moonlighting for Hippolyta (Saskia Portway). Besides being Theseus' betrothed, she's a sculptress, chiselling regal heads for a pair of masquerade figures intended to adorn her wedding celebrations. Nevertheless, she's irked by David Ricardo-Pearce's Theseus when he displays old-fashioned attitudes to women – sentencing Hermia (Akiya Henry in check shirt and jeans) to death, a nunnery, or her father's arranged-marriage plans.
The fairy realm springs from Hippolyta's imagination as she and Ricardo-Pearce turn into the quarrelling Titania and Oberon, holding the carved heads aloft on poles. Puck is a bricolage creature, more rooster than pixie. His twitchy head is a brass blowtorch; one flapping wing is a garden fork, the other a handsaw, operated by guys in overalls. The four actors playing the young lovers manipulate pint-sized mannequins of themselves as dull and stiff as Thunderbirds. It's thrilling, by contrast, when they drop the puppeteering and kiss ardently in person.
The big disappointment is that the poetry isn't cherished and the acting often misses the mark, in poignancy and comedy. Still, the transformation of Miltos Yerolemou's Bottom into a wanton ass is fantastically ribald. Strapped face down and butt naked on a cart, he's lustily embraced by Titania who clearly has an appetite for half-human, half-horse meat. Bottom's knees are bent up, so his feet, in clowny shoes, become equine ears. Aviator goggles, round his ankles, serve as bulbous eyes. Yes, this veers into bad taste, and it's hardly from the same stable as War Horse. Yet it's surely in touch with the earthy subversion of carnivalesque folk traditions, and was very funny.
Finally, a name to watch, Phoebe Waller-Bridge is coruscatingly loving, bruising and despairing in Mydidae (Trafalgar Studios, London), Jack Thorne's portrait of domestic bliss blighted by a bereavement. Played out in a small white bathroom, this initially looks like a sitcom, with nude bits, as Keir Charles's David strips off and scratches, gets ragged by Waller-Bridge's Marian, and slips into a bath with her. However, their mood swings thereafter become startlingly, acutely distressing. Well worth seeing.
'The American Plan' (01225-448844) to 6 Apr. 'Mydidae' (0844 871 7632) to 30 Mar. 'A Midsummer Night's Dream' (0117 987 7877) to 4 May
Critic's Choice
Mies Julie, a scorching South African take on Strindberg's Miss Julie, is at London's Riverside Studios (to 19 May), having taken last year's Edinburgh Fringe by storm. Barrie Rutter plays the bullying Victorian patriarch in Rutherford and Son, Githa Sowerby's compelling portrait of a riven factory-owning dynasty, directed by Jonathan Miller and touring to the Rose, Kingston (Tue-Sat).
Join our new commenting forum
Join thought-provoking conversations, follow other Independent readers and see their replies