Things I Know To Be True, Lyric Theatre, Hammersmith, review: 'Genuinely haunting and fervently recommended'
A beautiful and painfully perceptive portrait of a family and the frictions that arise when grown-up children try to push beyond the confines of their loving parents' expectations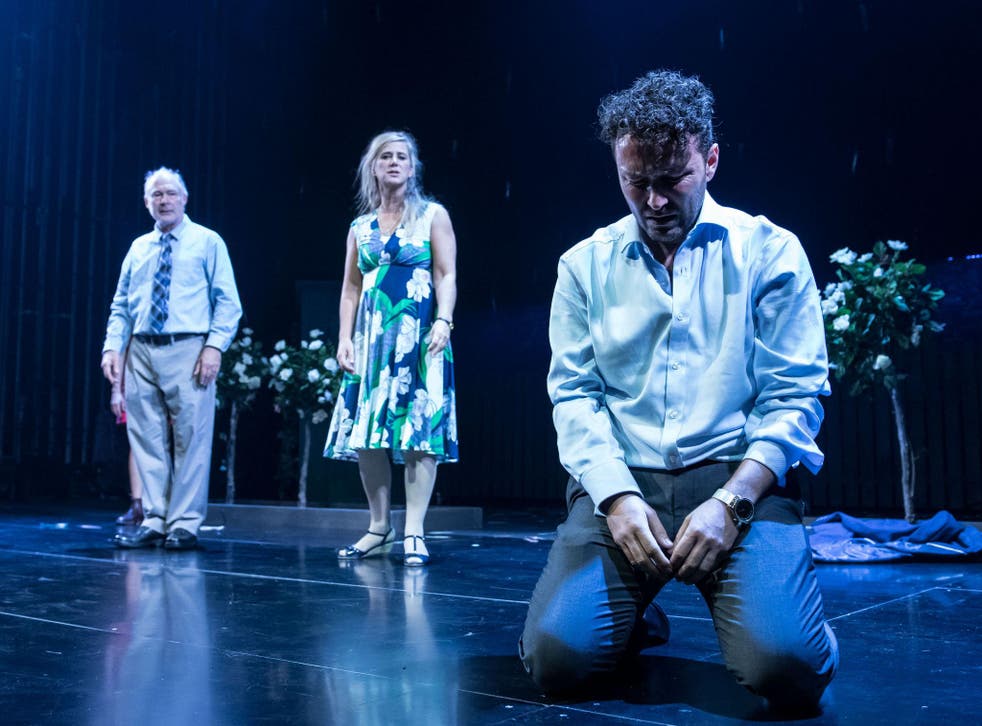 It would be easy to make Andrew Bovell's play sound like glorified soap opera, but it would be a grievous distortion. This is a beautiful and painfully perceptive portrait of a family and the frictions that arise when grown-up children try to push beyond the confines of their loving parents' expectations.
The piece unfolds over a year in the life of the Price family in Adelaide. Father Bob is a redundant car-factory worker who staves off boredom by cultivating his rose bushes in the back garden, which is the setting for the whole play. Superbly portrayed by Imogen Stubbs, Fran is the redoubtable matriarch – a senior nurse whose bluntness and mind-reading knowledge of her children are as fierce and disconcerting as her dedication to them. The proceedings open with Rosie (Kirsty Oswald), the youngest of the four Price siblings, recounting in monologue the experience that leads her to return home early, broken-hearted and disillusioned, from a back-packing trip to Europe which her parents have never visited.
This co-production by the State Theatre Company of South Australia and Frantic Assembly was premiered in Australia in May and for its UK unveiling, it's been recast with British actors who speak in northern accents to suggest a parallel with small-town provincial life. The result is an occasion in which the bite of psychological realism and the glowing ache of stage poetry are brought together unforgettably. The piece is especially acute about the anguish on both sides when our children's choices challenge those we made ourselves or awaken prejudices that we never knew we had. We see the first here, when the mother reacts with particular bitterness (and immediate suspicion that a man must be involved) to the announcement by the elder daughter (Natalie Casey) that she's leaving spouse and kids for a better job in Vancouver. The elder son Mark (the excellent Matthew Barker) has an even bigger bombshell to drop. Bob and Fran brace themselves for the news that he is gay. But in a horribly wrenching scene, a tactless joke from his father, designed to relieve the tension, crudely anticipates the real revelation Mark is about to make.
This last family crisis takes to an extreme the idea that, in growing up, we have to move on from the selves we were without being distracted too much by grief or parental mourning. But the writing is so powerful that only very rarely do you feel that some moment is issue- rather than character-driven. Played out on a spacious garden set overhung with a constellation of molten-tear light bulbs (Geoff Cobham did both splendid designs), the production – directed by Geordie Brookman and Scott Graham – is eloquent on all levels. The movement (a Frantic Assembly trademark) is used sparingly and piercingly to physicalise subtext – the mother, airborne in erotic reverie, hoisted aloft by the others, say, or the father Bob (a pitch-perfect Ewan Stewart) leaning at a fearful 45-degree angle towards an ominously ringing telephone. This is a staging where Mark can stand on the shed under his own personal downpour to emphasise how he's been cut off from the others by his secret or where singing a Leonard Cohen song at the same time though half a world away can intimate the echoes between the decisions that once confronted the mother and now her daughter. Genuinely haunting and fervently recommended.
To 1 October; 020 8741 6850; then tours to Oxford, Warwick, Liverpool, Salford and Chichester
Join our new commenting forum
Join thought-provoking conversations, follow other Independent readers and see their replies