Three Sisters, The Yard, London, review: RashDash's take on Chekhov is riotously fun
Less a neat modern rewrite than a smashing up, a sending up, and a seeing what else might emerge. With songs
Holly Williams
Thursday 24 May 2018 09:54 Comments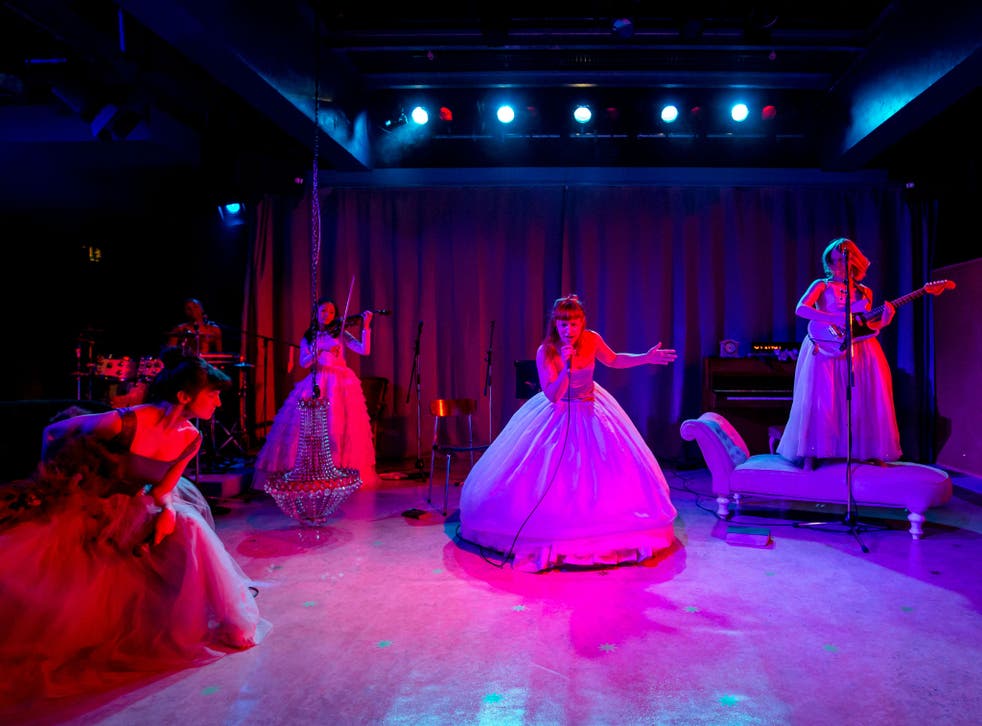 This is Three Sisters by RashDash after Chekhov. And we are a long time after him, the production constantly reminds us. So why do we still stage his work? What are the classics actually for? And why do the men get all the lines?
It is less a neat modern rewrite than a smashing up, a sending up, and a seeing what else might emerge. Five women play loud rock, and toss each other about the space, and try to pull each other's pants off.
Oh, but there's actually loads of dramaturgical details that will satisfy the Chekhov fan playing see-what-they-did-there too. And the three sisters are recognisably here, although their anxieties speak to metropolitan women in their thirties today; rather than pining for Moscow, they dream of escaping to the country. They'd really like to see birch trees, actually. Very good; very droll.
And they're all anxious about doing nothing. Helen Goalen's Olga has liberal guilt at how powerless she is to help the homeless, and worries when to have a baby; Abbi Greenland's Masha is in the pits of a bad break-ups; Becky Wilkie's Irena wants to be creative but is scared she has nothing to say. But they also fret about when to leave Facebook, and wang on about Thailand, and avocado on toast.
This parodies the ennui of Chekhov's privileged, pointless individuals. Sometimes, it feels a bit too arch. At the start, dressed in vast cumbersome tulle skirts, they collectively raise an eyebrow at Chekhov and his inability to write women. They pose the question: "What does it mean when a group of women talk to each other?" They don't really answer that. What we get instead is a modern-day piss-taking equivalent of Chekhov's failure to answer it.
But enough of what it's not, because what it is is a riot. Three Sisters is loads of fun. It fizzes with fierce energy. It's sly, and smart. And loud.
Circumscribed versions of femininity aren't found just in sighing on the sofa: throughout RashDash adroitly offer musical parody too, from funny twists on the torch song to peppy girl-pop on the piano complete with inspirational sentiments and motivational major chords. These are beefed up by Chloe Rianna's drums and Yoon-Ji Kim on the violin and synth.
If these send up the ways in which women are allowed to express themselves, so too do the endless costume changes. The limited and limiting absurdity of what women get to wear becomes apparent as they go from crinolines to a full set of the Spice Girls (Masha in a Union Jack dress; Irena as baby spice, natch) to giant fluffy bear suits.
A change of course for Chekhov's favourite café

Show all 2
It seems the show came from the company being told that if they want to be taken seriously, they needed to "engage with the classics". RashDash show how the weight of male canonised culture can press on young women – literally, in a scene where Greenland has stacks of heavy dusty books laid upon her, crying "more weight" a la The Crucible (another dead white dude play endlessly revived).
But RashDash are anything but squashed. This show is vastly engaging for an audience, but it also does truly engage with the material. It locks in; it changes gear. There's resistance as well as parody here.
A terrific number that starts with Greenland sarcastically reading reviews of previous productions of Three Sisters turns into a ferociously swaggering (albeit sadly, in this venue, quickly hard to actually make out) rap, a slagging of the way productions are always judged on how well they serve Chekhov. Screw that, they seem to suggest – isn't the real question how Chekhov can serve us?
Until 9 June (theyardtheatre.co.uk)
Register for free to continue reading
Registration is a free and easy way to support our truly independent journalism
By registering, you will also enjoy limited access to Premium articles, exclusive newsletters, commenting, and virtual events with our leading journalists
Already have an account? sign in
Join our new commenting forum
Join thought-provoking conversations, follow other Independent readers and see their replies