Timon of Athens, Olivier, National Theatre, London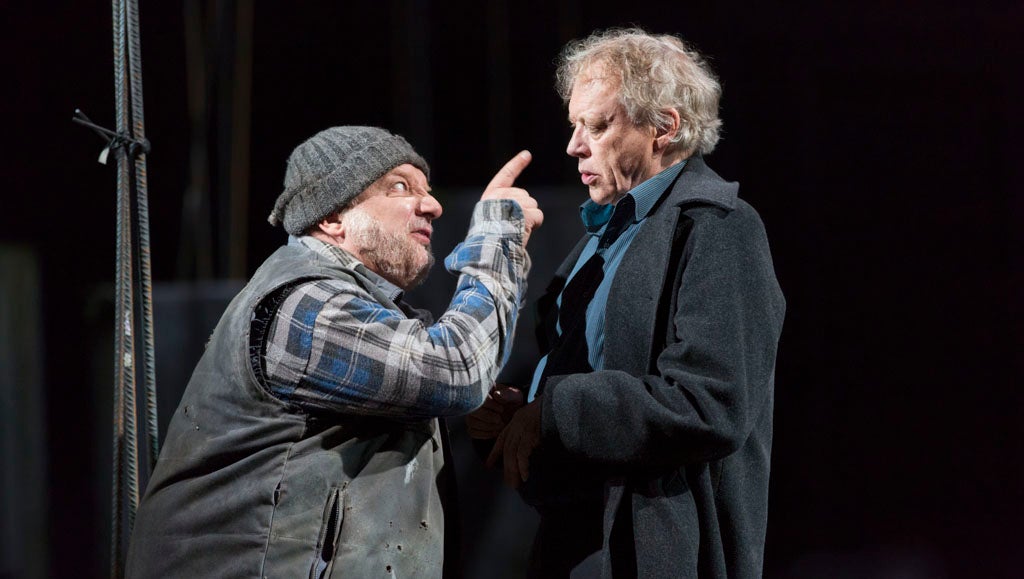 A profligate philanthropist goes bust, loses all his fawning fair-weather friends and bolts to the opposite extreme, becoming an even more fanatical misanthrope who rages at mankind in his self-imposed exile.
In Nicholas Hytner's bold, incisive revival (part of the Travelex £12 season), this tricky Shakespeare/Middleton collaboration becomes an urgent Play for Today, set in a contemporary capital of conscienceless fat-cat bankers, affected culturati, gross inequalities of wealth and mountingly angry "Occupy London"-style campaigners.
Simon Russell Beale's brilliant Timon is first seen dispensing favours with sleek, smiling bonhomie at some swanky sponsor's reception in "the Timon Room" at the National Gallery. The room is dominated by El Greco's "Christ Driving the Money Changers from the Temple". That's a lovely ironic hint of things to come – and typical of a production that lets us feel how disaster brews and is implicit in the protagonist's apparent heyday.
In a performance of searching psychological penetration, Russell Beale suggests that the emotional link between the beaming plutocrat in part one and the furious male bag-lady in part two is a radical wariness about genuine intimacy. This is a Timon who shrinks from embraces, who showers his dinner party guests with gifts and presents them with a specially commissioned ballet (a rather affected female pas de deux) as a way of fending off anything deeper than generalised contact.
The play has been substantially adapted. Some roles have been gender-swapped to allow in women – including that of Timon's Steward, whose sorely-tried devotion is beautifully conveyed by Deborah Findlay. Some roles have been partially rewritten – including that of the cynic Apemantus, played with a fine sardonic Scots trenchancy by Hilton McRae, who here communicates a humane concern about the down-and-out Timon in their jaundiced joustings..
The love of the two latter characters gives the lie to the hero's denunciations of mankind and show then to be as indiscriminate as was his philanthropy. Hobbling about his hideaway in a half-finished building down the Thames, Beale's Timon hurls out curses like a Lear who has been blocked from feeling pity and yet who seems to know, at some terribly painful level, that part of the problem comes from an emotional inadequacy within himself.
That's a mark of the production's excellence. It gives a sharp political context (satiric scenes where Timon's erstwhile friends refuse to help are set in City offices and posh Soho clubs) and a piercing look into the personal heart of the matter.
To Nov 1; 020 7452 3000; broadcast to cinemas as part of the NT Live on Nov 1
Join our commenting forum
Join thought-provoking conversations, follow other Independent readers and see their replies