Titus Andronicus, Shakespeare's Globe, theatre review
Exceptional production is almost unwatchable
Holly Williams Comments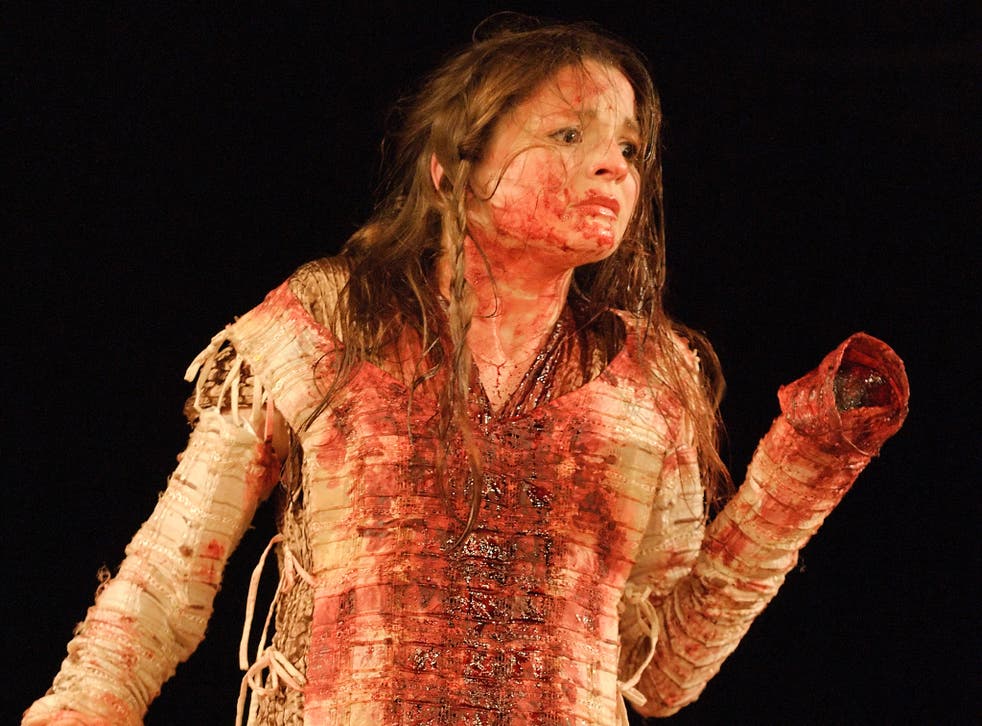 A confession: I fainted. I'm not alone: audiences are dropping like flies at this revival of Lucy Bailey's infamously gory 2006 staging.
So I can't vouch for Act III, scene ii - but if it's anything like the rest of this vivaciously staged, blackly comic and dizzyingly unrestrained production, it was probably exceptional.
The swooning is testament to Flora Spencer-Longhurst's astonishing performance as the raped and butchered Lavinia.
She may be the most pitiable heroine in all of Shakespeare, and when Spencer-Longhurst - pale, slim, a "dainty doe" indeed - appears, helplessly and frantically fluttering her stumps and drenched in blood, it's almost (or in my case, literally) unwatchable.
But Bailey also plays up the dark humour and absurdity, and Shakespeare rarely feels so speedily urgent. William Houston marries madcap mania and wounded pride as Titus; Indira Varma's Tamora is sinewy in her seductions.
Obi Abili is an ipressive Aaron: charismatic in his gleeful rage, he also nails a cynically nonchalant humour.
Designer William Dudley transforms the Globe: black material wraps the stage and darkens the open roof, while incense hangs in the air.
It is heady, oppressive. But groundlings, barraged by testosterone-pumped warriors and grandstanding politicians, are still swept up in the action - just don't stand too close if you're feeling light-headed…
Register for free to continue reading
Registration is a free and easy way to support our truly independent journalism
By registering, you will also enjoy limited access to Premium articles, exclusive newsletters, commenting, and virtual events with our leading journalists
Already have an account? sign in
Join our new commenting forum
Join thought-provoking conversations, follow other Independent readers and see their replies