Trainspotting, Citizens Theatre, Glasgow, review: 'Breathes fresh life into this old story'
The film adaptation, directed by Danny Boyle, was a hit success at the box office in 1996
David Pollock
Thursday 22 September 2016 12:09 Comments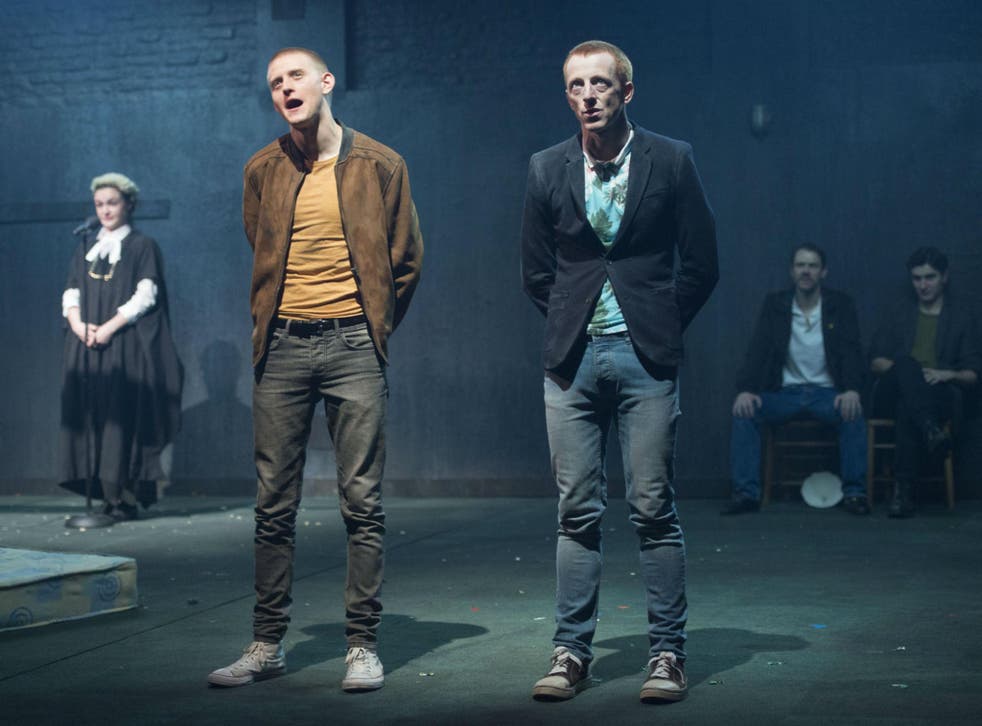 For Trainspotting – Irvine Welsh's breakthrough 1993 novel, that is – the film directed by Danny Boyle which followed three years later was both a blessing and a curse. It thrust the book in the faces of an international audience, of course, making stars of Welsh, Boyle and actors including Ewan McGregor, Kelly Macdonald and Robert Carlyle in the process. A lively, dynamically visual Britpop-era gloss was added to this Edinburgh-set tale of drug squalor and compromised redemption; the film was a brightly glowing cultural touchstone of its time not intended to glorify drugs – as Empire's review noted – so much as film itself.
What this meant, conversely, was that much of the original purpose of Welsh's book was eroded from the wider view of Trainspotting, and we're not just talking a little personal hobby-horsing here and there from Welsh. At its heart, the original incarnation held just below its surface, like blood in a freshly-tapped junkie's vein, real seismic state-of-the-nation gravitas, as a murky snapshot of both Thatcher's Britain and Thatcher's Scotland, and of the frayed knot which tenuously binds both nations together. With Boyle's sequel due in 2017, it's a story which will be re-examined thoroughly in due course.
It was the original vision of Trainspotting which Harry Gibson's 1994 stage adaptation held true to when it appeared at the Traverse Theatre in Edinburgh, and it now feels both familiar to those steeped in the iconography of the film and at once utterly, dangerously different. Max Jones' design places the action in a setting which is resonant of a Scottish council estate in the 1980s; grey-harled, closed-curtain flats loom above with a sense of murky claustrophobia, while the action occurs in the recess below, strip-lit and washed-out.
Lorn MacDonald gives a magnetic central performance as Mark Renton, a ganglier, more agitated, less virile but still utterly magnetic take on the character McGregor made famous. He's a dead-ender, but in glimmers of sharply physical lucidity amid the waves of smack addiction (the famous scene where he fishes in a public toilet for his lost suppositories is repugnant but hilarious) there are moments of dreamily painful self-awareness.
Around him, Renton's friends are revealed in an episodic manner which mirrors the book; Spud (Gavin Jon Wright) as the luckless stooge who accidentally sprays faeces across his girlfriend's parents' dining room; Frank Begbie (Owen Whitelaw) as the vicious, partner-beating product of neglect and abuse; Sick Boy (Angus Miller) as a virile sadist and Tommy (Miller again) as the kind-hearted, sporty abstainer who plummets towards AIDS infection as soon as his resistance breaks.
Many familiar tableaux from the film are recreated here, all with suitably biting, black-as-pitch humour, and while each of the characters is permitted their own monologue, the one delivered by Chloe-Ann Taylor is least well-known and most punishing in its delivery. She plays Renton's accidental teen lover Dianne (Macdonald's role in the film), but these words are delivered as Alison, a character excised from the very male film. Off the smack and waiting tables to pay her way to a degree, she's verbally abused by a group of lairy student customers. Swallowing her dignity to keep her income, she laces the tomato soup with the contents of a used tampon and the wine jug with urine; as affirmative moments go, it's punishingly queasy.
Another unfamiliar scene cuts even closer to the bone, as Renton takes his brother's pregnant partner over the Union Flag-covered coffin belonging to that dead brother, a squaddie and spousal abuser killed on duty in Northern Ireland. For every other brilliantly visual metaphor director Gareth Nicholls conjures – an ensemble of clubbers moving as one body to New Order's "Technique", or the darkened purgatory of Leith's abandoned and now long-gone Central Station – this scene breathes fresh life into this old story. Through the institutional neglect of inner cities in the 1980s, the fury over the poll tax in Scotland and the country's current tortured relationship with the Union, it at once shows selfish, sacrilegious wreckers ungrateful for all they could have but cast aside, and desperate idealists clutching at a fleeting moment of joy in the face of overpowering tradition. Like the rest of the play, the scene crackles with a raw new power.
Trainspotting is at the Citizens Theatre, Glasgow, until 8 October. www.citz.co.uk
Register for free to continue reading
Registration is a free and easy way to support our truly independent journalism
By registering, you will also enjoy limited access to Premium articles, exclusive newsletters, commenting, and virtual events with our leading journalists
Already have an account? sign in
Join our new commenting forum
Join thought-provoking conversations, follow other Independent readers and see their replies