Troilus and Cressida, Swan Theatre, Stratford-Upon-Avon; Hysteria, Theatre Royal, Bath Heartbreak House, Festival Theatre, Chichester
RSC's co-production with avant-gardists from New York is more taxing than the Trojan wars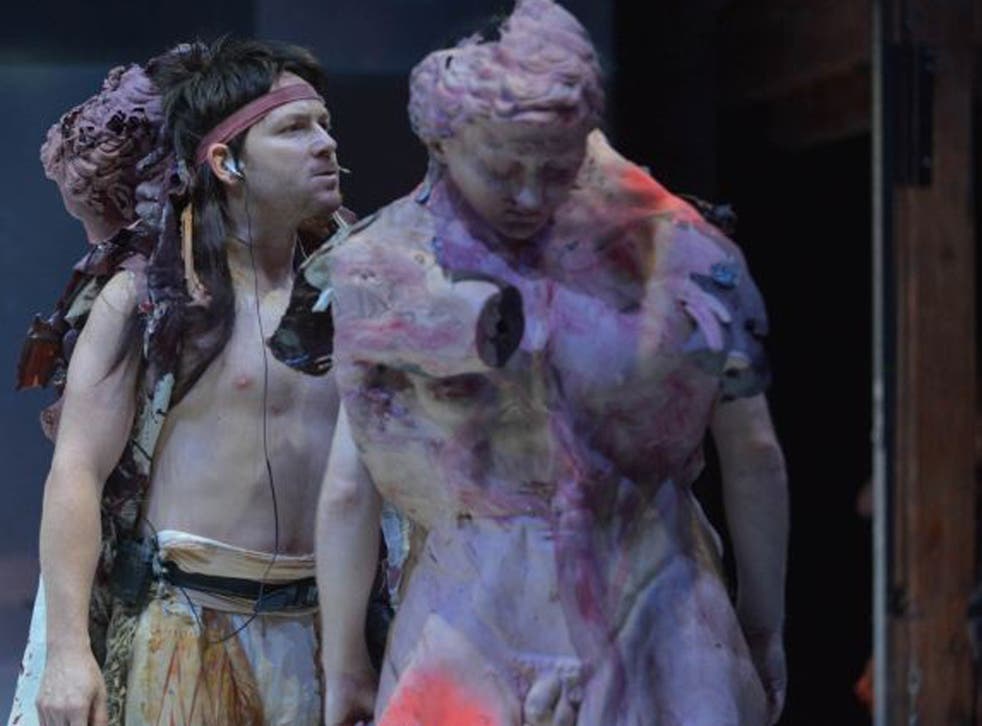 It's as if the ancient world's heroes and heroines have been subjected to an acid attack in Shakespeare's Troilus and Cressida. Time and cynicism have corroded the reputations of Greece and Troy's legendary warriors and lovers. What remains? Tattered fragments and rotten scraps, as Prince Troilus himself observes when he sees his sweetheart handed to the enemy and proving unfaithful.
In the RSC's experimentally brave yet sorely disappointing co-production – jointly created with Manhattan's famed avant-gardists, The Wooster Group – the long-beseiged Trojans are played by actors from across the pond. Directed by Wooster veteran Elizabeth LeCompte, they're pretending to be American Indians but in pointedly cruddy, politically incorrect, faux ethnic costumes – pallid hicks dressed in feathers and tassled tunics that have been cobbled together from offcuts and smeared with gobbets of Styrofoam.
Plasma screens raised on poles show snippets from niche-market Inuit movies – romances on remote shores, and ritualistic wrestling ceremonies in igloos. Scott Shepherd's Troilus and Marin Ireland's Cressida keep glancing up and imitating the screen action in a deliberately half-baked way, while speaking Shakespeare's lines in a generally flat monotone.
Meanwhile, the Greek army are English thespians, directed by Mark Ravenhill (replacing Rupert Goold who withdrew from this project). Ravenhill's actors offer far more emotive verse-speaking, in the RSC's customary style – without film footage. They're in contemporary camouflage gear, except for the authority-defying gays in the ranks. Joe Dixon's Achilles slips into a scarlet sheath dress. Zubin Varla's Thersites is a transvestite cabaret act, sniping into a microphone, though without much bite.
The stylistic dichotomy highlights different strengths and weaknesses. LeCompte's aesthetic is strikingly weird and novel in the Swan. The flat-toned delivery also, arguably, reflects how characters prove insincere or are ultimately denied tragic depth in this problem play. The downside is that LeCompte offers no psychological insights en route. Her staging is technically layered – with the film footage in tandem – but that's often merely distracting. Conversely, Ravenhill is thin on directorial concepts. His team's modern army uniforms don't gel with the Native American set-up, and his programme note about exciting inconsistencies is unpersuasive.
At least the English actors' verse-speaking is lucid and animated. Scott Handy stands out as a needling Ulysses. All in all, though – lasting more than three hours, with no dramatic momentum – the evening feels longer than The Iliad.
Wars are being fought and Sigmund Freud stands accused of disloyalties in Hysteria, Terry Johnson's hit play from 1993. Now revived by the dramatist turned director, and starring Antony Sher as Freud, this is a strange fish, hovering between a biodrama and a bonkers fantasia, part romp, part thesis and part Pirandellian teaser, blurring real-life and assumed identities.
The august founding father of psychoanalysis finds himself entangled in a tongue-in-cheek sex farce, for starters (with surely a nod to Joe Orton's What the Butler Saw). Sher's white-bearded and tweedily respectable Freud, having determined to retire, is holed up in his snug, book-lined study in Hampstead. It's late at night and he's close to nodding off, when Indira Varma's frenetic Jessica suddenly pops up, hammering at his French windows, claiming she's his repressed anima, and rebelliously casting off her clothes.
Tossing aside his professional creed of exposing awkward truths, Sher's Freud bundles her into the adjoining closet and fibs like crazy to conceal her from his old colleague, Dr Yahuda. David Horovitch's Yahuda has been gruffly chastising Freud for debunking Jewish legends when Hitler's anti-Semitism is gaining ground on the Continent.
Another unwanted guest, Will Keen's moustachioed Salvador Dali also keeps twirling in and out: a devotee of Freud but with a ludicrously inflated ego. That, incidentally, makes Hysteria look more like a successor to Tom Stoppard's Dadaist biodrama Travesties.
Dali's paintings come in for a comical pasting, while Varma's Jessica, replaying the case history of one of Freud's past patients, bitterly rebukes Sigmund for retracting his belief in socially rife, patriarchal sexual abuse. She insinuates his own family relationships played a part in that.
Much of this is historically informed and thought-provoking. Varma's slide from game-playing into acute distress is spellbinding; Keen's balletic twirling is precision-tooled; and Sher has moments of humane gravitas and near-poetic lyricism. The farcical scenes seem feeble and Johnson cranks up his dramatic climaxes, but this is impressive summer programming by Bath Theatre Royal, and Hysteria tours too.
Star casting doesn't stop George Bernard Shaw's darkening social comedy Heartbreak House from being a woeful dud at Chichester. Derek Jacobi is likeable as the eccentric sea dog, Captain Shotover, who takes unexpected guests in his stride, or evasively feigns senility, at his boho family home. Fiona Button is also commendable as the rapidly disillusioned Ellie, who discovers her beau (Raymond Coulthard) is a rake married to Shotover's daughter, Hesione (Emma Fielding). The play gains resonance when Shotover philosophises about corrupt capitalists, hidden debts and looming disaster.
Nonetheless, Richard Clifford's staging is visually drab and so under-directed that half the cast seem to be completely at sea, merely striking poses and spieling their lines with no comic timing or conversational logic. As a result, GBS's dialogue sounds like a string of non-sequiturs. Almost surreally inept.
'Troilus and Cressida' (0844 800 1110) to 18 Aug, then Riverside, London (020-8237 1111) 24 Aug-18 Sep; 'Hysteria' (01225 448844) to 18 Aug, touring to 8 Sep; 'Heartbreak House' (01243 781312) to 25 Aug
Critic's Choice
Relive the golden days of Hollywood underneath the arches at Southwark Playhouse, south London, where Thom Southerland's scintillating Mack and Mabel does everything a big West End musical does, but up close and personal (to 25 Aug). The York Mystery Plays are revived on an epic scale (to 27 Aug), with 2,500 local people acting alongside professionals against the backdrop of St Mary's Abbey, York.
Register for free to continue reading
Registration is a free and easy way to support our truly independent journalism
By registering, you will also enjoy limited access to Premium articles, exclusive newsletters, commenting, and virtual events with our leading journalists
Already have an account? sign in
Register for free to continue reading
Registration is a free and easy way to support our truly independent journalism
By registering, you will also enjoy limited access to Premium articles, exclusive newsletters, commenting, and virtual events with our leading journalists
Already have an account? sign in
Join our new commenting forum
Join thought-provoking conversations, follow other Independent readers and see their replies