Voices of America, Sadler's Wells, London, review: William Forsythe takes the English National Ballet clubbing
A new programme of works by American artists sets ballet to electronic music with joyful results
Zo Anderson
Monday 16 April 2018 09:36 Comments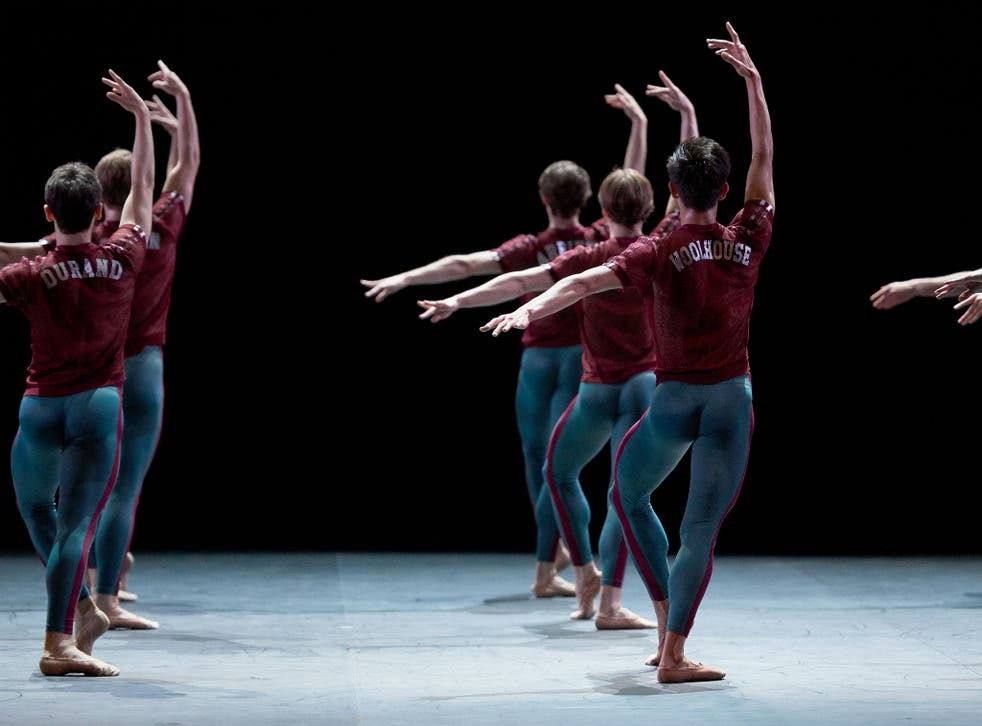 A joyful surprise: in his new work for English National Ballet, William Forsythe takes the company clubbing. Playlist (Track 1, 2) is a goofy delight, spinning twelve of the company's men through virtuoso steps to house and neo soul.
Forsythe, one of the world's most influential choreographers, is very much the star of this programme of works by American artists. It's his first work for a British company in more than 20 years, part of a return to classical ballet after time focusing on contemporary dance. Both the new work and Approximate Sonata show Forsythe enjoying ballet, its grandeur and its agility, with ENB's dancers soaring to meet the challenges he sets them.
Playlist (Track 1, 2) starts with its cast stepping side-to-side to a track by Peven Everett, like a balletic version of the self-conscious clubber's dancefloor shuffle. They build to spectacular steps, with contrasting groups or bounding jumps, before showing more individual, sinuous dancing to a Jax Jones remix of Lion Babe. It's an easygoing celebration of masculinity, without macho aggression or posturing.
Forsythe is known for deconstructing ballet. Here he has fun putting it back together: those steady beats aren't so different from the oompah tunes of 19th century ballet, and give the same support to big steps. And if you expect electronic music from Forsythe, well, here it is – but this time it's cheerful pop, rather than avant-garde radiator noises.
He dresses his 12 men in tights and sporty shirts with their names on the back: dancers as athletes, a happy team.
Approximate Sonata, made in 1996 but recently revised, shows a more familiar side of Forsythe, with an electronic score by Thom Willems, dance stopping and starting as four couples explore different steps.
Alina Cojocaru and Joseph Caley set a playful tone, with gorgeous textures and rippling epaulement. Tiffany Hedman and James Streeter dance with driving attack, while Jurgita Dronina and Isaac Hernández bring smooth line to twisty moves. Precious Adams, so stylish she even looks good in lime green trousers, dances with marvellous scale and authority, handsomely partnered by Aaron Robison.
The other new acquisition, Jerome Robbins' 1951 The Cage, is a female dominated work to balance the new Forsythe. A lurid slice of pulp sci-fi, it shows insect women preying on men. Begoña Cao is terrific as the Queen and Dronina a naïve but deadly novice. Aszure Barton's Fantastic Beings, created in 2016, casts the dancers as friendlier animals. It's overlong, but danced with gusto.
Until 21 April (ballet.org.uk)
Register for free to continue reading
Registration is a free and easy way to support our truly independent journalism
By registering, you will also enjoy limited access to Premium articles, exclusive newsletters, commenting, and virtual events with our leading journalists
Already have an account? sign in
Join our new commenting forum
Join thought-provoking conversations, follow other Independent readers and see their replies