Wayne McGregor's +/- Human, Roundhouse, dance review: 'Eye-catching'
With the venue's huge, pillared space working as an art gallery or a stage during the run, this show is both installation and dance work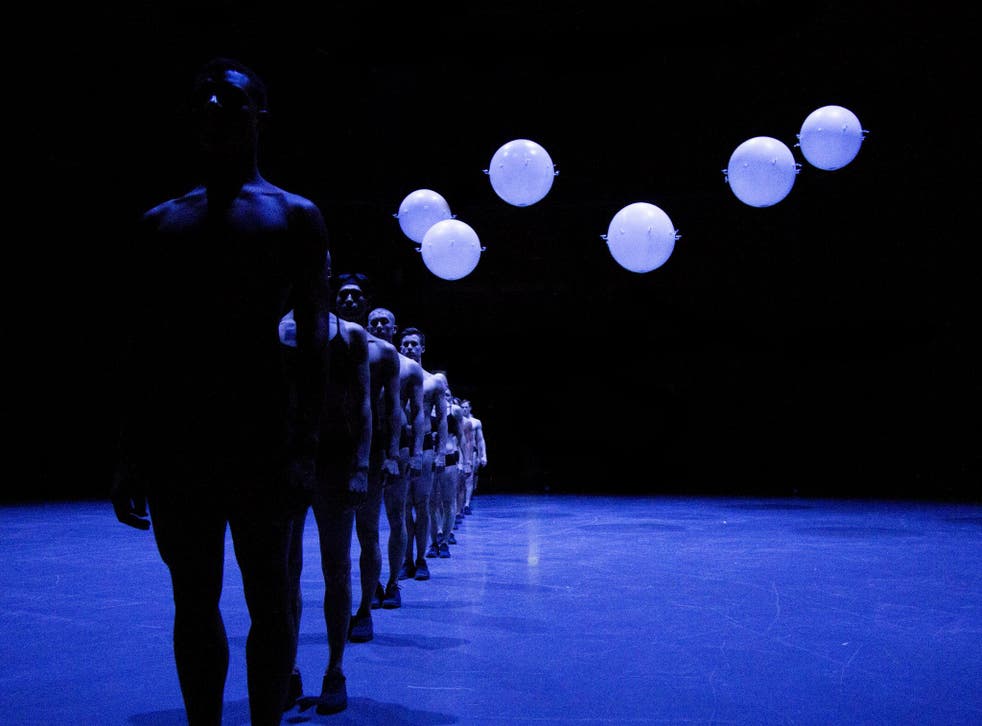 High in the air, bright white spheres float over the heads of dancers, hovering and circling in the lofty ceiling space of the Roundhouse. Named Zoological, the orbs are an entrancing art installation by Random International. They loom over Wayne McGregor's new dance work, but it's when they interact with the audience afterwards that they really come into their own.
+/- Human is both installation and dance work. During the run, the Roundhouse's huge, pillared space works as an art gallery or a stage, with performances by dancers from McGregor's own company and from the Royal Ballet, where he is resident choreographer.
A performance space is roped off for the dance, within the circle of the Roundhouse's pillars. Dancers file in, all in black underwear and trainers, each with a plus or minus sign painted on their chest. The spheres float in overhead, just as well-rehearsed.
The orbs are eye-catching, a metre across and luminously white, with tiny propellers around their circumferences. To a science-fiction fan, they look potentially sinister: friendly clouds, or Doctor Who creatures planning an attack? They float into new patterns, regroup or line up again as the dance goes on underneath.
Using motion sensors, the orbs are programmed to react to their surroundings, to both bodies and architecture. Like the people around them, they are responding to events. In performance, I found I watched one or the other, rather than the connection between the two.
McGregor's dances are full of winding, grounded moves. Fukiko Takase is gorgeously weighted in the opening solo, a sense of exploration in the movement rippling through her body. The dance that follows is full of trios and groups, danced to electronic music by Warp Records. Knots of dancers form circles, each with one hand extended to the centre, with the look of a ritual or a playground game. As they dance together, the plus and minus signs become smeared: you can see who was partnering whom by the smudges they leave behind.
For all the focus on interaction, McGregor doesn't emphasise his dancers' individuality. Their presentation is almost anonymous, even for established stars such as Edward Watson and Mara Galeazzi. There's little sense of personal response to the orbs, or to each other.
That comes afterwards, from the audience, who become performers and artists as soon as they step into the centre of the room. We reach out to the spheres, eager to see what they'll do; many of us start to dance, all self-consciousness gone.
Until 28 August. Box office 0300 6789 222
Join our new commenting forum
Join thought-provoking conversations, follow other Independent readers and see their replies