Windrush: Movement of the People, Peacock Theatre, London, review: Both timely and heartfelt
Made to mark the Windrush 70th anniversary, Phoenix Dance Theatre's narrative work has instead become painfully topical 
Zo Anderson
Monday 30 April 2018 10:27 Comments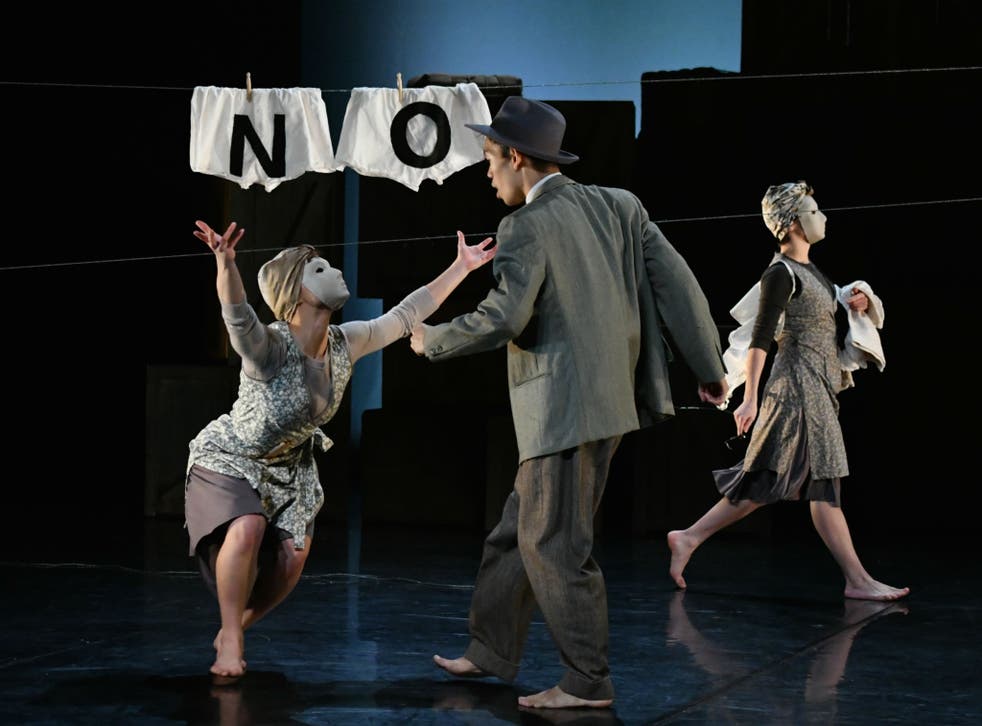 Created to mark the anniversary of the arrival of SS Empire Windrush, Phoenix Dance Theatre's production has become painfully topical.
In one of the finest scenes in artistic director Sharon Watson's Windrush: Movement of the People, the first generation of Caribbean immigrants step out onto the docks, coats huddled around them against the cold of their often ungrateful new home. Phoenix's fine dancers make you feel the chill wind, and their courage in facing it.
Seventy years after the boat arrived in Tilbury Dock, London, and right in the middle of a new political scandal, Watson's work is both timely and heartfelt. It starts in the Caribbean, with dances of excitement and hope under Luke Haywood's warm lighting, and bright period costumes by Eleanor Bull.
This is the first narrative work by Watson, who is herself a descendant of the Windrush generation. She shows a real gift for confrontations between characters. In one icy scene, women in white masks bring out laundry, with letters on garments starting to spell out racist slogans. The whole theatre goes still when the first letter is "N": the start of "No dogs, no blacks, no Irish".
Then Aaron Chaplin's immigrant starts to dance with Sandrine Monin's masked white woman. They peel off clothes before the mask comes off, in a duet full of connection and mutual vulnerability. Vanessa Vince-Pang and Prentice Whitlow are gorgeous in the second duet, a couple separated by the long journey then reunited in their new country.
Watson sometimes falls into vaguer illustration. Though the opening scene is full of swivelling hips and deep, juicy pliés, it doesn't do enough to establish individual characters. There's a roar of recognition from the audience at some of the party scenes, but the finale – combining church worship and celebration – lacks punch.
Christella Litras's commissioned score incorporates snatches of period music and speech. "You called, and we came," Laura Serrant's poem reminds us. Windrush is uneven, but at its best it has both lucid anger and tender warmth.
It's performed with two shorter works, both crisply danced. Calyx, by company dancer Sandrine Monin, shows four dancers emerging from boxes. They undulate around each other, limbs winding like the tendril patterns on Emma James's costume design.
With its 1940s frocks, Christopher Bruce's Shadows evokes another movement of people preparing to leave an oppressive homeland. Phoenix's dancers catch both the liveliness of Bruce's folk-tinged steps and the sorrowful tone of the Arvo Pärt score.
Touring until 16 November (phoenixdancetheatre.co.uk)
Register for free to continue reading
Registration is a free and easy way to support our truly independent journalism
By registering, you will also enjoy limited access to Premium articles, exclusive newsletters, commenting, and virtual events with our leading journalists
Already have an account? sign in
Join our new commenting forum
Join thought-provoking conversations, follow other Independent readers and see their replies