Woyzeck, Old Vic, London, review: John Boyega leaves you in no doubt about his stage chops
Boyega who is better known for his role in 'Star Wars: The Force Awakens' stars in Joe Murphy's production of 'Woyzeck' revised by 'Harry Potter' script writer Jack Thorne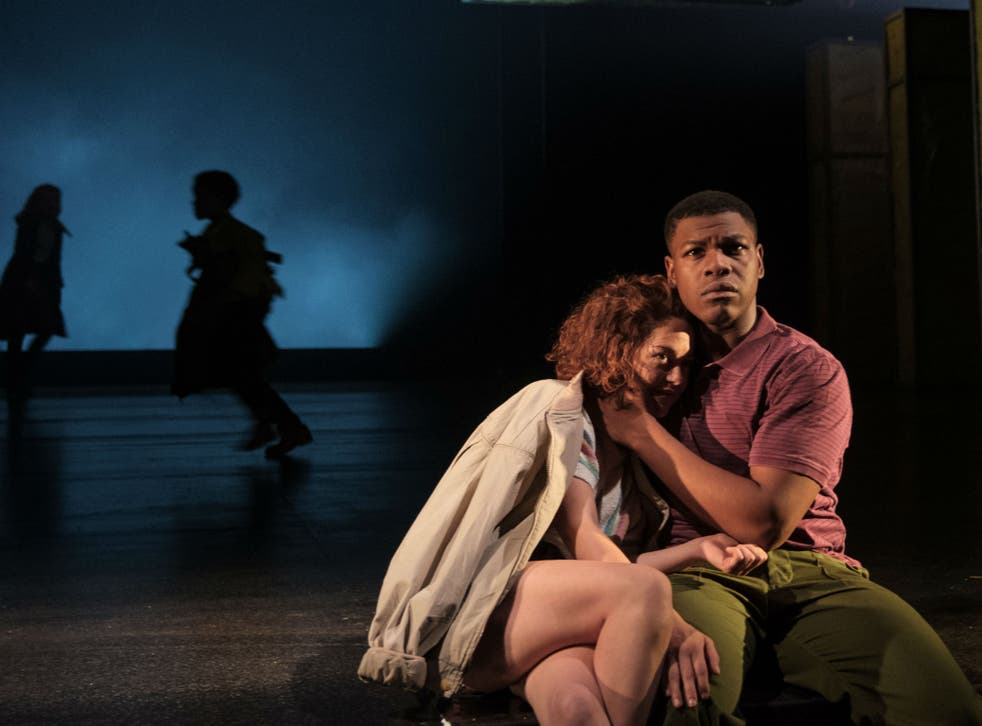 His last theatrical performance was in a minor role at the Tricycle eight years ago – since when he has achieved international acclaim as Finn, the reluctant storm-trooper in Star Wars: The Force Awakens. But John Boyega leaves you in no doubt about his stage chops in this cumulatively devastating portrayal of the title character in Joe Murphy's production of Woyzeck at the Old Vic.
Georg Buchner's seminal working class tragedy – left unfinished at his death in 1837 – has been radically revised for the occasion by Jack Thorne, the dramatist who wrote the script for the two-part monster hit Harry Potter and the Cursed Child. It could be argued that he has gone a bit too far in spelling out, through a good deal of explanatory back-story and explicit psychology, what is elliptical and teasing in the original and in need of being pieced together in the imagination of the audience. But we're shown things from Woyzeck's point-of-view and there's still the unbearable sense of a protagonist whose disintegration is all the more harrowing because he only dimly comprehends the forces that are oppressing him.
Thorne retains the basic narrative arc: military barber driven to madness by poverty, the infidelity of his common-law wife and the unhinging effects of trying to make some money as one of the guinea pigs in a scientific experiment. He shifts the proceedings, though, to divided Berlin in 1981 where the British army – simultaneously on high alert and bored – is guarding the West from Russian invasion. Frank Woyzeck is now an illiterate squaddie desperately trying to build a better future for Marie, his Irish Catholic mistress and their baby daughter. But he can't afford the rent for the flat above the Muslim butcher's shop where they live and he's largely defenceless against his toffee-nosed sexually ambiguous Captain (Steffan Rhodri) and the German doctor (Darrell D'Silva) who swindles and maltreats him in shady trials for a human growth hormone.
In this version, he is also haunted by childhood traumas (the mother, who abandoned him to a series of foster homes, spectrally patrols the action, with his nine-year-old self in tow) and by the memory of his active service in Belfast where, it keeps being muttered, he disgraced himself professionally. It could easily come across as excessive to the point of melodrama, were it not for the remarkable tragic intensity in Boyega's performance. An exceptionally powerful presence, this Woyzeck starts off radiating a gentle devotion and a slightly dazed surprise at his luck until deep emotional vulnerability turns his raw need to be needed by Marie – and to believe that he has rescued her – into a dangerous obsession.
Sarah Greene is excellent in the expanded role of the mistress, genuine concern for her lover shading into fear and dread. The descent into insanity in the second half is shattering because Boyega swings so piteously between ferocity and terrified confusion as his Woyzeck thrashes about the stage, gobbling the experimental pills, thwacking himself in the face, and tipping washing detergent into his foaming mouth.
Nancy Carroll doubles as the mother and the Captain's callously posh wife who engages in some energetic couplings with Ben Batt's Andrews, a randy soldier who specialises in other men's wives and is as untroubled as Woyzeck is tortured. Carnality hangs like a heat haze over the production, whose brooding design by Tom Scutt is like a collection of padded grey sections of the Berlin Wall that rise and fall and seep with bloody entrails when punctured. A savvy piece of programming that makes Woyzeck more accessible while preserving its unsettling spirit and deserves to widen the Old Vic's audience.
Register for free to continue reading
Registration is a free and easy way to support our truly independent journalism
By registering, you will also enjoy limited access to Premium articles, exclusive newsletters, commenting, and virtual events with our leading journalists
Already have an account? sign in
Register for free to continue reading
Registration is a free and easy way to support our truly independent journalism
By registering, you will also enjoy limited access to Premium articles, exclusive newsletters, commenting, and virtual events with our leading journalists
Already have an account? sign in
Join our new commenting forum
Join thought-provoking conversations, follow other Independent readers and see their replies