Young Frankenstein, Garrick Theatre, London, review: Silly and shameless from start to finish
Mel Brooks's new musical version of his 1974 comedy horror movie has no agenda – except to make you laugh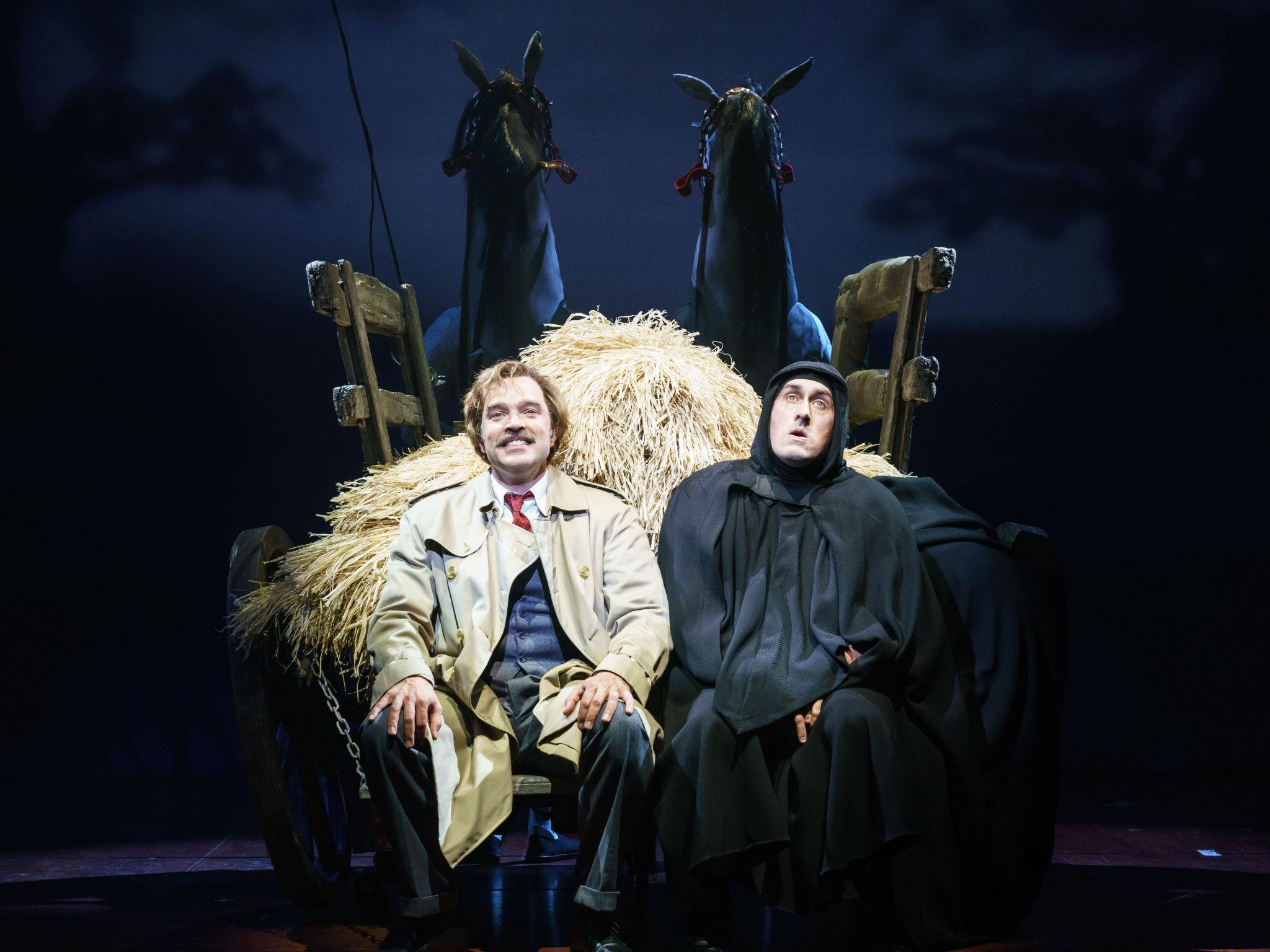 Mel Brooks's musical make-over of his classic 1974 horror movie spoof is deliriously silly and shameless from start to finish. That's its appeal. It has no aspirations other than to unleash laughter. On that front, the show is a signal success.
When it first saw the light of day on Broadway in 2007, the piece failed to match the phenomenal success of Brooks's earlier stage adaptation of The Producers, and was principally famed for the eye-watering premium ticket prices before it went on a national tour and fell off the radar.
For its West End premiere, though, the show has been tinkered with and streamlined to suit the more intimate surroundings of the Garrick Theatre. Accordingly, it generates a fonder response.
With a book by Brooks (who's now 91) and Thomas Meehan, and music and lyrics provided by Brooks alone, the show broadly sticks to the plot of the movie and includes most of the time-honoured gags – the "walk this way" routine, the word-play with "werewolves" and "knockers" etc. Even mouthed silently, the name of Frau Blucher sets off the sound of frightened horses. But now there's a parody of vaudeville and the musical tradition, as well as a guying of monster movies.
"There is nothing like a brain," sings young neurosurgeon Frederick Frankenstein, parading one his American lab, with a deliberate echo of "dame" and South Pacific. He's so ashamed of his family's past, he insists on being called "Fronkensteen". But when he hits Transylvania, he's soon letting out his stage-struck Yale student in "Together Again (for the first time)", a deliciously daft send-up of a musical comedy double act ("Like Laurel and Hardy / Like coke and Bacardi" with hunch-backed sidekick, Igor).
Susan Stroman, who directs, is so witty and inventive in her choreography that she sometimes arguably steals her own thunder. "Transylvania Mania", a dance craze invented on the spur of the moment to distract the enraged villagers from the roars of the awakened monster ("Even the Liths in Lithuania love it"), has such an inspired zombie-lite zaniness that I felt it slightly gazumped the big "Puttin' On The Ritz" tap routine from the movie, expanded here so that a full kick line eventually joins the scientist and his creation in their top-hat-and-tails Irving Berlin performance.
The British cast is first rate. While not effacing the memory of Gene Wilder, Marty Feldman and co, they pitch themselves with terrific zest into roles that they manage to make their own. Hadley Fraser has a wonderful dynamism and is in great voice as Frederick, perfectly gauging the balance between near-hysteria and unforced comic charm.
In a performance of delightfully crafty timing, Ross Noble scuttles around as a Cockneyfied Igor, looking up from his contorted postures with a faux-gormless gaze that could be read as stupid or subversive or both. Lesley Joseph brings a superb hatchet-faced obsessiveness to Frau Blucher and her idiotic goose-stepping devotion to the memory of the violent older Frankenstein, the accents of Weill and Cabaret in her "He Vas My Boyfriend" number.
No one is likely to mistake this show as contribution to feminism, but Summer Strallen and Dianne Pilkington pump their politically incorrect characters with hilarious verve: there is Inga, the yodelling, splits-performing, sexpot lab assistant, and Elizabeth, Frederick's high-maintenance fiancee, who is averse to touch except in fantasy until converted – big time – by Shuler Hensley's funny and dignified Monster.
Join our commenting forum
Join thought-provoking conversations, follow other Independent readers and see their replies