She Said, dance review: 'A marvellous image of creativity and power' - ballerina Tamara Rojo plays artist Frida Kahlo
She Said, Sadler's Wells, London
Zo Anderson
Thursday 14 April 2016 15:57 Comments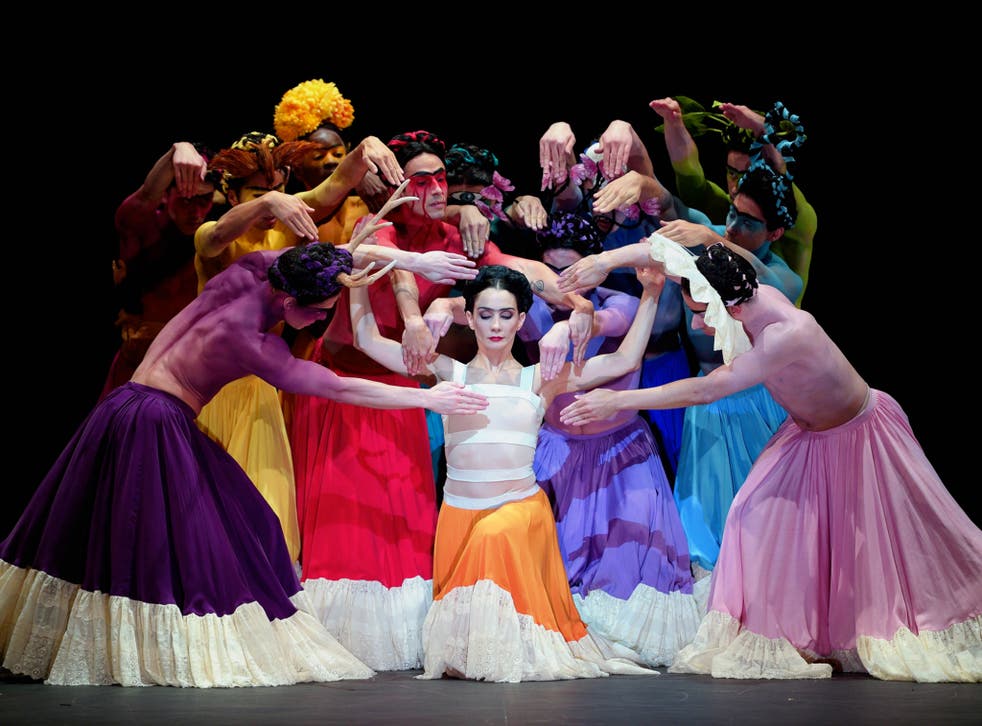 Playing the artist Frida Kahlo, ballerina Tamara Rojo waves on a shimmying phalanx of brilliantly painted and costumed dancers, bending and swaying at her command. It's a marvellous image of creativity and power, the high point of an uneven programme celebrating female choreographers.
When it comes to making dances, ballet's gender balance is appalling. Rojo has pointed out that, in a twenty-year career, this is the first time she's danced a work by a woman. English National Ballet's She Said, a triple bill of works by women, is both a response to recent debate and a very canny piece of marketing. It comes with a new frontcloth by artist Grayson Perry – a bright, Kahlo-influenced painting of a woman in a landscape of phalluses – high demand at the box office and plenty of buzz.
All three works are danced and staged with gusto, but it's Annabelle Lopez Ochoa's Broken Wings that makes the programme a success. Inspired by Kahlo's life and art, it sidesteps biographical clichés. Rojo's imperious Kahlo isn't a victim, she's not defined by her love life and, best of all, Ochoa finds ways to show her as a creative artist.
There are plenty of artist characters in ballet, many of them vaguely waving paintbrushes. This Kahlo wanders among her creations like the hero of a 19th-century vision scene, or conjures them out of her own pain and anger. Dressed to recall figures from the paintings, the corps move in rippling steps, confronting Kahlo or doing her bidding.
Kahlo's husband Diego Rivera is played by former Bolshoi and Royal Ballet star Irek Mukhamedov, back on stage for teasing, argumentative duets. Broken Wings is overlong, but it's a bold, fresh work with a grand central role that makes the most of Rojo's star power.
The other ballets are weaker. M-Dao, Yabin Wang's retelling of the Medea story, is lyrical but fuzzy. There's an atmospheric trio in which Laurretta Summerscales' heroine watches her husband with his new princess (Fernando Bufalá and Madison Kessler). The anger and cruelty of the story are muted. Kimie Nakano's designs are handsome.
Aszure Barton's Fantastic Beings is a pure dance display piece, weighed down by Mason Bates' bombastic score. Dancers fold into animalistic poses or break out into virtuoso steps, but the music and Burke Brown's dark stage design make it relentless rather than fun.
Register for free to continue reading
Registration is a free and easy way to support our truly independent journalism
By registering, you will also enjoy limited access to Premium articles, exclusive newsletters, commenting, and virtual events with our leading journalists
Already have an account? sign in
Join our new commenting forum
Join thought-provoking conversations, follow other Independent readers and see their replies