Showstopper! The Improvised Musical: it's like singing a song without knowing where it is heading
As a new, entirely improvised musical comes to London, Gillian Orr meets the cast for a masterclass and discovers her inner tightrope walker – metaphorically speaking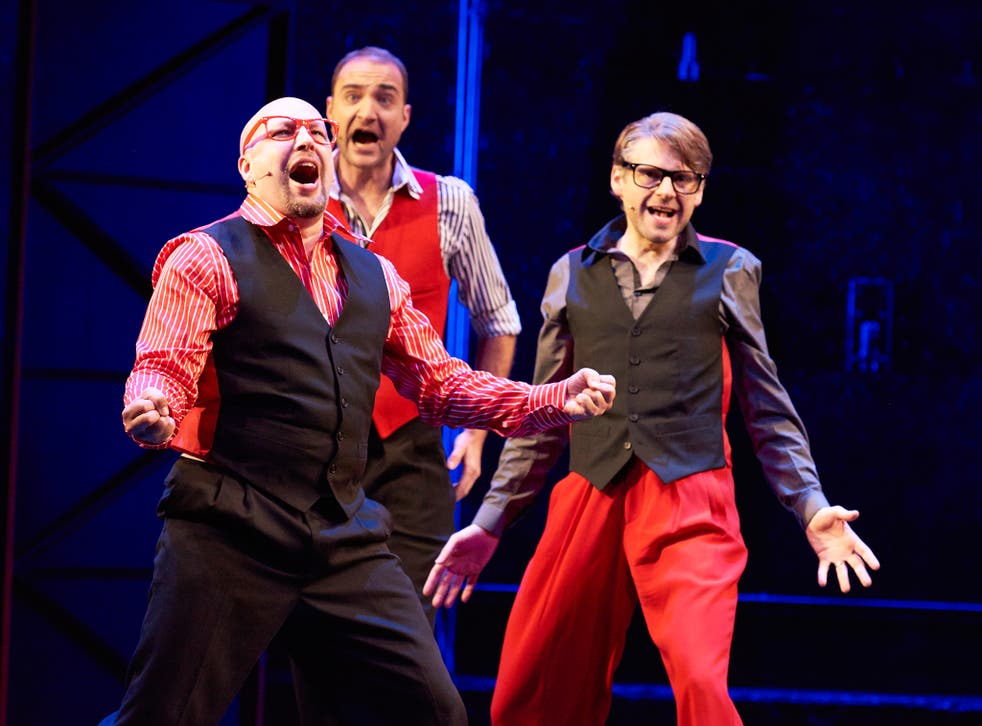 In a room at the Apollo Theatre, on London's Shaftesbury Avenue, I am playing a game. It involves standing in a circle and throwing a pretend ball around the group. As the ball is launched, the sender emits a strange sound that the recipient catching the "ball" will then mimic. When it is passed on again, so is a new noise. In short, I feel like a total bonehead.
What this activity demonstrates, I am assured, is the vital principles of improvisation. I have come to the Apollo, where the improvised musical Showstopper! is currently in residency, for a quick masterclass with some of the cast. Until the end of November, every night, a rotating cast of seven will create a new show on the spot with a little direction from the audience. It is the first time an improvised musical has taken place in the West End, and not only has it received rave reviews – The Daily Telegraph said it was "so polished, it defies belief" in its five-star rating – but word of mouth is also helping it along at the box office.
The beginning of each performance is the same: the MC, Dylan Emery, receives a (pretend) phone call from Sir Cameron Mackintosh who demands a new musical. He turns to the audience for suggestions as to where it could be set. The night I attended it was a toss-up between Ikea and Wentworth, the fictional Australian prison, which won out in the end. He also asks for some musicals that they can pastiche. Sure enough the troupe offers their own unique take on Sweeney Todd, Phantom of the Opera and The Sound of Music at various points throughout the evening.
During their run they have made up musicals set everywhere from a robot pirate ship to a Jewish wedding. And the main thing people ask them, apparently, is whether the whole thing – at times spectacularly impressive, at others rather cringeworthy – really is totally improvised. I am assured that it is. And they do take suggestions from far too many audience members to have planted them all themselves. What's more, they can't communicate with each other backstage because they're all mic'd up. If they're forward-planning in the wings, they might miss out on crucial developments on stage.
But have they ever fallen flat on their face in their bid to think on the spot?
"The answer is: it can't go wrong," says Adam Meggido, star and co-creator. "We're building something from scratch – so whatever you do, it's going to work. You can certainly have more and less entertaining, but there is no wrong."
Besides, they know each other so well by now (most of them have been working together for seven years) that they can tell if someone is in trouble with a mere glance. And it is these wobbly moments, they insist, that the audience really wants to see.
"The danger is important," says Meggido. "We constantly try to up the risk by throwing in more scenarios."
They compare being on stage to a tightrope walk: it's no fun watching if the high-wire artist isn't wobbling a little. No one wants to see them saunter through it.
If this is the case, then I would surely be a superb improv player – because when they encourage me to participate in a skit, I am wobbling all over the high wire. I am hanging on to it by my fingertips. And it certainly gives me a renewed respect for the practice. They tell me to remember the three rules: listen, accept and commit. But that doesn't stop my mind from going blank when one of the actors seems to be suggesting I'm a schoolgirl called Jane who won't get out of her pyjamas. I make a gesture that the pros call the "I got nothing" face.
It becomes clear why an affectionate term for singing a song without knowing where it is heading is called a "suicide rhyme".
"Look, every performance is like a football match," says Meggido. "Sometimes you breeze to victory and in other games it's raining and you're playing in the mud and you really have to pull together to win, you know?"
Either way, they certainly know how to put on a show.
'Showstopper! The Improvised Musical' runs until 29 November at Apollo Theatre, Shaftesbury Avenue.
Buy tickets for Showstopper! The Improvised Musical with Independent Tickets
Join our new commenting forum
Join thought-provoking conversations, follow other Independent readers and see their replies