Spring Offensive, Clapham Omnibus, London, theatre review: Victoria Willing has created a brilliant update to Abigail's Party
A black comedy set in 'the best bed and breakfast on the Somme' delivers both on bleakness and glorious belly laughter.
Joe Vesey-Byrne
Monday 24 April 2017 12:04 Comments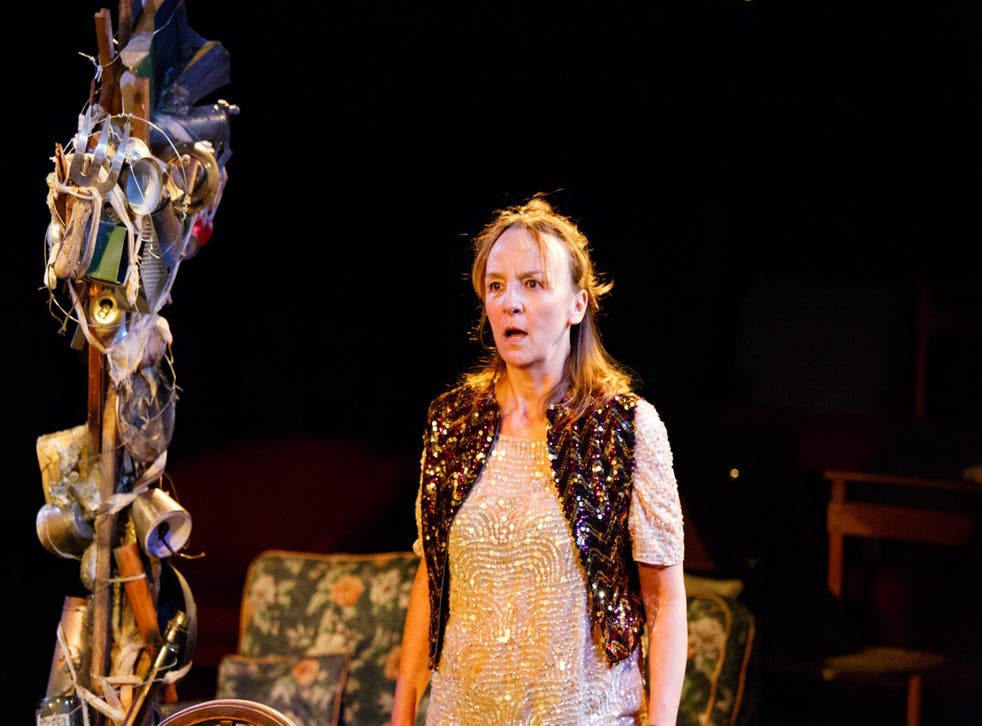 Fans of both Abigail's Party and I'm Alan Partridge will enjoy this claustrophobic and caustic play about cabin fever, loss, and the family unit.
Written and starring Victoria Willing, Spring Offensive invites the audience into April's Bed and Breakfast – 'the best on the Somme'.
Over the course of one evening, April and her two guests needle and prod one another, as they await the arrival of the B&B's first proper clients in months – the metal band 'Dead Drummer'.
The kitsch set of April's establishment perfectly sum up the pretensions and delusions of grandeur of this ailing B&B, starved of real visitors except for Pam (Maggie Daniels), who is essentially April's dogsbody, and 'the Colonel' Tom (Tony Turner), who leads tour groups around the nearby battlefields.
Willing's writing is excellent, though this is not to suggest the execution by these accomplished actors is by any measure sub-par. Willing herself plays April wonderfully, as someone trying very hard to seem relaxed. Her dry and sharp wit is charismatic enough, but it's her later signs of vulnerability that turn the audience from feeling apprehensive about April to rooting for her.
So much is squeezed into this hour and a quarter performance without leaving the audience overfed. The glory and pity of war, the commercialisation of memorials, and how history is written are all topics up for debate. Spring Offensive manages to be topical, though its references to Brexit and Ukip manage to avoid feeling crowbarred in for the sake of cheap laughs.
War poetry forms an important part of the play. The line 'April is the cruellest month' is explicitly referenced, and passages of Wilfred Owen are debated for what they say about the futility of conflict.
Even the name of the unseen metal group 'Dead Drummer' can't be anything but a reference to Thomas Hardy's Drummer Hodge, such is the subtlety of Willing's writing.
The play's heart unveils itself as we learn more about the parent and child relationships which have brought these three characters to the Somme.
April mollycoddles her offstage 32-year-old son Martin, Tom is an absentee father, Pam doted on her ailing mother. The theme continues into their discussion of war and loss. Pam, photographing the local graves, notes that it was often the soldier's parents who wrote the epitaphs.
To a certain extent there are too many false endings in the form of what seem like breakdowns by the characters, who regain themselves, only to again reach heights of hysteria.
Other than this minor misstep, the characters are completely recognisable without passing into cliche. After an isolated life, these three chose to spend their time at a site of desolation, trying to give themselves a purpose by remembering the First World War.
Despite this bleak atmosphere, peeping in on them for an evening however is extremely enjoyable with many belly laughs.
Register for free to continue reading
Registration is a free and easy way to support our truly independent journalism
By registering, you will also enjoy limited access to Premium articles, exclusive newsletters, commenting, and virtual events with our leading journalists
Already have an account? sign in
Join our new commenting forum
Join thought-provoking conversations, follow other Independent readers and see their replies