The Cardinal, Southwark Playhouse, review: Stephen Boxer sparkles with charm and malice in this bloody tragedy
An overlooked treasure rewards audiences with revenge, blood, and humour
Joe Vesey-Byrne
Tuesday 09 May 2017 11:40 Comments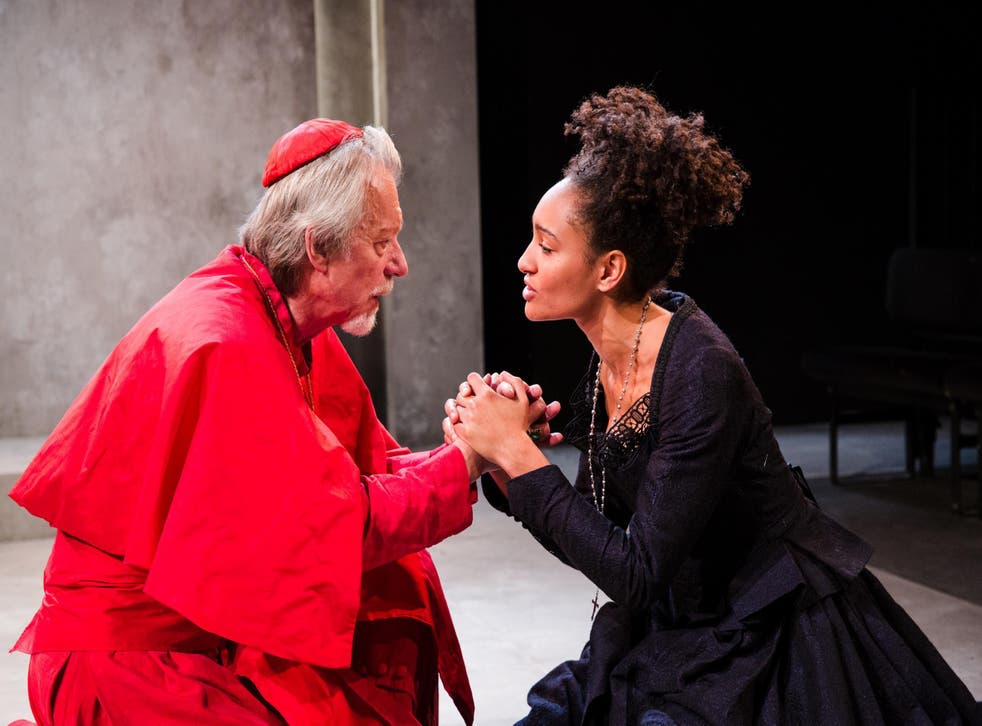 The titular Cardinal is played with slimy and sinister perfection by Stephen Boxer, who leads a strong cast of supporting actors to bring an overlooked story of blood and betrayal to life in the Southwark Playhouse.
For the amount of double-crossing in James Shirley's 1641 play The Cardinal, the plot is quite simple. Duchess Rosaura (Natalie Simpson) would like to wed and bed Count D'Alvarez, but she's promised to the brutish and childish nephew of the Cardinal, Don Columbo. When Columbo is sent off to fight the Aragonians, she seizes her chance and tries to trick him into releasing her from the promise. This being a tragedy, the machinations lead to slaughter and betrayal.
The eponymous character features as a cameo until after the interval, when his machinations take centre stage. Prior to this, we focus on another plotter. Rosaura is very much the match of the Cardinal. The two are equally false, neither can fool the other, and both are undone by their erroneous belief they can manipulate in order to get their own way. Calling the Cardinal an "overgrown lobster already boiled", Rosaura has the same wit and insolence as her adversary.
The motif of black, red, white is continuous throughout the costumes and staging. Rosaura begins the story a widower in black, then transforms to a bride in white, and finally a casualty drenched in scarlet.
Asides to the audience, delivered with great timing by both the Cardinal and Rosaura are the strength of the play. Adding to the conspiracy between the Cardinal and the audience, Boxer enters the stage perusing the programme of the Southwark Playhouse.
The overlooked work contains much that is common among plays of the era, including plenty of bawdiness. Servants as well as nobles play away, and Rosaura's secretary in particular appears to lust after every woman to cross his path.
One can understand why Oliver Cromwell would close all the theatres less than a year after The Cardinal was first performed. Moreover, the idea that princes were only misled because of the advice of sinister clergyman was common in fiction and propaganda, until the necessity of holding Charles I responsible for his own decisions came about.
The staging features impressive choreography in sword fights and death scenes are devoid of any of the awkwardness which can befall some productions. In the soundscape of a cathedral, an echo effect is a little overused on some of the dialogue, to the extent that it is somewhat distracting.
Seeing The Cardinal makes for an extremely enjoyable evening for fans of melodramatic tragedy, and broad humour delivered with aplomb.
Register for free to continue reading
Registration is a free and easy way to support our truly independent journalism
By registering, you will also enjoy limited access to Premium articles, exclusive newsletters, commenting, and virtual events with our leading journalists
Already have an account? sign in
Join our new commenting forum
Join thought-provoking conversations, follow other Independent readers and see their replies