The Suppliant Women, Young Vic, London, review: This pure, reality-dispelling drama resurrects an ancient play about women refugees
David Greig's adaption of Aeschylus' story of women refugees transforms 27 local young women from London into storytelling masters, in a timeless, fantastical production of colour, song, and movement
Joe Vesey-Byrne
Friday 17 November 2017 13:27 Comments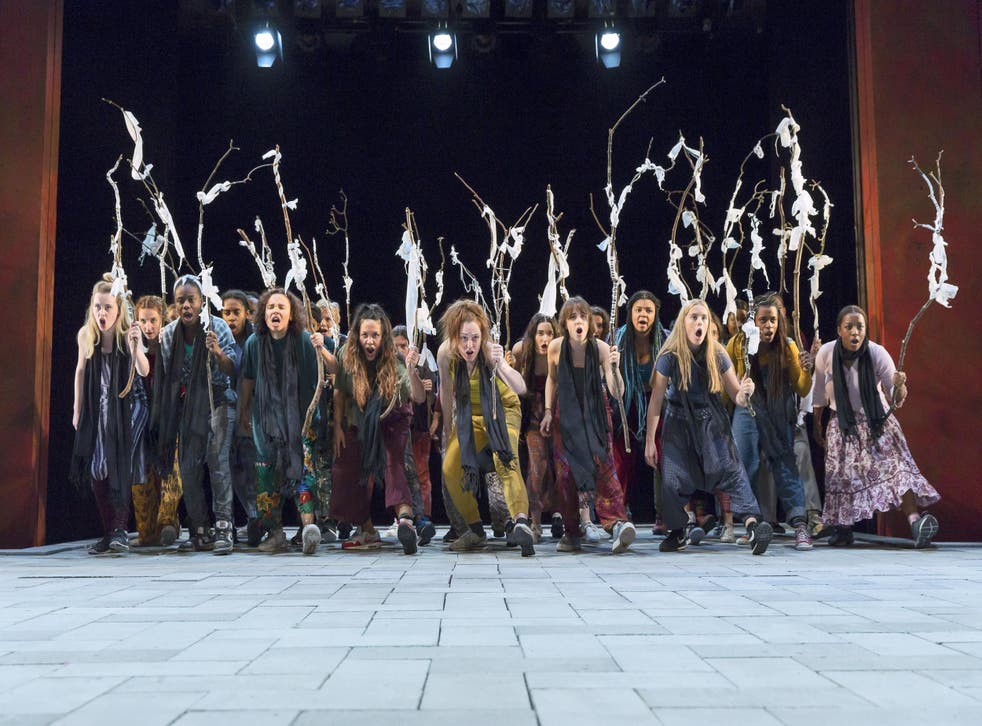 This is like no other adaptation of an Ancient Greek play that you have ever seen – The Suppliant Women at the Young Vic has put on a timeless production of Aeschylus' millennia old play
Starring a chorus of young women recruited from Lambeth and Southwark, The Suppliant Women tells the story of the women of Egypt, who have fled across the Mediterranean to seek Asylum in Argos.
The text, adapted by David Greig, debuted in Edinburgh in 2016 at the height of the deathly migrant crisis in the Mediterranean, and has now transferred to London's Young Vic. The end result is an immersive yarn, that draws on music, movement, and great spectacle to capture the attention of the audience.
The use of local young women, as the descendants of Zeus' lover Io, does much to bring the role of the Chorus to the forefront of the audience's attention. Often in Greek plays adapted for the modern stage the chorus feels like the most pretentious part, but here any time the action was elsewhere you longed for their return.
Such is the charisma of the young women collectively, that when the men of Argos first arrive, a ripple of intense disdain passed through the rows of the audience. Using young women, or girls rather, added to their vulnerability, and again enhanced the feeling of a timeless production.
As their father Danaos (Omar Ebrahim) warns, "We are foreign. We must be respectful and meek". The universal message of sheltering the vulnerable, but also fear of the outsider, streams down the years to cascade over the audience.
The stripped back set and contemporary dress did not distract, but made it all the more plausible that the audience was watching The Suppliant Women at any time in the play's 2,500 year history.
The Chorus really is the star of the production, as the 27 young women sing and chant their lines, the rhythm of the music and the varying styles completely absorbs the audience. At times a beautiful round, at others a virulent war chant, and the accompanying music makes a possibly impenetrable text all the more accessible and enjoyable.
The transformative power of singing is spectacular enough, and moving enough for these local young men, but so engaging is it also that it completely transports the audience from London to ancient Athens, and from there to Argos and to the shores of Egypt and back, over the perilous crossing between.
Plaudits are also due to the young women's fellow players: Oscar Batterham as King Pelasgos and Omar Ebrahim as their father Danaos shine as the honourable men of the piece.
As the production progressed, many members of the audience leaned in – not for want of hearing, but because they were so enraptured by this piece of perfectly executed storytelling. This is pure, unpretentious, reality-dispelling drama.
Register for free to continue reading
Registration is a free and easy way to support our truly independent journalism
By registering, you will also enjoy limited access to Premium articles, exclusive newsletters, commenting, and virtual events with our leading journalists
Already have an account? sign in
Join our new commenting forum
Join thought-provoking conversations, follow other Independent readers and see their replies