This is Not Culturally Significant, The Bunker, London, review: Intense and wonderfully disturbing
Adam Scott-Rowley has brought his entirely naked and thoroughly exhilarating performance to one of London's newest theatres which will terrify audiences in this unmissable one-man show
Joe Vesey-Byrne
Thursday 18 May 2017 08:49 Comments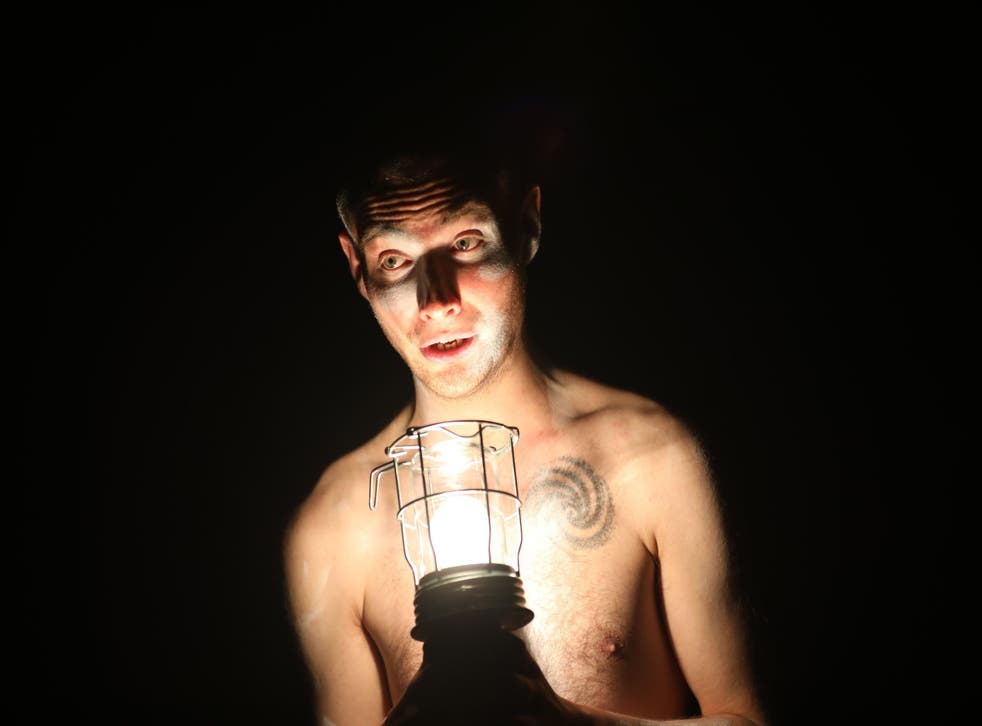 Following a sell-out run at the Edinburgh Fringe and then the London VAULT festival, Adam Scott-Rowley brings his one-man show to new theatre the Bunker. This Is Not Culturally Significant is an intense and wonderfully disturbing performance.
Emerging from the Bunker into the after work rush of Southwark after the performance, it was impossible to understand how everyone else was carrying as usual and didn't feel emotionally exhausted. The power of this show makes it hard to imagine how festival goers took in anything else in a packed day of theatre.
Scott-Rowley enters, naked. The stage is empty but for a chair and hanging lantern. Wearing only a smattering of white paint, he slowly lifts his genitalia up and down and begins as his first character, a masturbating 'webcam girl'.
It starts on this high plane of surreal and monstrously uncomfortable and begins an ascent higher and higher to compelling delirium.
Scott-Rowley introduces us to a variety of modern grotesques. There is 'Dennis_hardc***_doncaster' who is in his bedsit, watching the 'webcam girl, a homeless Glaswegian begging a police officer to let her see her children, a widowed lesbian who plays pranks in Waitrose, and a chain smoking theatre agent. Scott-Rowley's character work captures what was brilliant about other horror performers, bringing to mind great black comic writers like The League of Gentleman.
This is Not Culturally Significant blends black humour with empathy and well observed human character. It's impressive the amount of back story and well roundedness Scott-Rowley conveys beautifully in under an hour, without ever stepping over into cliché.
The voices contort from to another, sometimes in a jarring manner, at other times Scott-Rowley brings his previously isolated characters together in dialogue.
Deeply sad in parts, this performance is a 55 minute scream for help, and it sounds beautiful.
Scott-Rowley is clearly an incredibly talented character actor, and not a bad singer and dancer either.
A few late comers arrived to coincide with his lecherous lecturer persona, allowing him to perfectly scold them for tardiness and make the sinister remark "Suitable shaped".
There seemed to be only one walk out – in the programme Scott-Rowley relates that at Edinburgh the performance was put on in the afternoon in a family friendly venue, so he's used to walk outs. It's understandable, this is as far from a U certificate as it can get.
As enjoyable and exhilarating as this performance is, it's not for anyone unwilling to see something experimentally, dark, and cruel.
The audience that remained seemed to adore it, and the shocked but merry crowd broke into a standing ovation.
Scott-Rowley returned to the stage for this, finally donning some pants for the sake of the curtain call.
Register for free to continue reading
Registration is a free and easy way to support our truly independent journalism
By registering, you will also enjoy limited access to Premium articles, exclusive newsletters, commenting, and virtual events with our leading journalists
Already have an account? sign in
Join our new commenting forum
Join thought-provoking conversations, follow other Independent readers and see their replies