Tom Jones isn't letting the green, green grass grow under his feet
The 76-year-old hitmaker talks about his 50-year career, Elvis, his autobiography and his late wife
Roger Catlin
Thursday 22 September 2016 17:12 Comments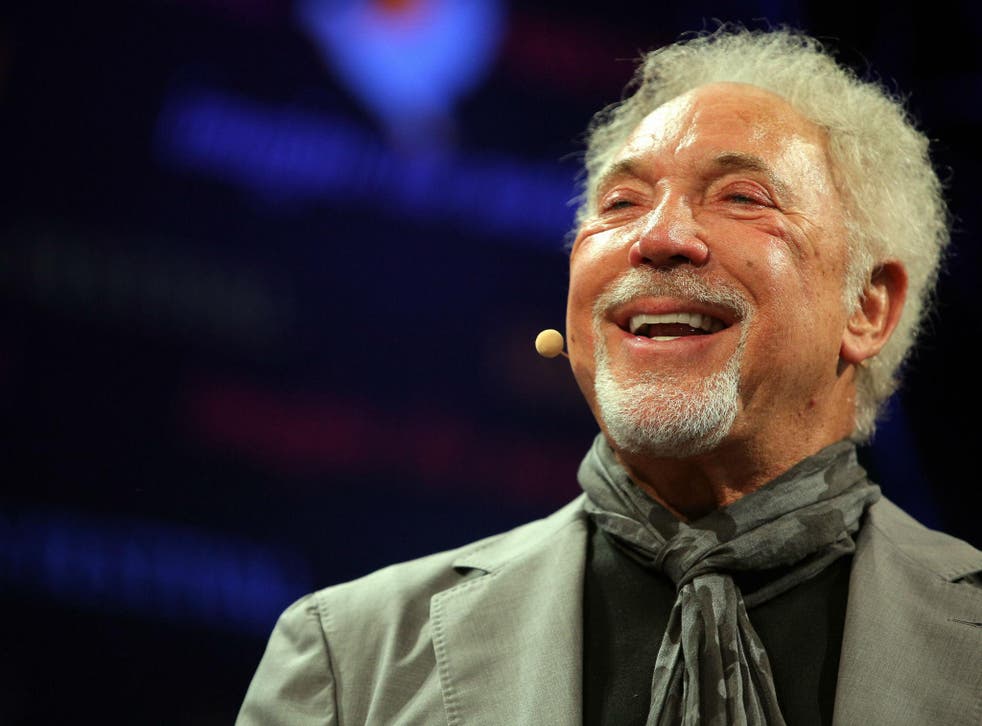 Tom Jones, the hitmaker whose work dates back more than half a century, continues to draw fans and make interesting recordings. Since 2010, he has been working with rock producer Ethan Johns (Ryan Adams, Kings of Leon, Ray LaMontagne) on a trilogy of albums that both return Jones to his bluesy roots in Wales and use a mix of contemporary songwriters, including Tom Waits, Richard Thompson and Gillian Welch.
We reached the 76-year-old singer in Sao Paulo, Brazil, where he was finishing a South American tour before travelling north for a concert swing.
Strict ground rules for interviewing Jones decreed that "there should be no questions concerning Tom's family, the recent death of his wife, Elvis or underwear."
But Jones ended up bringing up most of those subjects himself, including a dark period this year when he considered quitting music. (He never did say anything about underwear.)
Q: You've been doing this for 50 years. Is it any easier an occupation?
A: It's different. I don't know exactly what I felt like then. I was full of fire when I was young. I wanted to attack anything. But I think when you've lived a bit, you read more into the songs. I do, anyway. And you're sort of living the songs rather than performing them. ... When I was young, I was interested more in (singing the songs). ... I can't say I'm enjoying it more now than I did before, because I loved it when I first sang in Wales, in a pub or a club. I loved it then, getting up and singing. Or as a kid in school, I've always loved to sing. But I think when you've been around a long time, it's even more satisfying to think that people are listening to me now, and I've been in the business for a long time.
Q: You've been revisiting your roots with your last few albums.
A: Yes. When I started off in Wales, I sang and accompanied myself with guitar in the '50s. And then I got a band together, which is a rhythm section, really. I used to do a lot of blues, and rhythm and blues, and '50s rock 'n' roll and country, and all kinds of stuff. Then, when I had my first hit record, "It's Not Unusual," with brass on it, I had to put a bigger band together to try and duplicate the sounds that I was recording. But now, I've gone further back with just a rhythm section, even two instruments, sometimes even one. It's more basic. It's more how I would have done it in the '50s, if you like.
Q: And the songs you're singing seem to reflect your life, as well. They're very carefully chosen.
A: Yes, exactly. The last album, "Long Lost Suitcase," when I was recording it, Ethan (Johns) said it sounds like an autobiography, the songs that I was picking, and I said, "Well, I'm finally writing one." That's why we called some of the chapters in the book the titles of the songs, because they all reflected different parts of my life.
Q: Is it important to put your own stamp on a song?
A: It all depends. You can't lose the essence of a song. I try to enhance it more than anything else. Some of them are similar to the original, but not a copy. Like when I did "Run On" on the "Praise & Blame" album, I knew it from Elvis Presley. When I tried it, it sounded like the one that Elvis had already done. And I thought, I'm not doing anything different. So then we came up with a guitar riff and I sang it in a higher key, and I did the whole thing myself, without the answering vocals from the backing singers. And it came out different. So, we try things. You've got to kick them around a bit to see what can you add to it or do something different to it, so you're just not copying something somebody has already done.
Q: Did you have any reaction from Prince when you did your version of his "Kiss"?
A: Yes. I thanked him for writing it. I met him; he had a birthday party a long time ago. It was in London, and it was the first time I actually met him. I said, "Thanks for the song, thanks for writing it." And he said, "Well, thanks for recording it." But I didn't take it any further. I didn't ask Prince what he thought of it.
Q: What led to you write your autobiography, "Over the Top and Back," which was released last year?
A: I'd been asked so many times since I started. When you first start off, I know singers who have only been in the business just a short amount of time, and they've already written their autobiography. I didn't want to write it too soon. I wanted to live a while and write about things that I felt were important to me - growing up in Wales, and the characters that I met and listened to.
Q: Did you want to use it to set the record straight on some things?
A: Not really. What I wanted to show was how much I loved my wife. You know, my wife passed away in April. And that book is even more important to me now, because I don't think I could write it now. Her passing hit me very hard. It's still hitting me hard. Because we were kids together. We grew up together. So when I wrote the book, she's featured in it a lot. And she loved it. ... She passed away from lung cancer and it was very quick. ... By the time they found it, she only had less than two weeks. So that hit me hard, and it still has. I didn't know whether I would be able to sing after that. But now I realize that singing is saving my life, once I started again.
Q: Has your musical approach changed as a result?
A: Yes, I think it has. I feel it has. She used to listen to everything I recorded, and she would be very honest with me, whether she liked it, loved it or whether I shouldn't have done certain things. ... And on "Long Lost Suitcase," "Tomorrow Night," the Lonnie Johnson song, when I played it, she said, "I love that." That was her favorite on the album. I didn't know whether I'd be able to sing it. It means more to me now than when I actually recorded it, since she's passed away, because of how much she thought of it, because of how much she loved it. And the words in it are very meaningful. But to do it is a joy to me now. Because I'm seeing her. I'm remembering her when I sing it.
Q: I suppose you must get fans who would rather you sing just the '60s hits.
A: I don't know. I think the people who really love the way somebody sings, they like to hear it. As long as you don't change your style completely or do something that has nothing to do with what you're known for, which I don't agree with. So "Delilah" is still in the show. "It's Not Unusual" is still in the show. "What's New Pussycat?" is still there. "Leave Your Hat On" and "Kiss" are still there - the songs that I think are important. And I tried to freshen up the arrangements a bit. I sprinkle them throughout the show, so I can put in newer things, as well. And I don't get any complaints.
People who go out and do hits year after year after year, I think the fans deserve more than that. The audiences deserve more than just that. You need to give them something new, or things you really love to sing. And they love it.
Copywright The Washington Post
Register for free to continue reading
Registration is a free and easy way to support our truly independent journalism
By registering, you will also enjoy limited access to Premium articles, exclusive newsletters, commenting, and virtual events with our leading journalists
Already have an account? sign in
Join our new commenting forum
Join thought-provoking conversations, follow other Independent readers and see their replies